Before the white man came from Europe to conquer Alta Calfornia, hundreds of tribes existed and thrived for thousands of years. In Marin County, over a dozen tribes were systematically, and systemically eliminated and their names, legends and tribal cultures buried under permanently when California Statehood was created in 1850.
Marin County is just beginning to realize that their county was taken over by the European White Men when slave trader, SIR Francis Drake, arrived in Bolinas Bay. Then the Spanish Jesuit priests marked their lands with St. Raphael mission where the native tribes of Marin were taken for slave labor or to be exterminated and buried in unmarked cemeteries throughout Marin. Marin was a thriving resource extraction center, where at the end of the 1800's, no less than 8 railways were used to export the lumber ,coal, gold, silver, copper and ancient Redwood and Oak trees that had been left alone by the natives for thousands of years.
In addition, this book covers the Great Flood of 1805, the natives refer to, when it is likely that California ceased to be an island, and Queen Califia finally conquered by the white man invaders from the East Coast, Russia, Portugual, England and China.
The native history was buried by the white man's ally, General, then Senator Vallejo, who single-handedly handed over Alta California to the California Battalion led by freemason, General Fremont.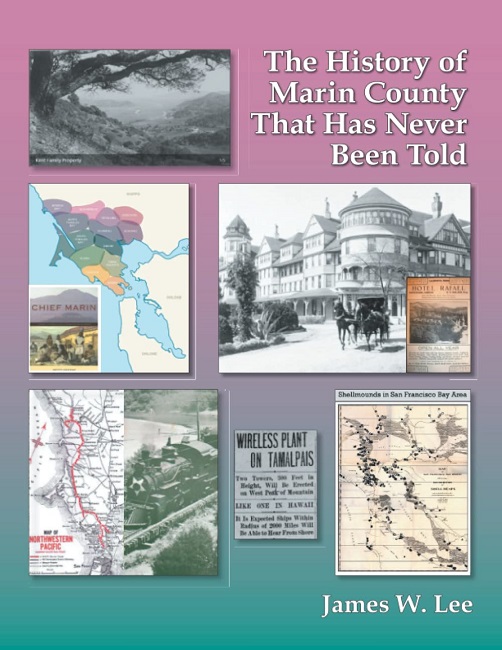 After the 1850's, Marin County became a playground for the wealthy elite. In 1888, the Hotel Raphael 100 room "finest hotel in the West" was opened and the following year held the Women's National Lawn Tennis Championships, held on grass!
This book is a rewrite of Marin County history, as well as bring to light the likelihood that California was an island until the early 1800's, and this is why California was not conquered until then.
---