The Book of Ballymote
is an iconic and hugely important 14th century Irish manuscript. Since it was presented to the Academy in 1785 many scholars have worked to decipher, disseminate and debate its content and form. This online exhibition takes a look at some of the scholarly works undertaken on the Book of Ballymote.
Book of Ballymote
, was written in 1390 or 1391. The Royal Irish Academy link below
(not above)
has its available historical track record. IMHO, per this record, the book can only be dated to 1666.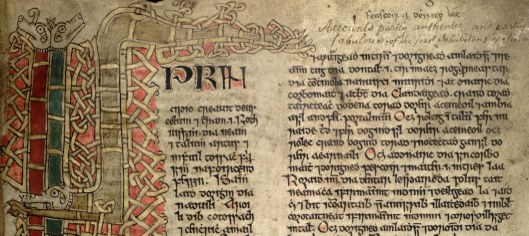 ---
As far as dating methods of this
RIA MS 23 P12
go, we have nothing but
opinions of scholars
. There is not a single reference to an independent/different historical document talking about this book prior to 1666 that I can see. But I do see things like these:
The name of the book connects it with Ballymote, in the present County of Sligo, the former seat of the Mac Donnchaid of Corann, under whose patronage the book

would appear to have been written

.
The most important indication of the time of writing is the scribal colophon occurring p.

106

:

''Is e in Toirrdelbach Og sin mac Aeda as ri Connacht ag scribadh na codach sa do'n leabar a tig Tomaltaig mic Taidg mic Tomaltaig mic Muirghiusa mic Donnchaid mic Tomaltaigh mic Conchobhair mic Diarmata o fuiled Mic Dhiarmata a mBaili in Mhuta."
Toirrdelbach Og was the son of Aeda from Connaught, scraping off the portions in which Tomaltaig, son of Taidg, son of Tomaltig, son of Muirghius, son of Donnchadh, son of Conall, son of Conchobhar, son of Diarmata, came from the sons of Diarmaid of Bali in Muta.

To this may be added the scribal colophon on p.

99

under the pedigree of Tomaltach mac Taidg mic Tomaltaig . . . mic Donnchaid . ... mic Diarmada: " Is e in Tomaltach sa ba righ ar Airteach 7 ar Thir Oilell 7 ar Dha Chorand 7 ar cúig baili Cloinni Fearmhuighi 7 ar Tír Tuathail ag scribadh in leabairsea.'' Since Toirrdelbach Óg Ó Conchobhair was King of Connacht in the years 1384-1406 (see note in Charles O'Conor's hand in the margin) and Tomaltach became chief of Tir Oilella in 1383 this portion of the manuscript must date from the late fourteenth century.

The book

would appear to have belonged

to Mac Donnchaid, chief of Tir Oilella, till the year 1522, since we find a record in the manuscript stating that Mac Donnchaid sold it in that year to Aedh Óg Ó Domhnaill, with the consent of his family.
p.

401

, inf. marg. "Is beg an dith leam O Domnaill do buain an leabair-si dim, or is clu feamachuis dochuaidh air in leaphor.''

This

would seem

to have been written by Mac Donnchaid in 1522, before hé parted with the ms. to Ó Donnell.

The

book was lost sight of for a century

after it came into the possession of the O'DonnelIs.
An initialled and dated note standing in the ms., fo. 47 v, "B.N. 1633'' which lías been brought out by the use of a re-agent, reveals nothing.
The next known record is a reference by Dubhaltach Mac Fir Bisig, writing in 1666 (O'Curry, Acad. Cat., fo. 762, verso), who states that the book was then in Dublin.
In 1686 it was in the Library of Trinity College, Dublin (acc. to Catalogues D. 1. 6, D. 1. 7. See Gwynn, Catalogue of Irish MSS. in Trinity College, Dublin, Introd., p. xvii).
There is no account in the records of Trinity College to show how the ms. came into the possession of the College, but it is probable that it came there (together with the Great Book of Lecan) among Ussher's mss.
The ms. was lent to Dr. Raymond by the authorities of Trinity College without bond or security about 1720, after which it disappeared again.
It's funny how notes in the manuscript itself authenticate the said manuscript.
Where is a single independent source talking about this book between 1391 and 1666?
This
Dubhaltach Mac Fir Bisig's
1666 writing about the book being in Dublin could be considered a first independent account. But there we have this peculiar issue:
The verifying source was an Irish scribe, and one of the last traditionally trained Irish Gaelic scholars.
---
Wiki:
The first page of the work contains a drawing of Noah's Ark as conceived by the scribe.
How would experts know that the below image was conceived by the scribe of the book? Where are the sources of this info?
RIA:
The page is filled by a pen-and-ink drawing of Noah's Ark, in which is a group of four men and four women, one of the former wearing a crown and holding a sceptre in his hand.
How come experts are not investigating why patriarch Noah is wearing a crown?
---
Summary of the above:
No independent records of The Book of Ballymote exist between 1391 and 1666.

Prior to 1666, the dating of the book is based on notes made in the book itself.

In 1666 an Irish scribe trained in Irish Gaelic created the very first independent record.