The building was constructed from 1871 to 1901 within Penn Square, in the middle of Center City.
John McArthur Jr.
and
Thomas Ustick Walter
designed the building in the
Second Empire
style.
City Hall is a masonry building whose weight is borne by granite and brick walls up to 22 ft (6.7 m) thick. The principal exterior materials are limestone, granite, and marble. The final construction cost was $24 million.
At 548 ft (167 m), including the statue of city founder William Penn atop its tower, City Hall was the tallest habitable building in the world from 1894 to 1908. It remained the tallest in Pennsylvania until it was surpassed in 1932 by the Gulf Tower in Pittsburgh. It was the tallest in Philadelphia until 1986 when the construction of One Liberty Place surpassed it, ending the informal gentlemen's agreement that had limited the height of buildings in the city to no higher than the Penn statue.
They got him to the top somehow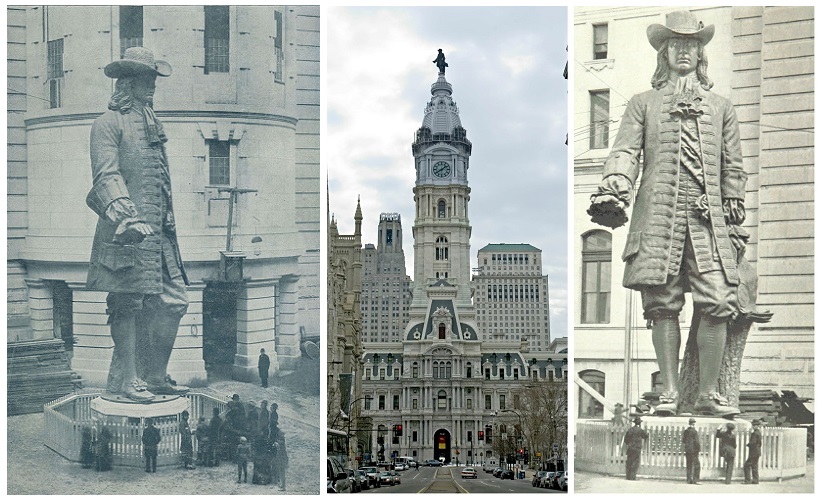 ​
The below image made me put this up for a discussion. Together with 22 foot sick walls, this 1871-1901 structure is impressively amazing.
KD:
I can almost see how it went in 1871, 6 years after the Civil War.
Gentlemen, we have 548 leftover horses. Let's build us a 548 foot tall City Hall.
By the way. Nimrod got smacked for less.
​
Figured it would be a good building for a freeflow discussion. There appears to be plenty of construction, and all other sorts of photographs pertaining to this structure. Considering that it still exists, we could be facing an interesting investigation.
City Hall is situated on land that was reserved as a public square upon the city's founding in 1682. Originally known as Centre Square - later renamed Penn Square - it was used for public gatherings until the construction of City Hall began in 1871.

That means there should be no buildings it was built on top of.

It was "under construction" for 30 years, so there should be hundreds of photographs, right?
This photograph shows the foundation of the City Hall being built. Railroad cars run past the Masonic Temple, which is in the background.
1873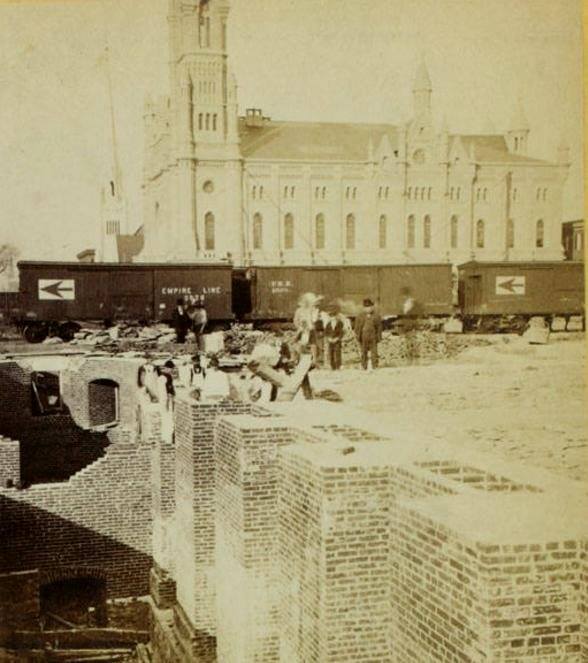 Source
​
Found
this site with tons of construction photos
. Though I still do not understand why they are building windows under ground. Is brick a normal choice for the foundation?
There are some cranes in the photographs, but that is about it for equipment. Would be interesting to find out what they used to deliver all them marble, granite and other blocks.
​
They give us horses ones again. Wondering whether they were making granite and marble blocks on the spot?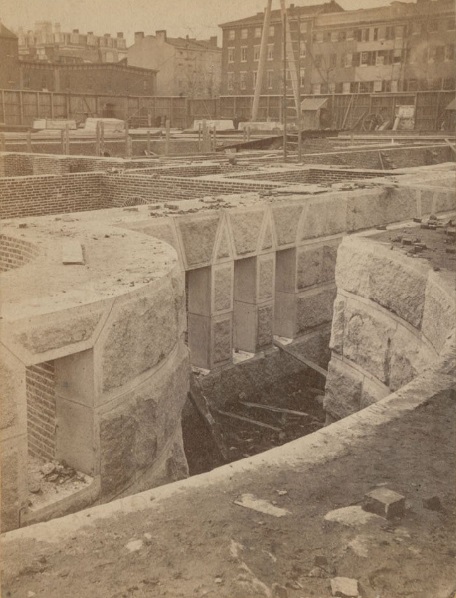 Wondering how many stories are below the ground level. Who knows how many are out there? Watch this video for clues... it's a treat...
---
KD:
I'm truly wondering what the heck they needed this building for in 1871.