This stuff just keeps on popping out. These weird "no education" inventors and their so-called inventions. None of them have any pertinent education, but all of them invent things requiring construction bureaux and armies of engineers. This Edmund Zalinski guy here is something special. Holland is not far behind. Check this out.
Tell me that

"the hand"

means nothing after this one...
Edmund entered the war in November 1864, at age fourteen, volunteering as an Aide-de-Camp to General Nelson A. Miles. In a letter dated February 11, 1865, Miles wrote to then Massachusetts Senator Henry Wilson:
"I have a young friend, Lt. Edward Zalinski (the youngest officer in the army) who has been here since November and is very desirous of obtaining an appointment (at large) to the West Point Academy. His papers were presented to the President by the

Hon. Isaac Newton

, Commissioner of Agriculture. He is a

young man of fine education

and excellent character, has been under fire with me, and I can vouch for his bravery. Any assistance you can afford him will greatly oblige me."
Fifteen year old 2nd Lieutenant Edmund Zalinski
Edmund Zalinski
​
Let's get the narrative out of the way. Edmund Louis Gray Zalinski was a Polish-born American soldier, military engineer and inventor. He is best known for the development of the pneumatic
dynamite torpedo-gun
. Zalinski was born in
Kórnik
,
Prussian Poland on December 13, 1849, and emigrated with his parents to the United States in 1853.
1849-1909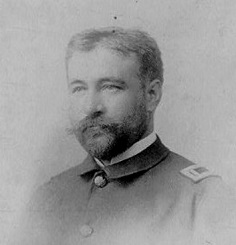 He began school in Seneca Falls, New York and attended high school in Syracuse until 1863, when he dropped out at the age of 15. ​

Lying about his age, Zalinski enlisted in the United States Army, and served during the American Civil War as aide-de-camp on the staff of General Nelson A. Miles from October 1864.

​

In February 1865, he was commissioned a second lieutenant in the Second New York Heavy Artillery Regiment, having been recommended for promotion for gallant and meritorious conduct at the Battle of Hatcher's Run, Virginia.

​

He continued on General Miles's staff until the surrender of General Robert E. Lee in April 1865. ​

He was promoted to first lieutenant in January 1867, and finally to captain on December 9, 1887. ​

President Johnson

pardoned Dr. Mudd in 1869,

citing Lieutenant Zalinski's petition

as one of the reasons.

​

His name became widely known in connection with the invention and development of items of military technology, particularly the pneumatic dynamite torpedo-gun. He also invented the electrical fuse and other devices for the practical application of the weapon, and devised a method for the exact sight allowance to be made for deviation due to wind in the use of rifled artillery and small arms. Other inventions included a modified entrenching tool, a ramrod-bayonet, and a telescopic sight for artillery.

​
Zalinski Dynamite Torpedo Gun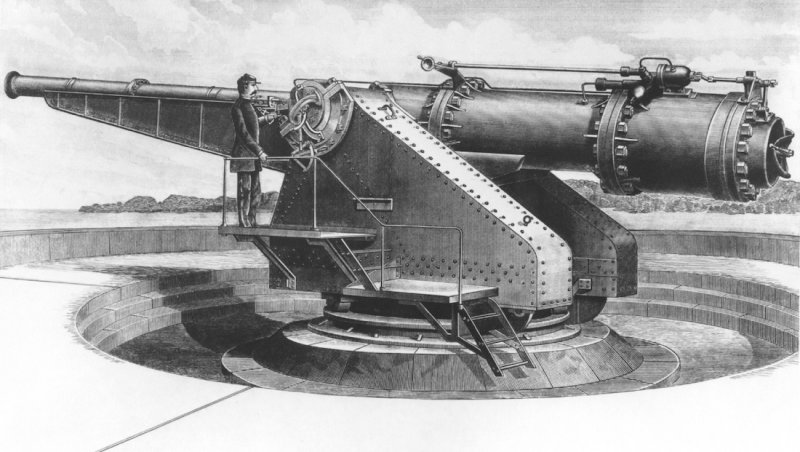 John Philip Holland
​
John Philip Holland was an Irish engineer who developed the first submarine to be formally commissioned by the U.S. Navy, and the first Royal Navy submarine, the
Holland 1
. He is widely regarded as the father of the modern submarine for his designs.
1841-1914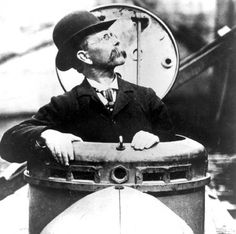 Holland was born in a coastguard cottage in
Liscannor
, Ireland in 1841. The area was heavily Irish-speaking and Holland learned English properly only when he attended the local English-speaking
St Macreehy's National School
, and from 1858,
Irish Christian Brothers
school in
Ennistymon
.
Holland joined the Irish Christian Brothers in Limerick and taught in Limerick and many other centres in the country including North Monastery CBS, St. Mary's CBS, St Joseph's CBS and as the first Mathematics teacher in Colaiste Ris.

​

Due to ill health, he left the Christian Brothers in 1873. ​

Holland emigrated to the United States in 1873. ​

Initially working for an engineering firm, he returned to teaching again for a further six years in St. John's Catholic school in Paterson, New Jersey. ​

After his arrival in the United States, Holland slipped and fell on an icy Boston street and broke a leg. ​

While recuperating from the injury in a hospital, he used his time to refine his submarine designs and was encouraged by Isaac Whelan, a priest.​

In 1875, his submarine designs were submitted for consideration by the US Navy, but turned down as unworkable.
Submarines designed by John P. Holland
Anyone here thinks that
'hand-in-coat'
Zalinski and
'no-known-education'
Holland knew how to build submarines? The youngest Civil War officer and the
'father of the modern submarine'...
talents like these were all over the place back than, so... nothing special here.
Holland IV Sub aka Zalinski Boat
​
Zalinski also helped John Philip Holland raise money for the development of one of his submarines, which was armed with one of Zalinski's pneumatic guns. The two men having formed the
Nautilus Submarine Boat Company
, started working on a new submarine in 1884. The so-called "Zalinsky boat" was constructed in Hendrick's Reef (former
Fort Lafayette
), Bay Ridge in the New York City borough of Brooklyn.
May be Fort Lafayette had something to do with the emergence of this sub. I don't know, like in... that's where they found it, repaired, and launched?​
Links for the sub:
#1
,
#2
,
#3
...this is construction process...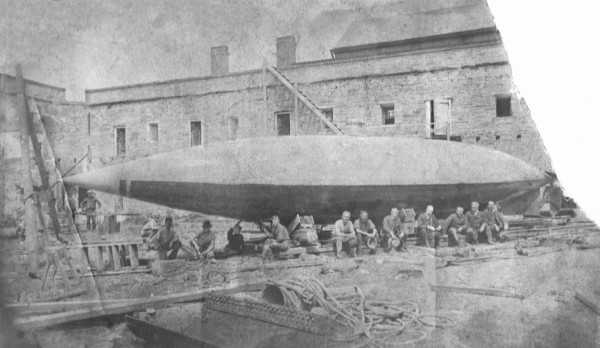 "The new, cigar-shaped submarine was 50 feet long with a maximum beam of eight feet. To save money,
the hull was largely of wood
,
framed with iron hoops
, and again, a
Brayton-cycle
engine provided motive power."
The project was plagued by a "shoestring budget" and Zalinski mostly rejecting Holland's ideas on improvements.​

The submarine was ready for launching in September, 1885. ​

"During the launching itself, a section of the ways collapsed under the weight of the boat, dashing the hull against some pilings and staving in the bottom.

​

!!!:

Memorize the "collapsed" part.

​




Although the submarine was repaired and eventually carried out several trial runs in lower New York Harbor, by the end of 1886 the Nautilus Submarine Boat Company was no more, and the salvageable remnants of the Zalinski Boat were sold to reimburse the disappointed investors."

​

Meanwhile, somewhere in France...​
French submarine Gymnote
​
Gymnote
was one of the world's first all-electric submarines and the first functional submarine equipped with torpedoes. Launched on 24 September 1888, she was developed in France following early experiments by
Henri Dupuy de Lôme
, and, after his death, by
Gustave Zédé
and
Arthur Krebs
, who completed the project. For
Gymnote
, Arthur Krebs developed the electric engine, the first naval
periscope
and the first naval electric
gyrocompass
.
Link:
French submarine Gymnote (Q1) - Wikipedia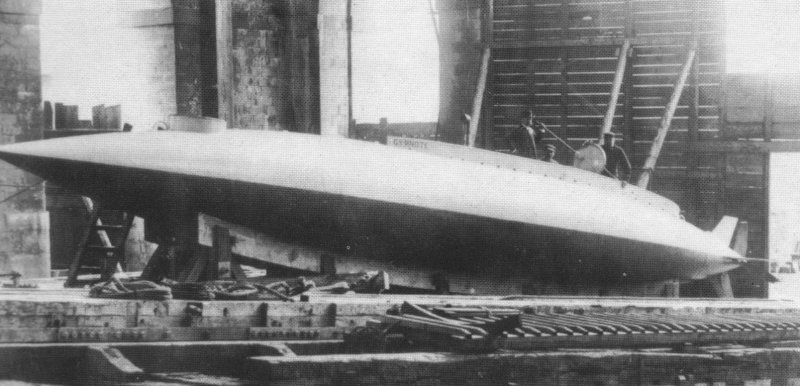 The keel was laid on 20 April 1887.
Trials began on 17 November 1888.
The submarine was built with a

steel single hull

, a detachable lead keel, and three hydroplanes on each side.
She made over 2,000 dives, using 204 cell batteries.
She was armed with two 355 mm (14 in) torpedoes.
Gymnote was partly inspired by the earlier development of the submarine Plongeur, the world's first mechanically powered submarine.
Gymnote was damaged on 5 March 1907 when she ran aground.

The boat was drydocked but

a hatch was left open while the dock was being filled,

allowing her to flood and sink on 19 June 1907.

Repairs were considered too expensive so she was sold for scrap in 1911.
I don't know but this stuff is weird. One was made in 1885, the other one was ready for launch in 1888. One was wood, the other one was steel. Both ended their existence with some B-rated story. Both look like they could be twin sisters., but they are not apparently.

Collapsed what?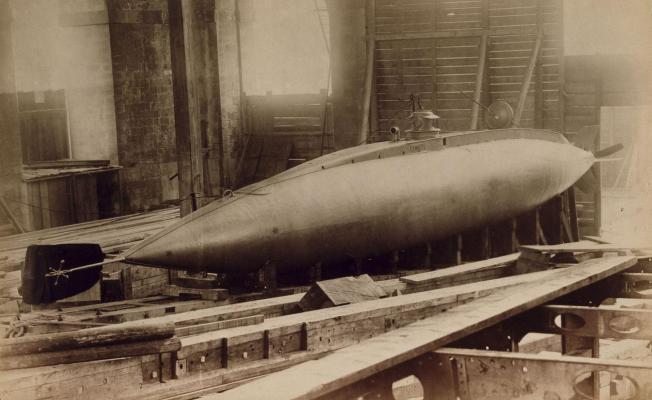 ---
KD:
There are so many 1880-1900 subs out there, it's not even funny. Most of them have some weird details in their bios. Anyways, these are probably two different models, but one has to love the visual synchronicity.
And this fifteen year old Civil War Lieutenant Edmund Zalinski... is any of this even real?