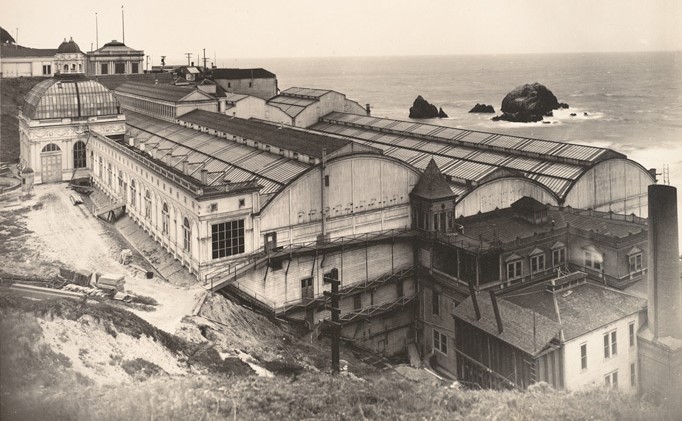 The Sutro Baths was a large, privately owned public saltwater swimming pool complex in western San Francisco, California. Built in 1896, it burned down in June 1966 and is now in ruins. On March 14, 1896, the Sutro Baths were opened to the public as the world's largest indoor swimming pool establishment. The baths were built on the western side of San Francisco by wealthy entrepreneur and former mayor of San Francisco (1894–1896)
Adolph Sutro
.
The Ruins
The following statistics are from a 1912 article written by J. E. Van Hoosear of Pacific Gas and Electric. Materials used in the structure included 100,000 sq ft (9,300 m2) of glass, 600 tons of iron, 3,500,000 board feet (8,300 m3) of lumber, and 10,000 cu yd (7,600 m3) of concrete.
During high tides, water would flow directly into the pools from the nearby ocean, recycling the two million US gallons (7,600 m³) of water in about an hour. During low tides, a powerful turbine water pump, built inside a cave at sea level, could be switched on from a control room and could fill the tanks at a rate of 6,000 US gallons a minute (380 L/s), recycling all the water in five hours.
1940: Sutro Baths

Facilities included:
Six saltwater pools and one freshwater pool. The baths were 499.5 feet (152.2 m) long and 254.1 feet (77.4 m) wide for a capacity of 1,805,000 US gallons (6,830 m3). They were equipped with 7 slides, 30 swinging rings, and 1 springboard.
A museum displaying an extensive collection of stuffed and mounted animals, historic artifacts, and artwork, much of which Sutro acquired from the Woodward's Gardens estate sale in 1894.
A 2700-seat amphitheater, and club rooms with capacity for 1100.
517 private dressing rooms.
An ice skating rink.
The baths were once served by two rail lines. The Ferries and Cliff House Railroad ran along the cliffs of Lands End overlooking the Golden Gate. The route ran from the baths to a terminal at California Street and Central Avenue, now Presidio Avenue. The second line was the Sutro Railroad, which ran electric trolleys to Golden Gate Park and
downtown San Francisco
.
While officially the Baths were built in 1896, we have this photograph dated with June 8, 1894, where the "baths" appear to be as ready as it gets.
Larger Image: 8,968 × 5,416 pixels
(strange people, by the way)
Makeshift Slides
​
Were the swimmers expected to climb those railings? This slide does not appear to be a part of the original design. What else was not a part of the original design in this complex?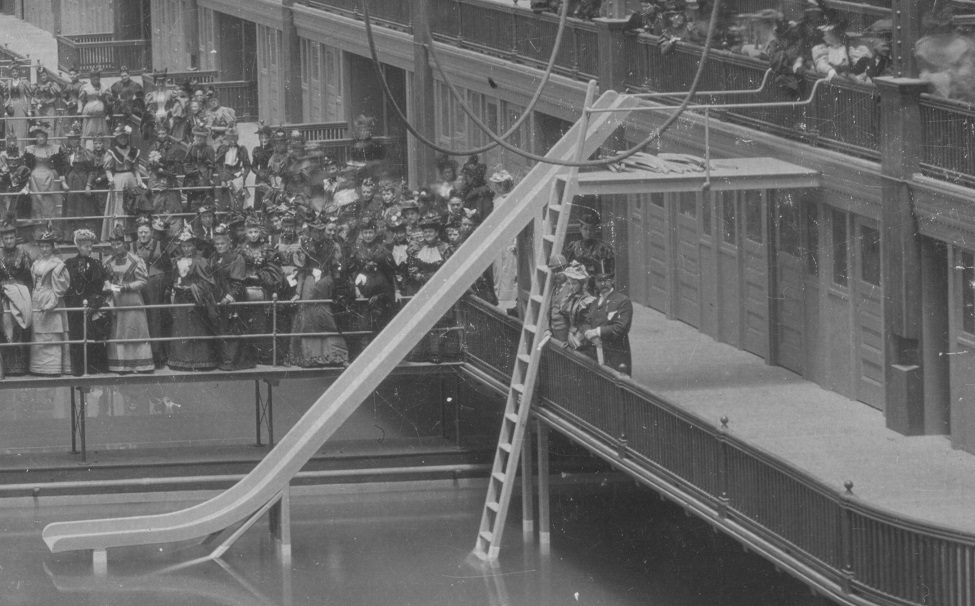 Swimming Pool?
Notice the way they have to climb out.
Waste Water Treatment Plant?
---
KD:
This 1896 Sutro Baths, which conveniently burned down in 1966, reminded me of a renovated, and repurposed waste water treatment plant. You can feel free to ridicule me on this one, but those people in the image above looks tremendously uncomfortable trying to climb up onto the platform. How do you make a water pool out of a treatment plant? Just add some water slides and start selling tickets.
Adolph Sutro & Ladies of National Medical Convention, June 8, 1894
From the above 1894 photograph
​
Some links:
Anyways, there are plenty of additional pictures on the internet. Please feel free to share your opinions on what it really was.