Some interesting things we can find in the older books. Has anyone ever heard of this huge underground city located in Turkestan
(I assume it's today's Turkmenistan)
sometime at the end of the 19th century? This could be a made up story, just like with anything else out there, but... who knows?
1892
Lucifer, V9
1895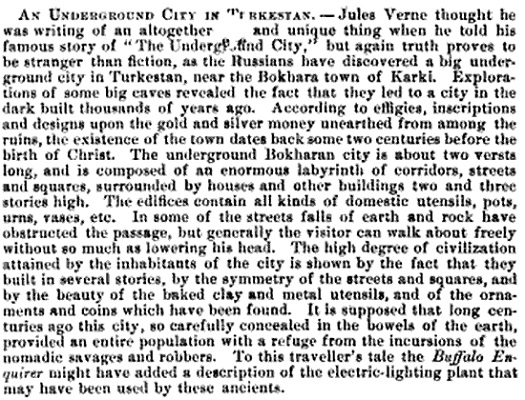 American Architect
​
And at
this link
you can find some of our contemporary accounts suggesting that there could be some related things in the area:
---
As far as I understand this town of Karki should have have been spelled
Kerki
. This is the only resembling name I could find next to the
Amu Darya
river. More on this Karki
can be seen here
.
I could be wrong about this Karki being Kerki, but I simply can't find no Karki on the maps.
The Caspian Sea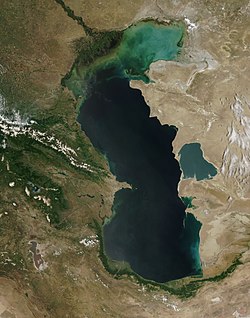 ​
Formation of the Caspian Sea
(per the Narrative):
BS above, and Truth Below
​
I do not know what millions of years our pseudo-scientists are talking about. It appears that Caspian Sea (in its current shape) was formed 370 years ago tops.
You can verify the transformation progression
here
, and
here
. The information we get from the older map suggests a very similar to everything else picture. Sometime in the 17th century the humongous Caspian Sea, aka
Mare de Bachu
, lost approximately 75% of its waters. The outline of the "ancient" shape can still be seen on the modern maps.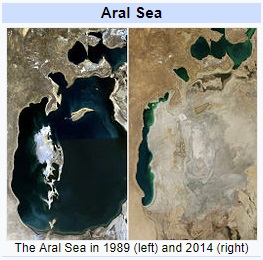 Amu Darya River
​
In classical antiquity, the river
was known
as the Ōxus in Latin and Ôxos in Greek - a clear derivative of Vakhsh, the name of the largest tributary of the river.
book published in 1884
.
---
KD:
Well, anyways... if you come across any info on this Kerki/Karki lost underground city, please share. It would be nice to find out how a mile and a half long city found in the 1890s gets lost with no trace.
P.S.
They have some ridiculous ruins in the area. Check this
Merv place out
. Nice
artificial stone
it has down at the bottom, me thinks...