I simply wanted to offer this narrative supporting video for your analysis. Personally, I found it to be very entertaining. It is also a good example of how easy it is to falsify our real history.
This could go into the mudflood sub, and probably will at some point. There is a humongous
(allegedly)
Roman building buried underneath the St. Kyneburga church property. Supposedly it dwarfs the church itself.
Below is a possible reconstruction of this "palatial" underground structure.
Video Screenshot
​
Roman, Roman, Roman, Roman... they keep on repeating over, and over again. So, make sure you make no mistake, they want you to know that everything is Roman down below.
KD:
As Above, So Below...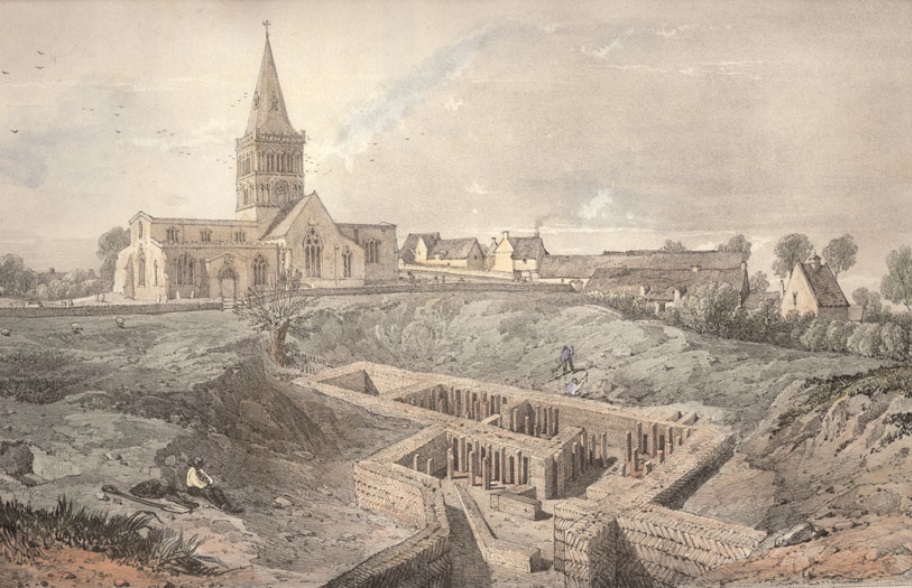 A
View of the Baths
and Site of the Roman Buildings at Castor, west of the church.
The
Elevation of an excavated Roman Building
, under the lane and adjacent hill north of the church at Castor.
​
Fun fact:
They are presenting their underground finds like it's perfectly normal to be buried under 10-15 feet of dirt. Not even once do they strain their scientific degree containing brains to ask themselves the most obvious question - how did this building end up down below?
Do they even care where this dirt came from, or why they have so many fragments of human bones in there?
Video Screenshot
Video Screenshot
​
Where are all those mudflood victims? May be that's where they are at, right under our feet.
Another interesting thing to consider is the excavations of 1820s. Some dude dug all those sketched things out, did his drawings and buried everything back, right? What were they looking for down there 200 years ago. What were they looking for when they dug here in 1950s?
---
Edmund Tyrrell Artis
was born at Swefling (near Saxmundham, Suffolk), the son of James and Mary Artis (nee Watling). His father was a carpenter or cabinet maker, and although Edmund was later described as being born in "easy circumstances", his mother was illiterate, and both parents died poor.
1789-1847​
In 1805, Edmund came to London to work for an uncle in the wine trade, but by 1811 he had opened his own shop in Dorset Street, W.1, as a confectioner. In the same year he married Elizabeth Poole at St. James, Piccadilly. She came from the Bristol area, and a year later they had daughter, also named Elizabeth, but known as Betsy.
In 1813 it would appear that one of Edmund's iced cakes, in the shape of a fantastic castle attracted the attention of the 4th Earl Fitzwilliam, who took him into his household, and by 1816 he had risen to the position of House Steward of the Earl's seat at Milton then in Northamptonshire. Artis was clearly a man of multiple talents, for in 1816 he painted a portrait of the Earl in oils, and he made the acquaintance of John Clare the poet in 1820, who freely acknowledged the debt he owed to Artis on matters of Natural History. This interest must have been the stimulus for Artis to start collecting fossils, first from the gravels of thee river Nene terraces, and soon after from the Carboniferous deposits found in the Fitzilliam's coal mines, principally those of Elsecar in South Yorkshire. This led to his election as a member of the Geological Society in 1824.
Concurrently, he discovered a mosaic pavement in the churchyard at Castor, near Milton, and from then on he began a long investigation of the Roman remains of the area, and from 1823-5 published the first four parts of the current volume by subscription, and was rewarded by being elected to the Society of Antiquaries of London.
In 1826 he published
Antediluvian Phytolology
, which contained illustrations of his collection of Carboniferous fossils, and in that year, he left Milton, apparently in minor disgrace over a sexual indiscretion (which was probably his second offence, a record existing of an earlier illegitimate child, known as Edmund Hales). In October of that year, he held an auction of his Castor household effects, including a Clementi piano, and a Poussin painting, which he appears to have inherited from a relative.
His relationship with the Earl Fitzwilliam could not have been irretrievably damaged, since in that year, he both designed a commemorative medal of the Earl, and on quitting Milton, he bought the Doncaster Race-Club House, which was a lodging place for the 'great and the good' during the St. Leger race meeting each September, which was under Fitzwilliam patronage. He also became Secretary of the Race Club, which organized events. He sold his fossil collection, some of which remains today in the Natural History Museum. The remaining parts of '
The Durobrivae
' were published in 1827 and 1828.
From then on, he acted as
mâitre d'hotel
in the grand manner, his crowning glory being the provision of a celebratory dinner for the Duke of Wellington in 1829. Advertisements in the Doncaster Gazette speak of his ability to deliver 'live turtles of over 100 lbs, and ice' during Race Week. At first the business prospered, and Artis enjoyed some considerable wealth, buying two houses in Castor, and maintaining a carriage. However, it then ran into a series of difficulties due to an over-optimistic extension of the premises, which came just as a scandal enveloped Yorkshire racing and led to the 5th. Earl Fitzwilliam withdrawing from the sport. The succession of Queen Victoria to the throne in 1837, could not have helped, for she was not an enthusiast of horse-racing, and this must have affected the whole social fabric of the races.
Apart from the marriage of Betsy in 1836, little is known of Artis in these years, but in 1838 he met with the noted London antiquary Charles Roach Smith, and they clearly became firm friends. It led to a new burst of archaeological activity, and Artis was associated with finds of Roman statuary near Kingscliffe, attended the opening of a Roman gypsum burial at York, recorded wall paintings in churches around the Castor area, and produced a number of papers discussing pottery kilns for the recently formed British Archaeological Association. It may be significant that he was then working on land owned by the Duke of Bedford, and not that of the Fitzwilliams.
In 1846 a subscription announced the impending publication of a text to '
The Durobrivae
', but in 1847 he continued to excavate in appalling conditions at Kingscliffe, so cold that his labourers deserted him, and it would appear that he succumbed to an illness. On December 24th., 1847 he died, and he was buried just outside the porch of Castor church. His friends were unable to find sufficient notes to complete his project.
That Artis was a great man of his times is indisputable. The
Phytology
remained a work quoted by geologists for nearly a century after its publication, and the illustrations in the
Durobrivae
show that he understood stratigraphy completely. His accounts of the workings of Roman pottery kilns were unsurpassed until very recent times. He was a man of an insatiable curiosity, with acute powers of observation and deduction, blessed with great skill as an artist. As his widow wrote of him 'everything but a poet'.
---
KD:
This YT video is like a little dog and pony show.