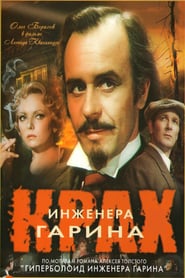 0.00/5 0 Votes
Title:
Failure of Engineer Garin (1973)
Genre: Drama, Science Fiction, Thriller, Adventure
Director: Leonid Kvinikhidze
Cast: Oleg Borisov, Aleksandr Belyavskiy, Nonna Terentyeva, Vladimir Tatosov, Mikhail Volkov, Aleksandr Kaydanovskiy, Grigori Gaj, Algimantas Masiulis, Valentin Nikulin, Efim Kopelyan, Ernst Romanov, Marina Yurasova, Gennady Sayfulin, Василий Корзун
Release: 1973-10-15
Runtime: 247
Plot:
A Russian engineer Petr Garin possesses a unique beam-shooting weapon that can destroy any target. His goal is to achieve world domination with the help of this weapon. Vasily Shelga is out to stop him and also to prevent others getting possession of this weapon.