Enjoy the song first!!!
what's the train number?
Lincoln's Funeral
​
---
1. Weird flags on the Abraham Lincoln's Funeral Train
​
2. 1867, 37-star Flag flown during 1865 funeral
​
3. Suspicious Locomotives
​
1.
Lincoln Funeral Train Flag
Official Flag
According to
Smithonian
, the above flag is, "
One of two flags that flew from the locomotive of the Lincoln funeral train on the route between Albany and Utica, New York Oon April 19, 1865. An estimated 25 million Americans attended memorial services for Abraham Lincoln in Washington and around the country. Lincoln's body lay in state in the U.S. Capitol Rotunda and then traveled to Springfield on a funeral train that retraced his route to Washington in 1861. Newspapers publicized the train's schedule so that citizens could pay their last respects as it passed. In ten cities, Lincoln's casket was removed from the train for elaborate memorial services and public viewings. On May 3, 1865, the train reached its final destination. The following day Lincoln's body was placed in its tomb."
Source:
Lincoln Funeral Train Flag
If above is one of the only two flags which were displayed on the train, how come we have two more flags shown below?
What flag is this? What year?
It appears to have only 14 stars.
In 1865 there had to be 35 stars on the flag.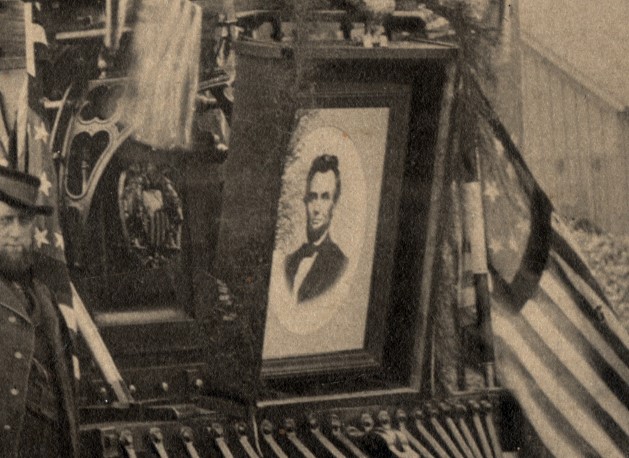 For bigger picture: The Engine that Drew Lincoln's Funeral Train
​
Could the above flag be the below 1791 flag? If the additional stars in the image above were painted over, than why? Could it be painted over to assume that there were stars there, when in reality there were not?
1791? US Flag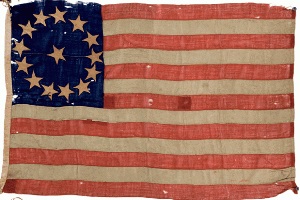 Question: If Lincoln

died in 1865

, why are they displaying a 14-star flag possibly

attributed to 1791

?

Union Civil War Flag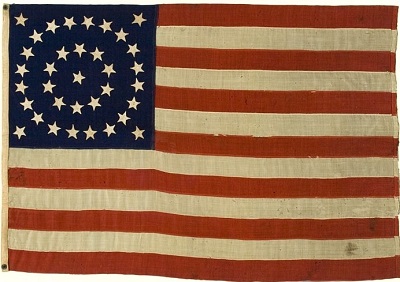 Some other images show this allegedly 35 star Civil War Union Flag. Looks normal and placed reasonably for 1865. Unfortunately we have a totally different locomotive.
Fun:
Compare the below two thumbnail pictures. Do you see anything difference between the two? I can see different buildings, same painted over flag, and seemingly the same train. Also in the image on the right they went hats off. Could be totally normal, or could be totally not normal. I'm inclined to think that these could be different locations during the same procession, but these two pictures just look weird when placed side by side.
The Museum of Southern History is proud to display a 37-star flag from this era. Why does it have 37 stars? That question is certainly appropriate since it is known that Nevada was made the 36th state on October 31, 1864 and officially earned its star on the flag on July 4, 1865. The 37th state was Nebraska, on March 1, 1867 and was made officially the 37th star on the flag on July 4, 1867.
A current expert on old flags, Jeff R. Bridgman, has stated in an email message, "I have heard that everyone knew Nebraska was on the horizon as early as 1860 and anticipated its addition…. The government didn't care about its own official star counts. That much is very obvious in flag history."
​
KD:
The above "flag expert" explanation sounds rather oxymoronic in my opinion. Nebraska was on the horizon, and the United States did not care what they had on the flag.
Source:
Museum of Southern History Abraham Lincon's Flag
3. Locomotives

The above cut out from the main train image of this article clearly states, that this is The Engine (the only one) that drew the Funeral Train from Washington, DC to Springfield, Illinois.
Wikipedia confirms the route
, "
Funeral services were held in Washington, D.C., and then at additional locations as a funeral train transported his remains for burial in his hometown of Springfield, Illinois.
"
Note:
contemporary history suggests that there were multiple locomotives used. May be so, but this image below makes me wonder whether there was some funeral re-enactment involved.
The ONLY Locomotive
this is not 331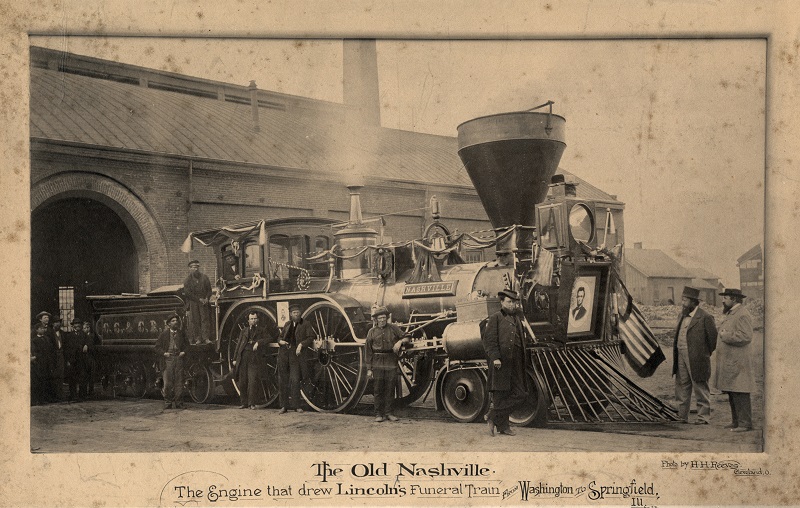 what # is this train?

​

Web description, "View of steam locomotive "Old Nashville" at the Willson Street Station in Cleveland, Ohio, April 28, 1865. This was just one of many locomotives used by various railroad to pull the Lincoln funeral train. This locomotive was owned by the Cleveland, Columbus, and Cincinnati Railroad and pulled the funeral train from Cleveland to Columbus.

This photograph is the best image of any of the various funeral train locomotives and so all models of the "official" Lincoln funeral train rely on this engine.

"

Whatever the last sentence supposed to mean.

3.1.

Additional Trains

There was only one though...

#28 or 287

?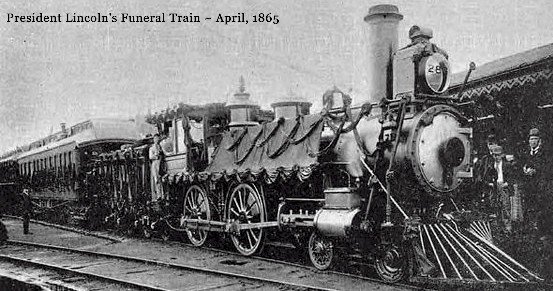 Souce:
150 years later, our towns aren't marking Lincoln funeral train anniversary
#331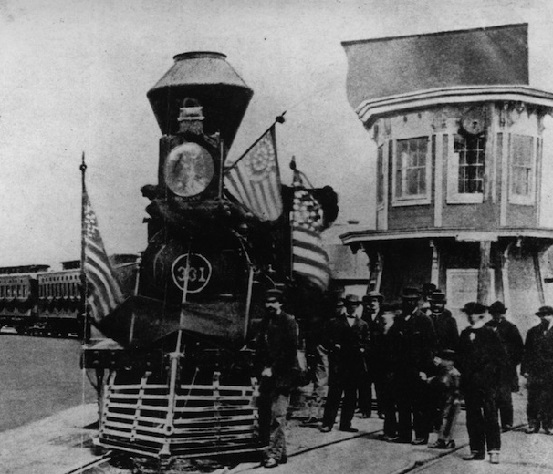 Find 10 differences, and suggest why they would do this. What do we have in the image on the left, that they did not want to see in the image on the right? Or vise versa. Larger size photographs are in the thumbs below.
Source #1:
How Lincoln's Final Journey Brought the Country Together
Source #2:
The Lincoln Funeral Train, Philadelphia
Source #3:
Lincoln Funeral Train Commemorative
Baltimore & Ohio Railroad No. 25
named
"William Mason"
is a type of 4-4-0'American Standard', steam locomotive. It was Built in 1856 by William Mason of Taunton, Massachusetts, and is one of the only real American Standard's to operate as of today. It never transported the dead body of Abraham Lincoln. According to
Wikipedia
it took Abe to his 1861 inauguration.
But...
War Between the States: Abraham Lincoln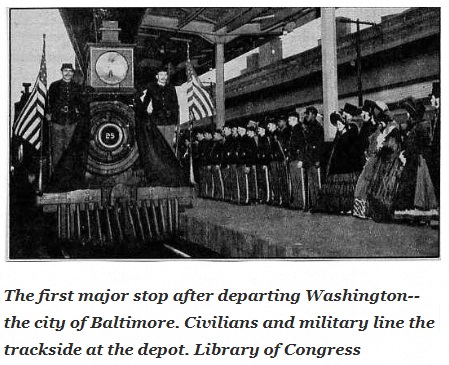 Lincoln Funeral Train Commemorative
But

#25 is fake
​
"I took part in an afternoon television documentary live and direct from B&O's Camden Station in Baltimore. I was 15 at the time. The sequence paced the train as it pulled into the station where it was met by an assemblage of Union soldiers and dignitaries. The presidential coffin was then taken off the train and carried reverently toward the station, and off the scene. This was one of a number of sequences from different places around the country in tribute to Mr. Lincoln as a part of the NBC program Wide Wide World hosted by Dave Garroway." -
source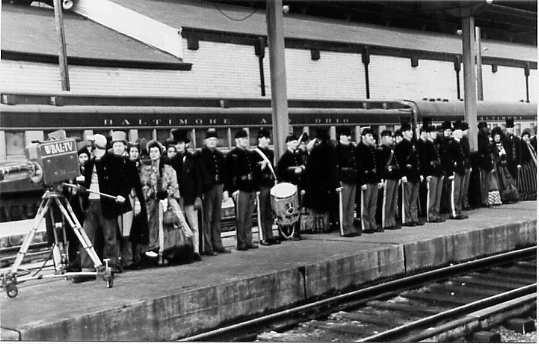 TV camera awaits Lincoln funeral train at Camden Station
Locomotive William Mason was borrowed for the event from the B&O Railroad Museum.
Dignitaries were portrayed by B&O employees. Honor guard soldiers were portrayed by sailors from the Naval Reserve. I can be seen holding a bugle directly behind the coffin. I was not in the Navy at the time, but three years later I was. Following active duty, I was assigned to the same Naval Reserve center in Baltimore.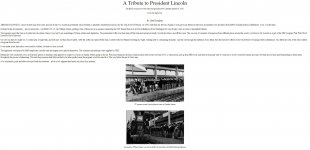 ​
Wikipedia
chooses to say nothing about this. I believe these filming images are indicative of a big number of Civil War fakes circulating out there with some made up as late as 1956.
KD:
How are we supposed to know what's real out there?
4. WTF Moment Sequence
source
​
While the original lot chosen was in Springfield, Mary Lincoln insisted she recalled Lincoln saying he wanted to be buried at Oak Ridge Cemetery, a more rural location, and so the site was moved.
After the tomb was completed in 1874, Chicago crime boss James "Big Jim" Kennally planned to steal Lincoln's body in exchange for a ransom and the release of an associate, who was serving time at the state penitentiary. They broke into the marble sarcophagus by filing through the padlock but were unable to move the heavy cedar coffin. Two of the men on the job were undercover agents with the Secret Service; they alerted the authorities and the job was foiled. (At that time, the Secret Service's job was to prevent counterfeiting, not protect the president.)
The almost-thieves, however, were not apprehended until the following night, because a Pinkerton agent accidentally discharged his weapon, warning the criminals of their arrival.
Concerned about future thefts, tomb custodian John Carroll Power had the coffin moved to the basement of the memorial, and they covered it with bits of lumber to make it look like a wood pile.
In 1900, the tomb was rebuilt, since it was built on poor soil originally. Upon visiting, Robert Todd Lincoln insisted his father be placed in a crypt, so Lincoln is now buried 10 feet deep in a steel cage under the floor of the tomb.
Officials decided to open the casket in 1901, to ensure the body hadn't been stolen. It is said that when it was opened, Lincoln was almost completely preserved, having been nearly mummified from the multiple embalming processes during the funeral procession.
The entire tomb was reconstructed in 1930 and 1931, during which time the marble sarcophagus was removed and placed outside for storage, where souvenir-hunters destroyed it. It was replaced with a red granite marker in front of the location where Lincoln is interred.
KD:
I do not even know where to begin on the above 7 bullets. 10 years to build that 1874 tomb, as well as taking marble presidential sarcophagus apart for souvenirs in 1930... really?
Check out
John Wilkes mummified body or
may be not
. There was something
bizarre
, and sick about those times. When were those times in reality?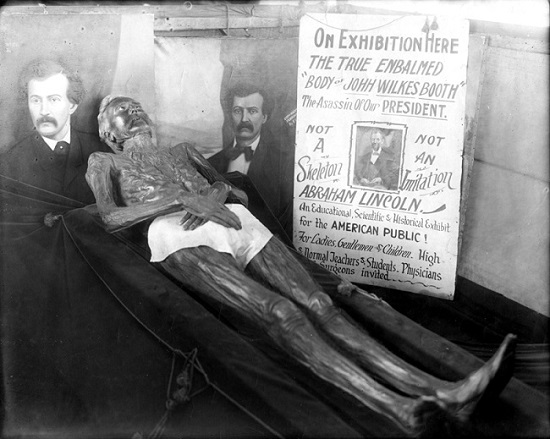 ---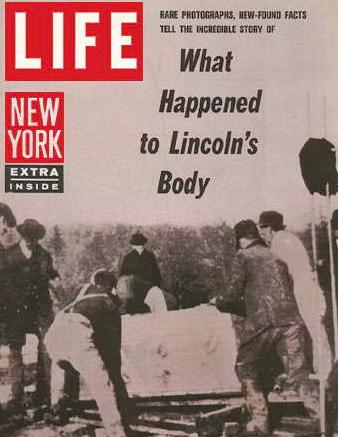 ​
Were there any doubts? -
23 People Viewed the Remains
and Identified Them as Mr. Lincoln's
Two plumbers, Leon P. Hopkins and his nephew, Charles L. Willey, chiseled an oblong piece out of the top of the lead-lined coffin. The piece these two men cut out was just over Mr. Lincoln's head and shoulders. When the casket was opened, a harsh, choking smell arose. 23 people slowly walked forward and peered down. Mr. Lincoln's features were totally recognizable. His face had a melancholy expression, but his black chin whiskers hadn't changed at all. The wart on his cheek and the coarse black hair were obvious characteristics of Mr. Lincoln's. The biggest change was that the eyebrows had vanished. The president was wearing the same suit he wore at his second inauguration, but it was covered with yellow mold. Additionally there were some bits of red fabric (possibly the remnants of an American flag buried with Mr. Lincoln).
It was theorized that Lincoln had been embalmed so many times on board his funeral train that he had been practically mummified.
All 23 people were unanimous in their agreement that the remains were indeed those of Abraham Lincoln.
---
KD:
There seems to be plenty of bizarre, weird thing with facts convoluted to the point, where figuring out the truth is next to impossible. When did Lincoln really die? Did he even exist? Why the sarcophagus was destroyed? What's up with this mummification embalming practice?
Lincoln's mummified body buried inside a marble sarcophagus... was he some pharaoh?