Joined

Oct 29, 2020
Messages

1,142
Reaction score

4,111
0.00 star(s)
Rating: 0.00/5 0 Votes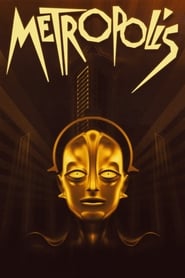 Title:
Metropolis (1927)
Tagline: There can be no understanding between the hands and the brain unless the heart acts as mediator.
Genre: Drama, Science Fiction
Director: Fritz Lang
Cast: Gustav Fröhlich, Brigitte Helm, Alfred Abel, Rudolf Klein-Rogge, Theodor Loos, Fritz Rasp, Erwin Biswanger, Heinrich George, Fritz Alberti, Grete Berger, Olly Boeheim, Heinrich Gotho, Gottfried Huppertz, Georg John, Margarete Lanner, Rose Lichtenstein, Hanns Leo Reich, Arthur Reinhardt, Curt Siodmak, Henrietta Siodmak, Olaf Storm, Rolf von Goth, Helen von Münchofen, Helene Weigel
Release: 1927-02-06
Runtime: 149
Plot:
In a futuristic city sharply divided between the working class and the city planners, the son of the city's mastermind falls in love with a working class prophet who predicts the coming of a savior to mediate their differences.
---
YouTube channel
UAP
put out an interesting analysis of this movie.
I guess it is being suggested that the movie was made using the video footage created by the Civilization of the Builders, Society "X", Tartary type culture...
Then, certain "proof" was created to make it look like it was actually filmed by us, the engineers of "the ugly architecture".
The official Wiki-type narrative goes like this:
Metropolis is a 1927 German expressionist science-fiction drama film directed by Fritz Lang. Written by Thea von Harbou in collaboration with Lang, the film was produced by the Babelsberg Studios for Universum Film A.G.(Ufa). The silent film is regarded as a pioneering science-fiction movie, being among the first feature-length movies of that genre. Filming took place over 17 months in 1925–26 at a cost of more than five million Reichsmarks.
And of course, they started shooting it in 1925. What a "vision".
​
What do you think? Any opinions?