I came up on an image of this bizarre ship. I have never seen a ship like this. The image is titled, "King's Boat in the Shape of a Fish".
The article "
Home Away From Home
" suggests that the wooden hull was covered with scales made of silver.
The boat allegedly belonged to
Wajid Ali Shah
, the last
Nawab of Awadh
. His last ruling days were in 1856.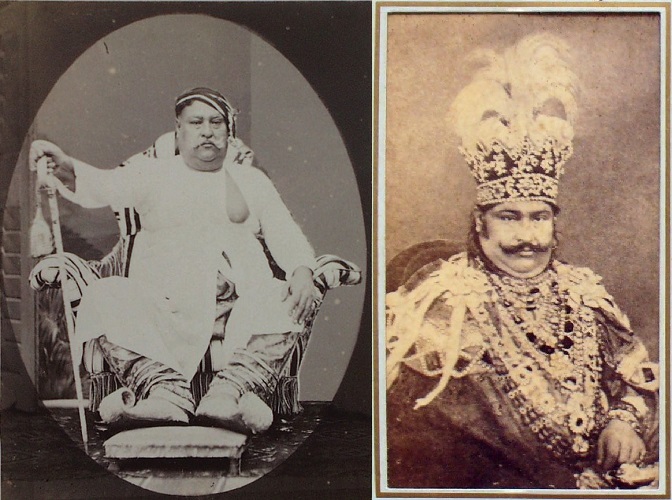 The image is related to the Indian Revolt (aka Sepoy Mutiny) of 1857. The image is dated 1858-1862. The ship looks banged up and abandoned.
What kind of ship is this? What do you think it's made of? What do you think about those scales, and fins? Could those be made of some type of metal?
The ship appears to have a rudder. It looks like it has a sliding door. Also there are two mermaid-like statues closer to the front. And it appears that the ship is missing its front, though I'm not sure about that.
It does not appear that this ship was designed to use oars, or sails.
By the way, our Jules Verne's Captain Nemo was directly related to this 1857 Sepoy Mutiny.
King's Boat in the Shape of a Fish
Sunk in Gumpti river.
The Chattar Manzil Palace and the Royal Boat of Oude on the Gomti River in Lucknow, India.
Photograph taken by Felice Beato, 1858. Albumen silver print.

(the first image is 4125 × 3327)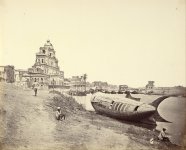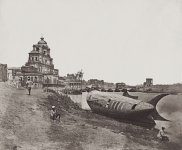 ​
Source:
Palace Chattar Manzil
So, what do you think this boat was? What powered her forward?
Interesting that there is no information on who built it, or when it was built.
P.S. Nice pre-1858 "Indian" architecture in the background.