There is this
Volga-Don canal
in Russia. It connects the Volga river
(discharges into the Caspian Sea)
with the Don river
(discharges into Sea of Azov)
. It was officially built between 1948 and 1952. Technically the construction started before 1941, but it was interrupted by the Second World War. The length of the waterway is
101 km (63 mi)
,
45 km (28 mi)
through rivers and reservoirs.
After capturing Azov in 1696, Peter the Great decided to build the canal, but, because of a lack of resources and other problems, this attempt was abandoned in 1701 without success.
In 1701, he initiated a second attempt. Instead of connecting the lower course of the Don with the lower course of the Volga near the present canal, the Ivanovsky Canal connected the upper course of the Don in what is now Tula Oblast.
Between 1702 and 1707, twenty-four locks were constructed, and, in 1707, about 300 ships passed the canal under remarkably difficult navigation conditions.

In 1709

due to financial difficulties caused by the Great Northern War,

the project was halted.

In 1711

, under terms of the Treaty of the Pruth, Russia left Azov and

Peter the Great lost all interest in the canal

, which was abandoned and fell into ruin.
Over time, other projects for connecting the two rivers were proposed, but none was attempted.
This 1707 canal was located in the vicinity of the city of Yepifan. That is approximately 450 miles North-West from the modern canal.
Modern Canal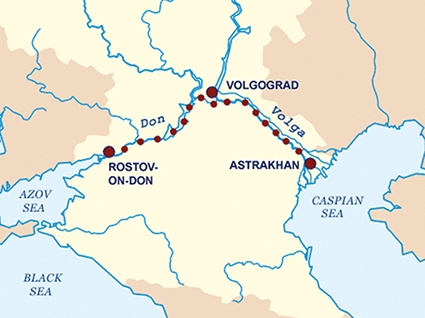 1.1 millions Workers
​
The actual construction of today's Volga–Don Canal, began prior to the Second World War, which would interrupt the process. Construction works continued from 1948 to 1952; navigation was opened 1 June 1952.
The canal and its facilities were built by about 900,000 workers including some 100,000 German POWs and 100,000 prisoners.
Upon completion, the Volga–Don Canal became an important link of the Unified Deep Water Transportation System of the European part of the USSR.
Satellite Image

17-18th Century Canal
​
If in the 1940s/1950s it took our current civilization at least 4 years and 1,100,000 workers to complete this 63 mile long canal. Technically, if you
zoom in
at the today's Volga-Don canal, you will see that it incorporates quite a few pre-existing bodies of water. The actual portion of the Volga-Don passage canal they had to dig
(by 1952)
was 35 miles long.
I'm wondering how many workers they had to employ some time around 1649 to connect Volga and Don.
17-18th century canal route
1649

1649 - La Russie ou Moscovie
1704

1704 - Nieuwe en Seer Accurate Caert Vande Doorgravinge
1707

1707 - Kaart van Tartaryen Vogens
1720
1720 - Generalis Totius Imperii Russorum
1740 - Canalis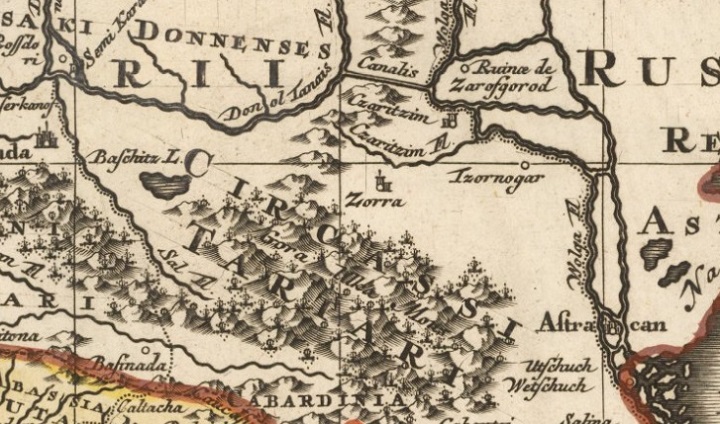 1740- Magni Turcarum Dominatoris Imperium per Europam
+
1
​
Sources:
---
KD:
It does appear that those 18th century builders incorporated a river into this canal. May be it was done way before the 17th century by more ancient workers, I do not know. I also do not know what happened to this canal.
(mud flood, deliberate destruction?)
What I do know: it does not appear that this 1649 (at least) canal was mentioned in the official Wiki narrative.

May be a portion of the old canal was incorporated into the new one.
Also, landscape keeps on changing, which suggests a global event.