Joined

Oct 29, 2020
Messages

1,142
Reaction score

4,167
0.00 star(s)
Rating: 0.00/5 0 Votes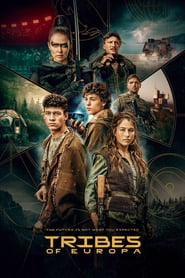 Title:
Tribes of Europa
Genre: Sci-Fi & Fantasy, Drama
First aired: 2021-02-19
Creator: Philip Koch
Cast: Emilio Sakraya, Henriette Confurius, David Ali Rashed, Oliver Masucci, Melika Foroutan, James Faulkner
Overview:
2074. In the wake of a mysterious global disaster, war rages between the Tribes that have emerged from the wreckage of Europe. Three siblings from the peaceful Origine tribe are separated and forced to forge their own paths in an action-packed fight for the future of this new Europa.
---
I'm on episode two, and here is what I've seen so far:
The Black December of 2029 - the date when the old world ended, and their "Dark Ages" had begun.
The Crimson Republic is a militant army and defensive force.
Atlantean Technologies (starting with the cube) - apparently this "Atlantean" tech is what every tribe is after.


I imagine certain internet-like "inventions" we produced, could be someone else's tech as well.
---
KD:
Any thoughts and opinions on this show?