Below is an example of how our narrative compliant movies form erroneous perceptions and false understanding of our past. In this case we are talking about Pontius Pilate, what he looked like and what clothes he wore.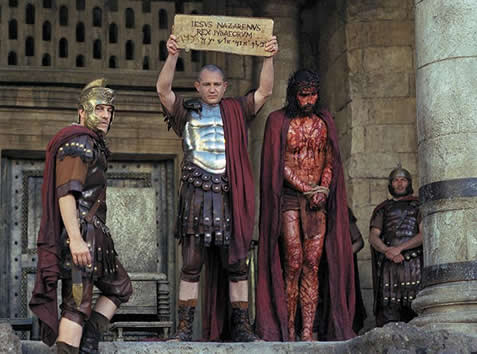 ​
This is not a debate of whether he existed or not. Encyclopedia Britannica clearly tells us that he did:
Pontius Pilate, Latin in full Marcus Pontius Pilatus, (died after 36 CE), Roman prefect (governor) of Judaea (26–36 CE) under the emperor Tiberius who presided at the trial of Jesus and gave the order for his crucifixion.
KD: As you can see, it does not say allegedly, or possibly so we have to accept that Mr. Pilate did exist, right?
When you
search for Pontius Pilate in Google
, you immediately end up with the below image to represent the notorious gentleman. The following bust possesses all "ancient Roman" characteristics we are used to, and generally expect to see. Yet:
I miserably failed to figure out where this bust of Pontius Pilate had come from.
I can't even figure out where it is located.
I found nothing on this bust.
I probably did not search good enough, but I gave it an honest try. So, I'm asking for your help:
Where and when was the below bust of Pontius Pilate discovered?
How was this bust identified to be representative of Pontius Pilate?
Pontius Pilate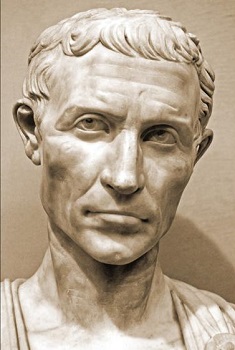 Pontius Pilate, known for adjudicating on the trial and crucifixion of Jesus, was the fifth prefect of the Roman province of Judaea, serving under Emperor Tiberius from AD 26/27 to 36/37.
This can be confirmed from a block of limestone, the Pilate Stone, was found in 1961 at the Roman theatre at Caesarea Maritima, the capital of the province of Iudaea.
It is likely that Pontius Pilate made his base at Caesarea Maritima - the site where the stone was discovered, since that city had replaced Jerusalem as the administrative capital and military headquarters of the province in AD 6, Pilate probably traveled to Jerusalem, the central city of the province's Jewish population, only when necessary.
History says little about Pilate before he served as the Roman prefect of Judea between 26 and 36 A.D. It is thought he was born into an equestrian family in Italy, but some legends claim Scotland was the land of his birth.
There are ruins of a Roman house in the small village of Bisenti, a region of Central Italy, which is alleged to be the birthplace of Pontius Pilate.
Pilate was recalled to Rome in early 37 CE, charged with misgoverning, but Emperor Tiberius died before a trial. Pilate then disappears from the historical record.
While trying to figure out the above bust origins, I ran into this little piece of information published on August 13, 1983 by
The Lethbridge Herald Newspaper
.
​
Needless to say, but I also failed to find a photograph of this destroyed bronze statue. I simply wanted to know who made it and when. France sure does like
to burn
, and blow up their historical landmarks.
As far as I understand, our Pontius Pilate acquired his known traditional distinctive "ancient Roman" appearance some time in the 19th century. Well, may be late 18th. This is when depictions like the ones below started to come out.
19th century
Pilate presenting a scourged Jesus to the people of Jerusalem
19th century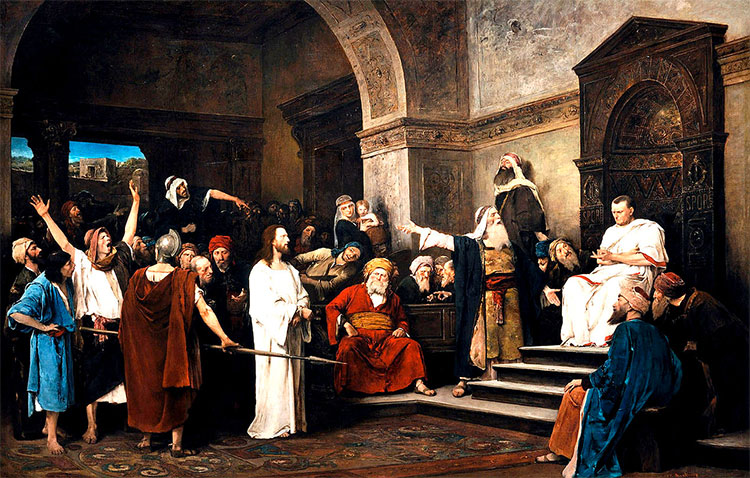 Christ before Pilate, Mihály Munkácsy, 1881
​
---
Pre -"Ancient" Pontius Pilate
​
Pontius Pilate

, Roman politician, prefect of Judea 26 - 36 AD, half-length, woodcut by Michael Wolgemut or Wilhelm Pleydenwurff to the chronicle of Hartmann Schedel, Nuremberg, 1493​
1491: Christ before Pilate. Creator: Anonymous, possibly Wilhelm Pleydenwurff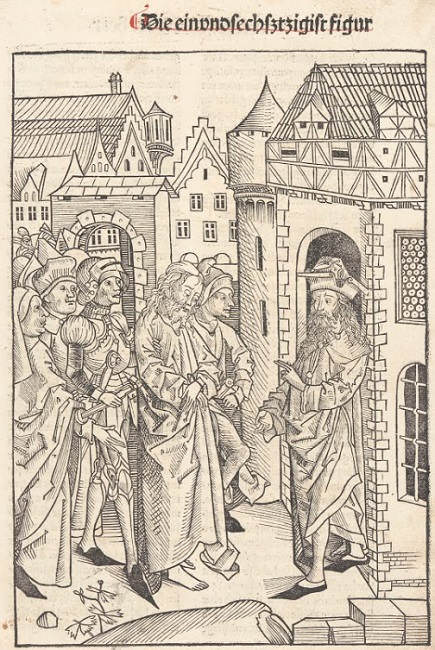 Cristoforo de Predis (1440-1486). Italian miniaturist. Miniature depicting Pilate Questions Jesus. In Stories of Saint Joachim, Saint Anne, Virgin Mary, Jesus, the Baptist and the End of the World, 1476, written by Galeazzo Maria Sforza (1444-1476). Royal Library. Turin, Italy.

​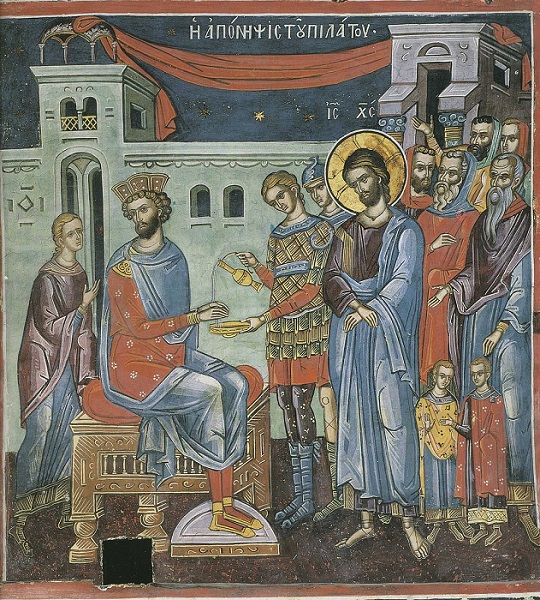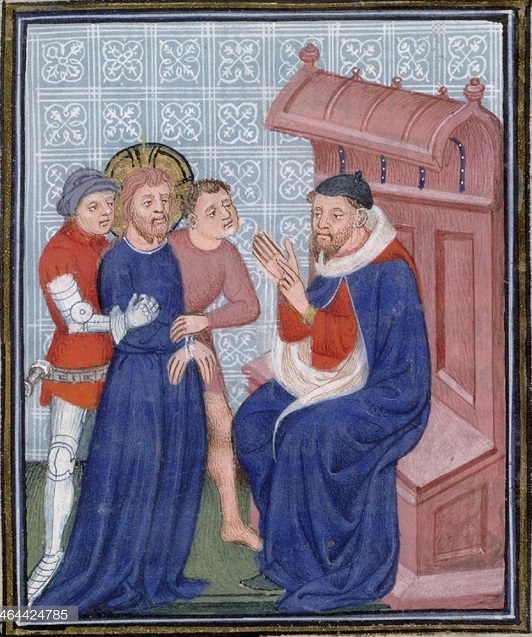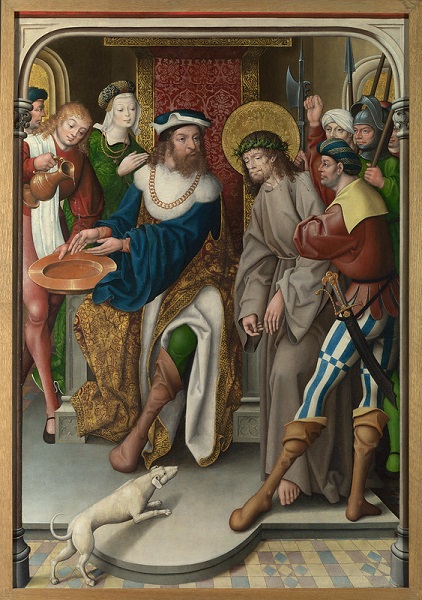 Christ before Pilate (Vlad III as Pontius Pilate), ca 1463-1464. Artist: Master of Velenje Panels (active 1450-1465)

​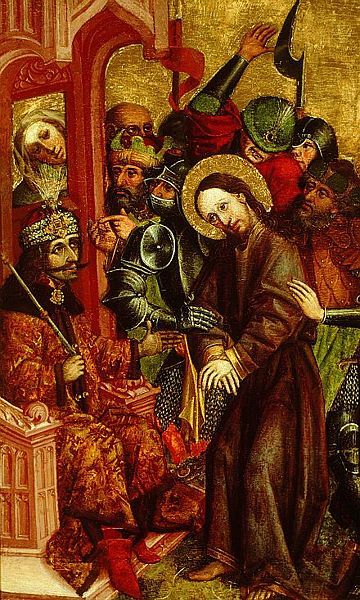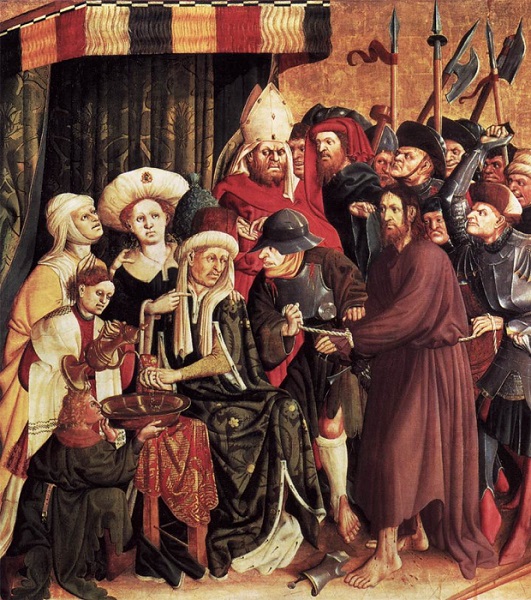 Jollain Passion Jesus Pontius Pilate Engraving Paris 17th Century ​
---
KD:
Once again, it appears that fake "antiquity" is being forced into the World History narrative. It looks like our Pontius Pilate
(if he ever existed)
was considered to be some sort of a medieval historical figure. This, in turn, pushes all the accompanying events into the time frame which shatters the official historical version.
What's you opinion on this? When did Pontius Pilate put his toga on for the first time?