Below:
a contemporary plan of a tunnel boring machine from the 1880s on an idea by Colonel Frederick Beaumont and Thomas English. The tunnel boring machine was 9 meters (30 ft) long and was driven with compressed air.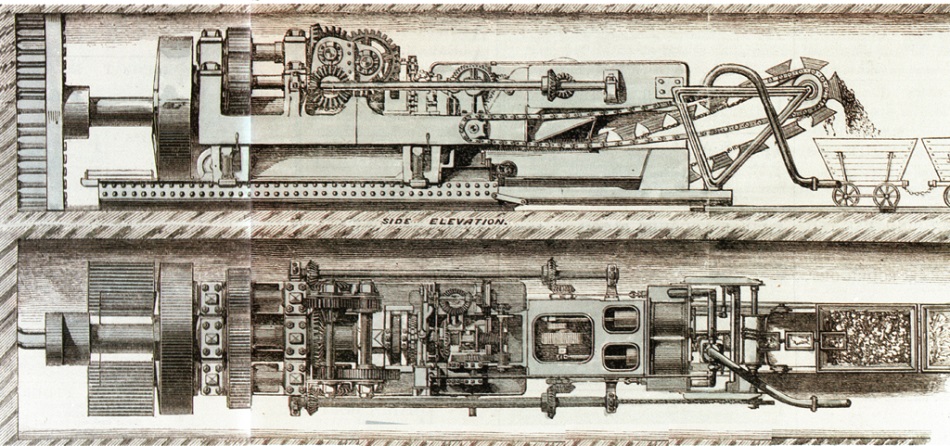 I wanted to start by saying that if you know an Officer serving in the Military Corps of Engineers, ask that Officer to design a machine similar to the one above. If that Officer says that he cannot, let him know that Officer Beaumont, who died in 1899 could, and apparently did.
Frederick Beaumont
1833-1899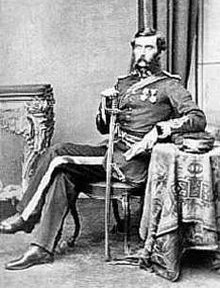 Beaumont's Bio
​
He was born in Darfield, South Yorkshire and educated at the Harrow School, Harrow on the Hill, England
He served in the Royal Engineers and was commissioned on 23 June 1852
Beaumont saw service during the Crimean War, and was one of only a small number of British officers who served with Turkish forces along the Danube, serving with the (local) rank of Captain in the Turkish Contingent Engineers, for which service he was awarded the Turkish Crimean War medal rather than the British Crimean War Medal.

Roman Empire?
​
In 1858 Beaumont again saw action, in the Indian Mutiny, during which he served on the staff of the Royal Engineers, distinguishing himself on 14 March 1858 at Lucknow and being awarded the Indian Mutiny Medal with clasp.
Promoted to Captain in 1866, Beaumont in conjunction with Captain F.E. Grover made efforts to get ballooning adopted by the British Army, Beaumont having witnessed the use of balloons in the American Civil War.
Beaumont was promoted to Major in 1872, and in 1873 was placed in charge of railways at the Royal Arsenal, Woolwich. While in the post he worked on methods for generating hydrogen for balloon experiments and was described by his contemporaries as "a man of remarkably inventive talent."
In 1874 Beaumont became involved with the Channel Tunnel Company and successfully bored a number of tunnels without the use of explosives and more than three times faster than manual labour.
He invented a tunneling machine which was accidentally credited with work actually carried out by Captain Thomas English's more successful machine in 1880, in the magazine The Engineer.
In 1876 Beaumont took leave from the Army and was elected one of the two Members of Parliament for South Durham which he held from 1868 to 1880.
Beaumont retired from the Army shortly after his promotion to Colonel in 1877, and died on 20 August 1899.
Nothing in the
above information
suggested that Beaumont could design, and build the below. Unless in the mid-nineteenth century the British Royal Military was producing mechanical engineers of this caliber, there had to be an alternate explanation for such ingenuity. Where is the precursor to this invention? Of course we have this
1868 mining equipment
, but it is essentially in the same boat with the machine below. But speaking of Beaumont, where did he gain the knowledge to design the machine of such complexity?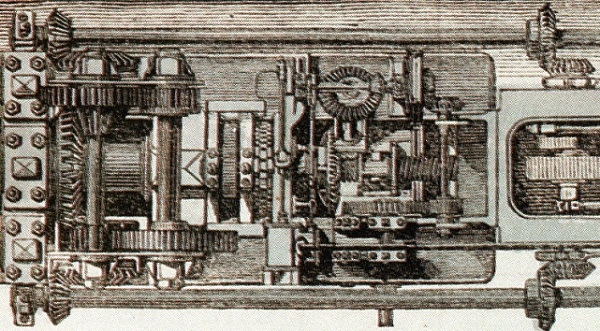 Up till this very moment I failed to google out any education related bio information, other than the above Wikipedia bullets. But what I did find, suggests that there is much more than just Beaumont's education, the official history chose to omit.
​
You have to love names like
Augustus Loftus
. It's almost like they had to insert "William Frederick" into this name to make it sound somewhat normal. Anyways, it's the contents of this document, which are remarkable enough to start asking totally different questions.
Unless this Mr. Beaumont was attending some evening mechanical engineer classes in between the 19th century Crimean War battles, I have a theory on the above educational non-sense.
Frederick Beaumont was a mechanical engineer first, and a soldier second
The mid-19th century events forced him into the military
The quality of education received by him in the 1840s is being hidden from public knowledge, for it was never supposed to exist back then
And I am not really sure where 1840s are located on the real time scale
Was the so-called Industrial Revolution merely a process of indoctrination of the pre-existing technology? From
one of the previous posts
, it appears that they were indoctrinating the pre-existing tech from probably late 1850s, or early 1860s. Just look at the below inventions being registered one after another in the 1880s. This is only one book, and only New South Wales registered "inventions".
I honestly start thinking that the entire length of the
Second Industrial Revolution
(1850-1914)
was the process of legitimizing the pre-existing technological achievements. I am opened for ideas on what the 1750-1850 period was used for.
​
Could the above theory be the reason why no information was ever located pertaining to the below
1908 Gary W. Va. mine machine
? Or could it be that they were good to the point where they could go from a pickaxe to this "1908 machine" in one stride without any developmental evidence? We still don't have any info on this mining equipment, by the way.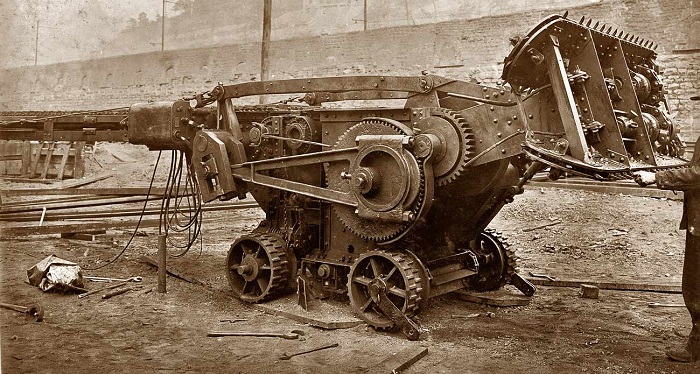 1840s-80s Tunneling Machines



1846 Henri-Joseph Maus's Mountain Slicer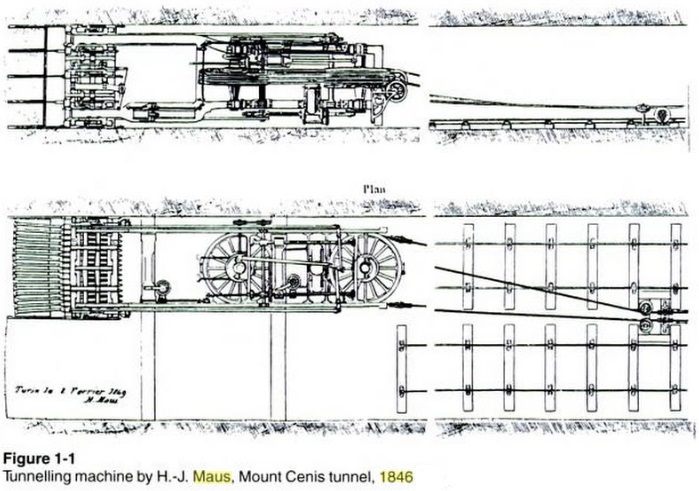 1853 Wilson's Tunneling Machine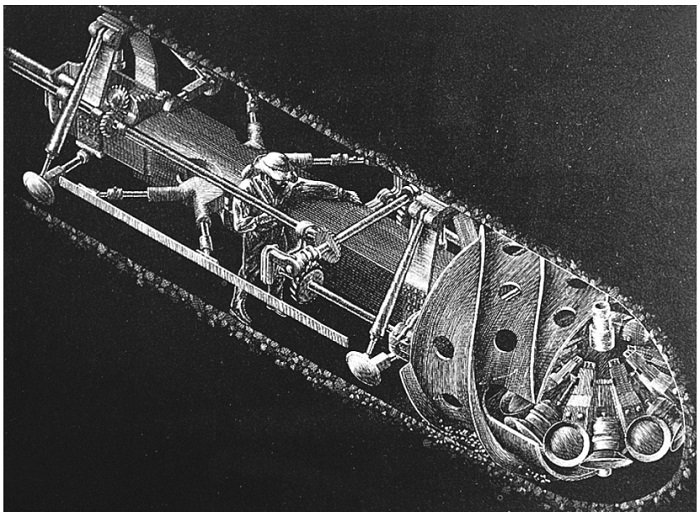 Source
1860s Beach's Tunneling Machine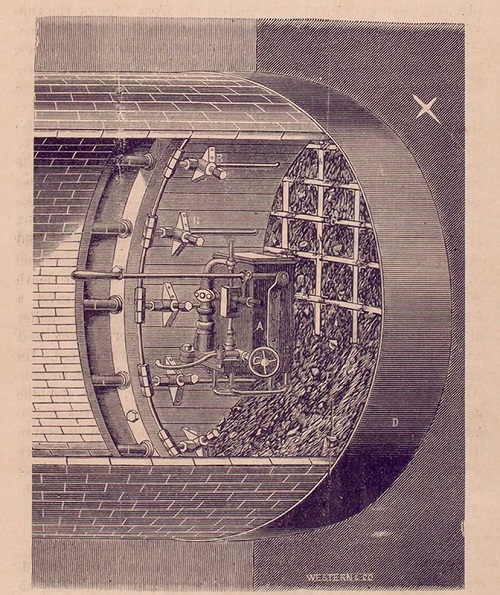 NYC's first subway was luxurious, pneumatic and built illegally
1867
Doering & Sachs
Drilling / Tunneling Machine
Source
1868 Low's Boring Machine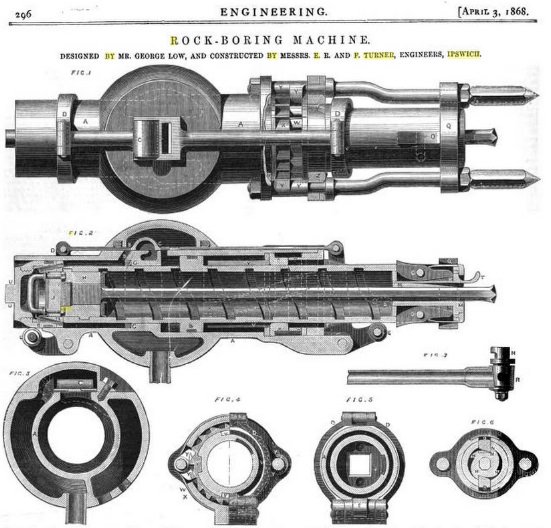 Source
1874 Brunton Machine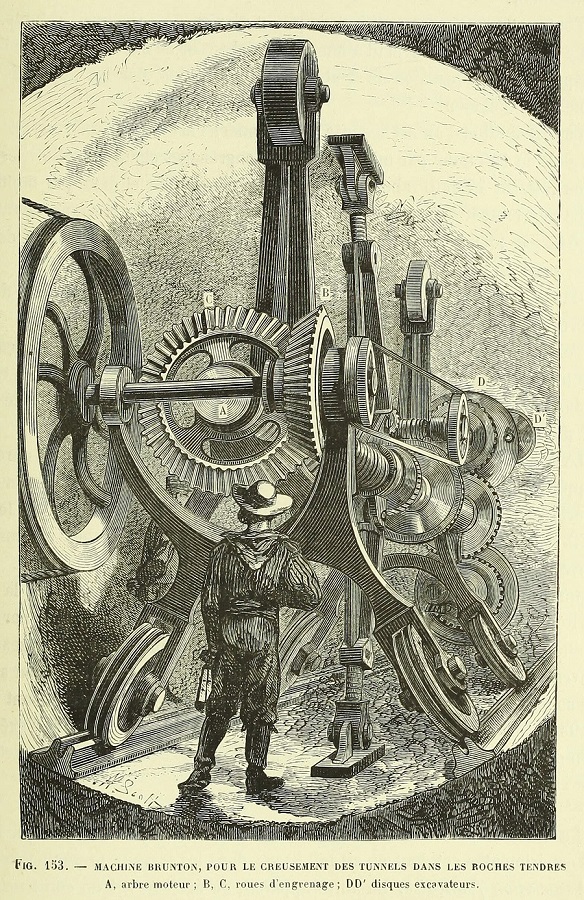 Source
1882 Beaumont Machine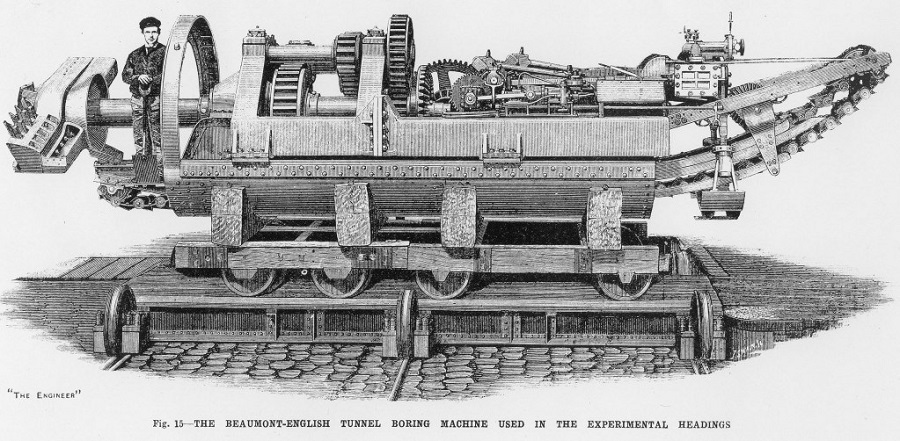 Source
​
The above machines are the ones I found fairly quickly. Pretty sure some extra digging could produce several additional ones. At the same time, I have a strong suspicion that many of those did not make it through time. Interestingly enough, but I have not seen a single photograph of any of the presented machines. What's new, right?
Obviously being able to google this stuff out suggests that none of this is some sort of secret information. Yet, this is definitely not something taught at school. I have hard time imagining that many people comprehend the level of the
mid-19th century tech
.
I think this technology was re-introduced into the world, which could suggest that we have no idea how old it truly is.
Below is one of the photographs, which I suspect, ended up slipping through the censorship cracks.
---
KD:
May be the existence of such machines in the past could explain those thousands of miles of underground tunnels located all over the world. Some of them are being called sewers, and some are being used as subways. The hidden meaning behind the existence of these machines in the past, reflected in the current existence of the old tunnels is within the entire infrastructure which had to surround this level of technology. I doubt this technology could materialize out of nothing, and existed by itself, detached from all the other segments of life. Yet, we appear to know nothing about the true state of things back in the day. Hopefully we will get there one day.