Jumping ahead I will say this. It appears
(to me, at least)
that
de Paula del Villar
, and the great
Gaudi
were simply trying to finish
(in 1882)
the construction project initiated by someone else. Today, in 2019 the
Basílica
is still under construction.
The
Basílica i Temple Expiatori de la Sagrada Família
is a large unfinished Roman Catholic church in Barcelona, designed by Catalan architect Antoni Gaudí
(originally Francisco de Paula del Villar was commissioned for the job, but he quit)
. Gaudí's work on the building is part of a UNESCO World Heritage Site, and in November 2010 Pope Benedict XVI consecrated and proclaimed it a minor basilica, as distinct from a cathedral, which must be the seat of a bishop.
Francisco de Paula del Villar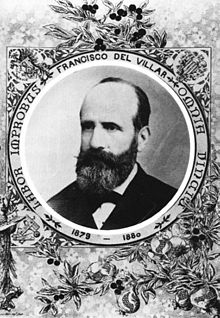 1828-1901
​
We are not really interested in this guy, for he barely participated in the entire
Sagrada Família
saga. Villar studied architecture in Madrid at the
Academia de Bellas Artes de San Fernando
, and qualified in 1852.
In 1854 he designed a series of emergency hospitals for victims of the cholera epidemic.
He became president of the Association of Architects and director of the Higher School of Architecture.
He held the post of diocesan architect from 1874 to 1892, and was succeeded in it by his son Francesc de Paula del Villar i Carmona.
He restored the church of Santa Maria del Pi, the Basílica de Santa Maria de Vilafranca and the Casa de Misericòrdia;
he also designed many parish churches and the apse of the basilica of the Monastery of Montserrat.
Antoni Gaudí worked under him in a junior capacity.

KD: this de Paula del Villar appears to bemore important than what we are allowed to know, but he is a non-factor in our story. At least officially he is.
In 1877 he was commissioned by the Associació de Devots de Sant Josep to build the church of the
Sagrada Família
. Villar planned a
Neo-Gothic
design, of which only the crypt was built. He abandoned the project in 1883 as a result of disagreements with
Joan Martorell
, the architect advising Josep Maria Bocabella, president of the Associació de Devots de Sant Josep and promoter of the project. The job was offered to Martorell, who turned it down, and instead recommended Antoni Gaudi. Gaudi then took charge of the project and made it into his masterpiece.
Antoni Gaudí
1852-1926
​
Antoni Gaudí i Cornet
was a Spanish architect known as the greatest exponent of
Catalan Modernism
. Gaudí's works have a highly individualized, and one-of-a-kind style. Most are located in Barcelona, including his main work, the church of the Sagrada Família.
Gaudí's work was influenced by his passions in life: architecture, nature, and religion. He considered every detail of his creations and integrated into his architecture such crafts as ceramics, stained glass, wrought ironwork forging and carpentry. He also introduced new techniques in the treatment of materials, such as trencadís which used waste ceramic pieces.
Under the influence of neo-Gothic art and Oriental techniques, Gaudí became part of the Modernista movement which was reaching its peak in the late 19th and early 20th centuries. His work transcended mainstream Modernisme, culminating in an organic style inspired by natural forms. Gaudí rarely drew detailed plans of his works, instead preferring to create them as three-dimensional scale models and moulding the details as he conceived them.
Gaudí's work enjoys global popularity and continuing admiration and study by architects. His masterpiece, the still-incomplete Sagrada Família, is the most-visited monument in Spain. Between 1984 and 2005, seven of his works were declared World Heritage Sites by UNESCO. Gaudí's Roman Catholic faith intensified during his life and religious images appear in many of his works. This earned him the nickname "God's Architect" and led to calls for his beatification.
Between 1875 and 1878, Gaudí completed his compulsory military service in the infantry regiment in Barcelona as a Military Administrator.
Most of his service was spent on sick leave, enabling him to continue his studies. His poor health kept him from having to fight in the Third Carlist War, which lasted from 1872 to 1876.
During this time Gaudí studied architecture at the Llotja School and the Barcelona Higher School of Architecture, graduating in 1878.
His grades were average and he occasionally failed courses.

When handing him his degree, director of Barcelona Architecture School, said:

"We have given this academic title either to a fool or a genius. Time will show."

Gaudí, when receiving his degree, reportedly told his friend, the sculptor Llorenç Matamala:

"Llorenç, they're saying I'm an architect now."
Gaudí: End of Life & Death​
Gaudí left hardly any written documents, apart from technical reports of his works required by official authorities, some letters to friends (particularly to Joan Maragall) and a few journal articles. Some quotes collected by his assistants and disciples have been preserved. The only written document Gaudí left is known as the Manuscrito de Reus (Reus Manuscript) (1873–1878), a kind of student diary in which he collected diverse impressions of architecture and decorating, putting forward his ideas on the subject. Included are an analysis of the Christian church and of his ancestral home, as well as a text about ornamentation and comments on the design of a desk.
On 7 June 1926, Gaudí was taking his daily walk to the Sant Felip Neri church for his habitual prayer and confession. While walking between Girona and Bailén streets, he was struck by a passing number 30 tram and lost consciousness. Assumed to be a beggar because of his lack of identity documents and shabby clothing, the unconscious Gaudí did not receive immediate aid. Eventually some passers-by transported him in a taxi to the Santa Creu Hospital, where he received rudimentary care.
By the time that the chaplain of the Sagrada Família, Mosén Gil Parés, recognised him on the following day, Gaudí's condition had deteriorated too severely to benefit from additional treatment. Gaudí died on 10 June 1926 at the age of 73 and was buried two days later. A large crowd gathered to bid farewell to him in the chapel of Our Lady of Mount Carmel in the crypt of the Sagrada Família.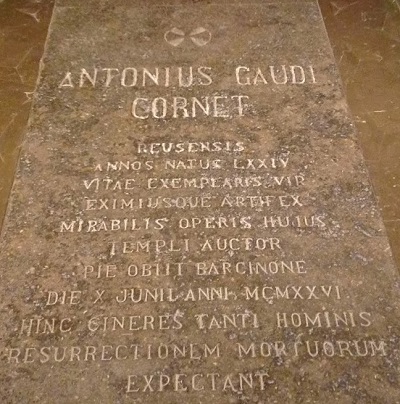 ​
His gravestone bears this inscription:
Antonius Gaudí Cornet. Reusensis. Annos natus LXXIV, vitae exemplaris vir, eximiusque artifex, mirabilis operis hujus, templi auctor, pie obiit Barcinone die X Junii MCMXXVI, hinc cineres tanti hominis, resurrectionem mortuorum expectant. R.I.P.
(Antoni Gaudí Cornet. From Reus. At the age of 74, a man of exemplary life, and an extraordinary craftsman, the author of this marvelous work, the church, died piously in Barcelona on the tenth day of June 1926; henceforward the ashes of so great a man await the resurrection of the dead. May he rest in peace.)
Basílica i Temple Expiatori
de la Sagrada Família​
In 1882, construction of Sagrada Família started under architect Francisco de Paula del Villar. In 1883, when Villar resigned, Gaudí took over as chief architect, transforming the project with his architectural and engineering style, combining Gothic and curvilinear Art Nouveau forms. Gaudí devoted the remainder of his life to the project, and he is buried in the crypt. At the time of his death at age 73 in 1926, when he was run down by a tram, less than a quarter of the project was complete.
0% complete - 1882
25% complete - 1926
70% complete - 2015
100% projected - 2026
La Sagrada Familia under construction, 1887.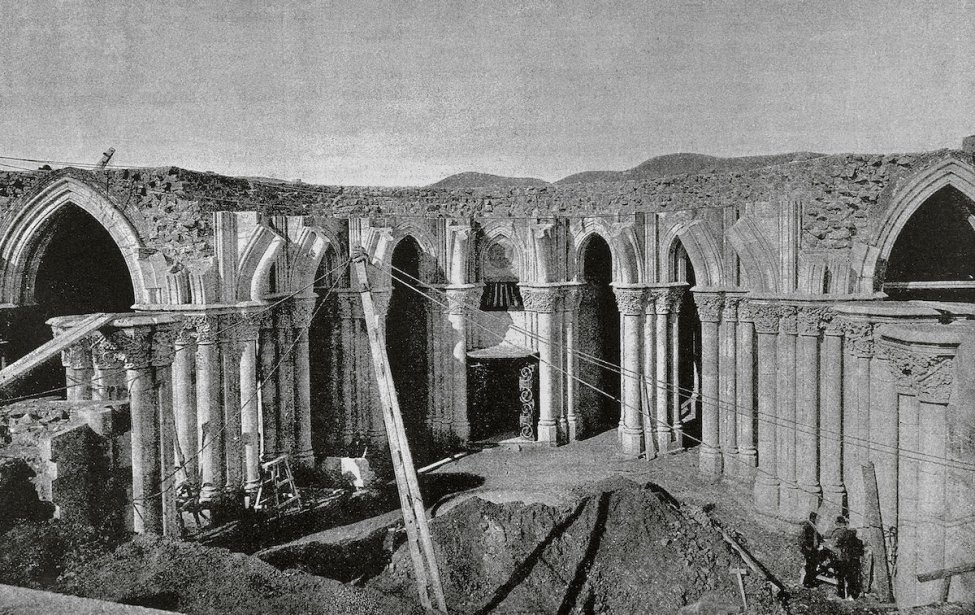 Source
1889
Work on the Sagrada Familia in 1889
The upper part of the crypt and the beginning of the apse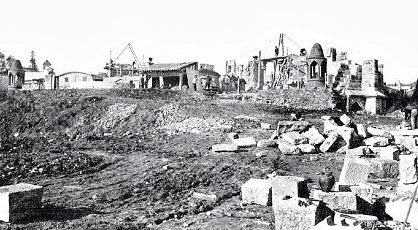 Source
1892
​
The apse of the Sagrada Familia in 1892. The work had begun 11 years earlier for the crypt located under this apse. In 1892, a year before the photo, begin to build the foundations for the facade of the Birth.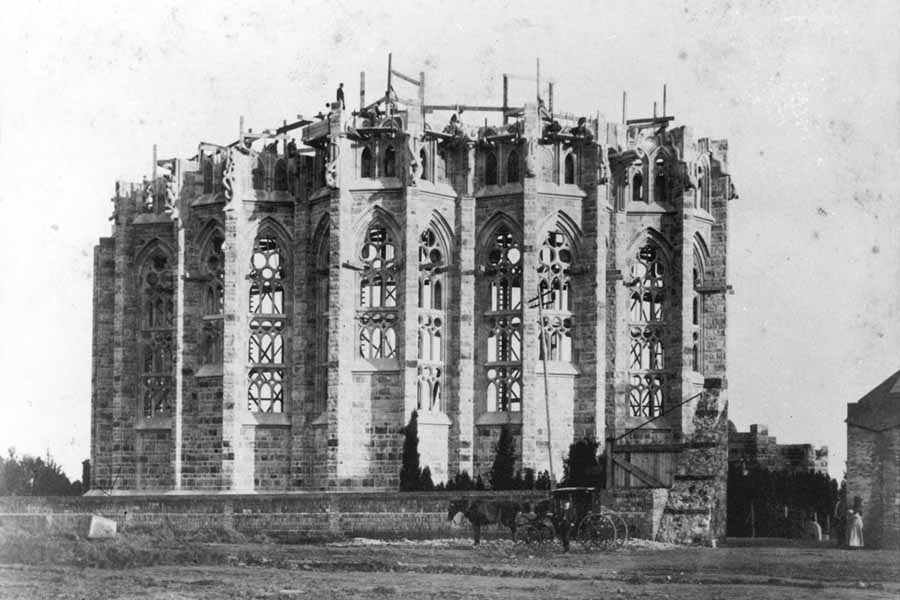 Source
1893
L'apse in 1893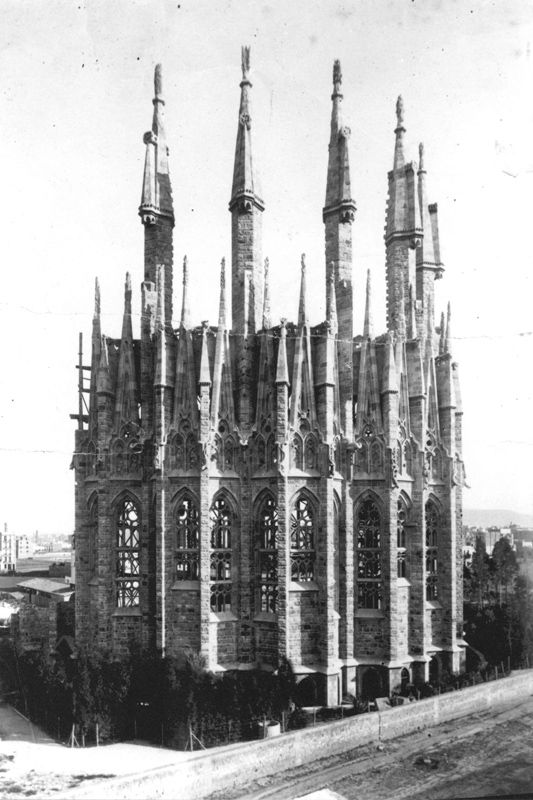 Source +
1
1896
Portrait of soldiers in front of the Sagrada Familia (1896), photograph by Pau Audouard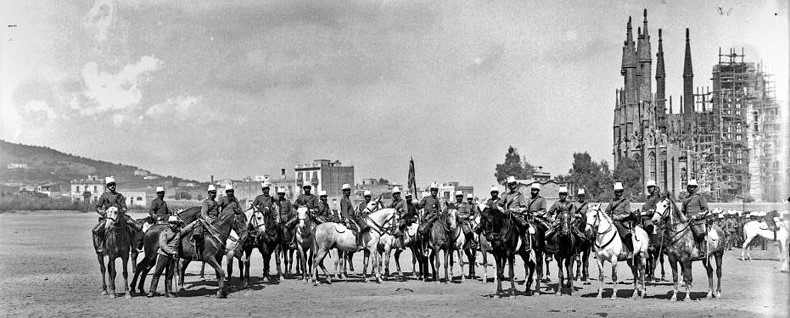 Source
1896
Construction of the Nativity Façade 1896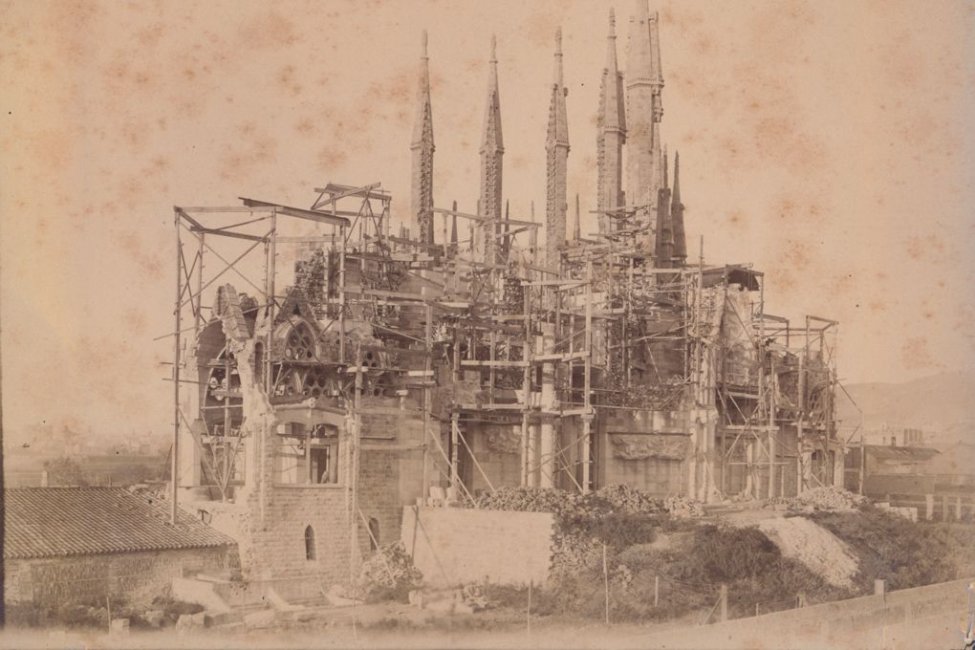 Source
1898
​
Quite a few sources list the below photograph as the one reflecting the state of the Basilica in 1898. That would be 16 years after the construction was started.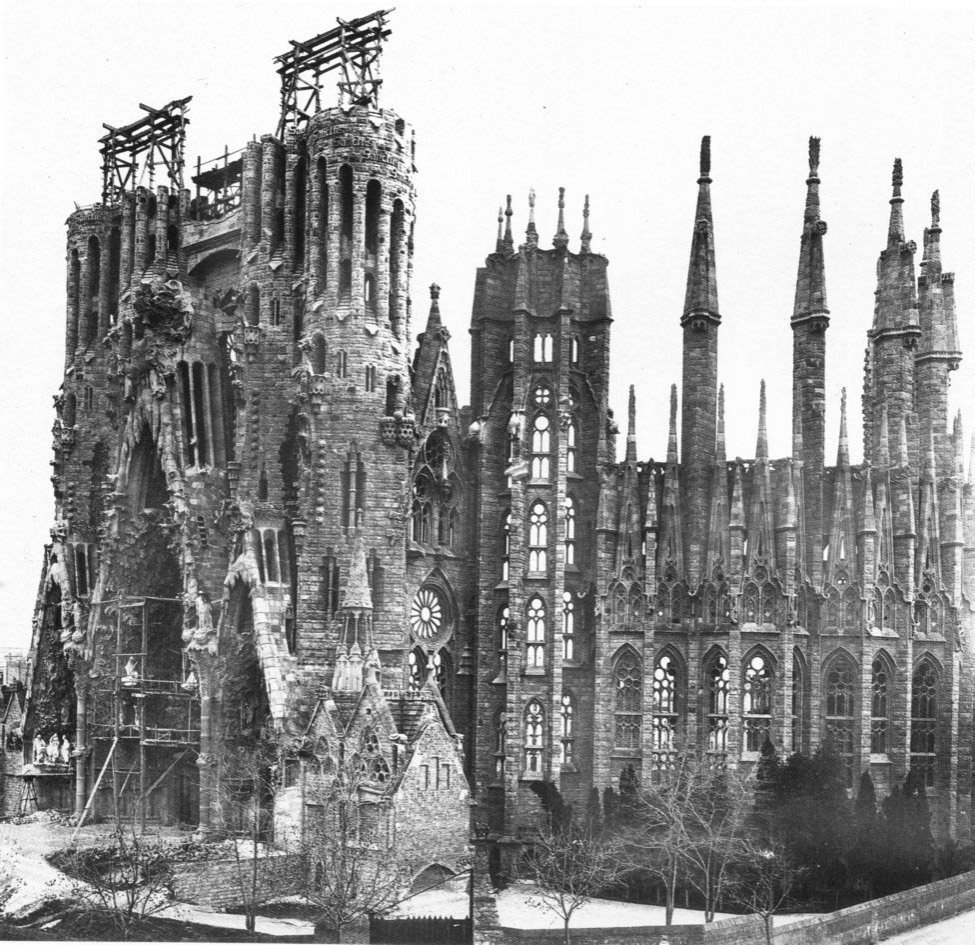 Source
2026: May Be...
​
Sources and Links:
Sagrada Família - Wikipedia
Sagrada Familia - Chronology
One-minute 3D animation shows final phases of Gaudí's Sagrada Família
Antoni Gaudí - Wikipedia
Francisco de Paula del Villar y Lozano - Wikipedia
History of the Temple - Sagrada Família - Sagrada Familia
2019, the year the Sagrada Família skyline starts to change - Blog Sagrada Família
Antoni Gaudí, Sagrada Família – Smarthistory
Curiosities about Sagrada Família in Barcelona - What to do in Barcelona
List of Gaudí buildings - Wikipedia
---
Just figured I would add this cathedral to the list of the ones we already have. This is clearly one amazing piece of architecture. 144 years to complete the construction is a long time, especially considering today's technological capabilities.
2026 looks
I guess, one of the problems I have with this structure, is its progression from
1882 to 1889
, and from
1889 to 1893
. It appears that nothing major was constructed from 1882 to 1889. Than all over sudden within the next four years the building grew exponentially. After 1893 the construction slowed, and continued at a snail pace through present times.

​
The other issue of mine is the aged appearance of this building in any of the above 19th century construction photographs. It just does not look new to me. I am not quite sure where the actual construction process is. It looks like that materials just arrive on their own.
The 1896 photograph (above) has that small barn which kind of does not belong. It appears way to permanent of a structure for our elaborate Goudi to include it in its project. As a matter of fact, when you consider Gaudi's vision, this barn becomes an atrocity.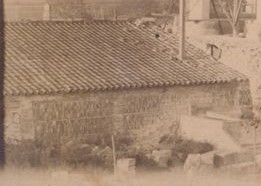 ​
The segment of the cathedral presented below is also somewhat strange. Looks somewhat melted. Pretty sure the official answer would be that it is this way by design. If so, what is it supposed to symbolize? The mud flood? But... is it really the design?
Then we have the mystery of Mr. Gaudi himself. His architecture is
out of this world,
and requires further investigation
.
Also, what's up with the "unfinished" structures of his?
KD:
Officially, everything appears to be making sense, including the
photographic sequence.
Did we get the entire story though?