Please watch at least some of this video. Steve appears to be a regular main stream guy who loves history, yet his intro is priceless.
---
1905 Lewis and Clark Exposition
Portland, Oregon
​
This is one of the expos I wanted to take a look at for a while. A few years ago I actually drove through the area where the expo once stood. Not surprisingly, nothing out there could suggest that at some point in time, the same area had buildings similar to the ones below.
By the way, this expo lasted for 137 days. You know what happened next.
I agree, it does not look as fancy as
some of the other expos
, but here is one of the construction photographs we have for this 1905 Lewis and Clark Exposition in Portland.
Grounds under construction at colonnade entrance, Lewis and Clark Exposition, Portland, Oregon, 1905​
Looks legit?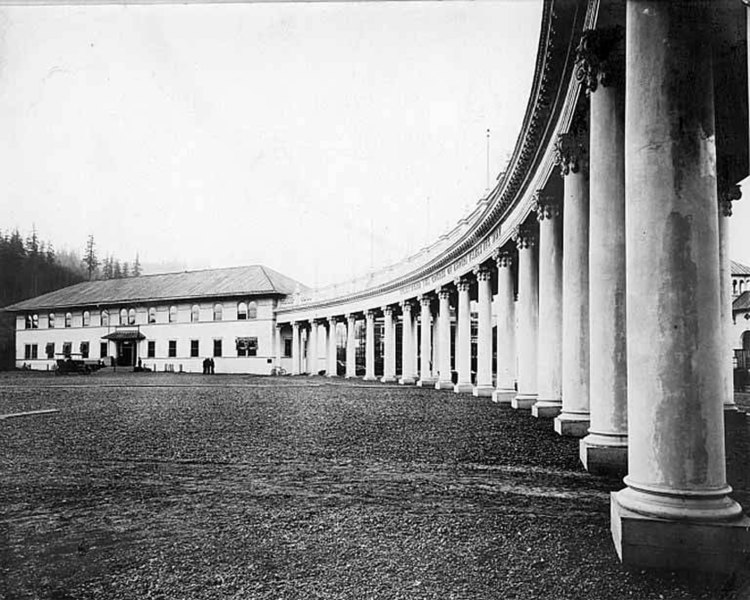 The Expo
​
The
Lewis and Clark Centennial Exposition
, commonly also known as the
Lewis and Clark Exposition
, and officially known as the
Lewis and Clark Centennial and American Pacific Exposition and Oriental Fair
, was a worldwide exposition held in Portland, Oregon, United States in 1905 to celebrate the centennial of the Lewis and Clark Expedition.
Portland staged its first and only world's fair from June 1 through October 15, 1905.
During those

four and a half months

, 1,588,000 paying visitors passed through the gates to the 400-acre fairgrounds on the northwest edge of town.

Total attendance: 2,554,000.

More than 400,000 were from outside the Pacific Northwest, a huge number of tourists for a city of perhaps 120,000 people.
While not officially considered a World's Fair by the Bureau of International Expositions, it is often informally described as such; the exposition attracted both exhibits and visitors from around the world.
Exhibits from 21 countries were featured.
Portland grew from 161,000 to 270,000 residents between 1905 and 1910, a spurt that has been attributed to the exposition.
Dan McAllen
, a dry goods merchant, suggested in 1895
"that Portland mark the new century and pull itself out of its economic slump by holding some sort of international fair."
​
Since the area's focus was on other issues, his proposal went unnoticed for a few years. The idea of a fair came up again occasionally, but no concentrated effort was made for various reasons. It was not until 1900 that this sort of action began, when
"J.M. Long of the Portland Board of Trade put together a provisional committee"
to begin planning some sort of fair
.
Soon, a permanent board was conceived, and the head of the Portland General Electric Company, Henry W. Goode, became the president of the Board of Directors.​

Others included I. N. Fleischner, First Vice-President; Oskar Huber, Director of Works; Colonel Henry E. Dosch, Director of Exhibits; Henry E. Reed, Secretary; and J. A. Wakefield, Director of Concessions and Admissions.​

These were some of Portland's most wealthy and powerful men, working together to create an event of unmatched grandeur and power.​
Although the true motivation for the fair came from an economic and business standpoint, it was still crucial to have a theme for publicity and décor. The theme for the Portland fair came from the advice of the Oregon Historical Society.
They suggested that the centennial anniversary of the Lewis and Clark Expedition's stay in Oregon would be a perfect event to commemorate. ​

As the directors wanted to include their dreams of economic growth as well, they combined the two ideas into a title that summed up the dual goals of historic commemoration and regional boosterism: 'The Lewis and Clark Centennial and American Pacific Exposition and Oriental Fair." ​

In addition, a motto was decided on, to focus the festivities and bolster publicity: "

Westward The Course of Empire Takes Its Way

."

​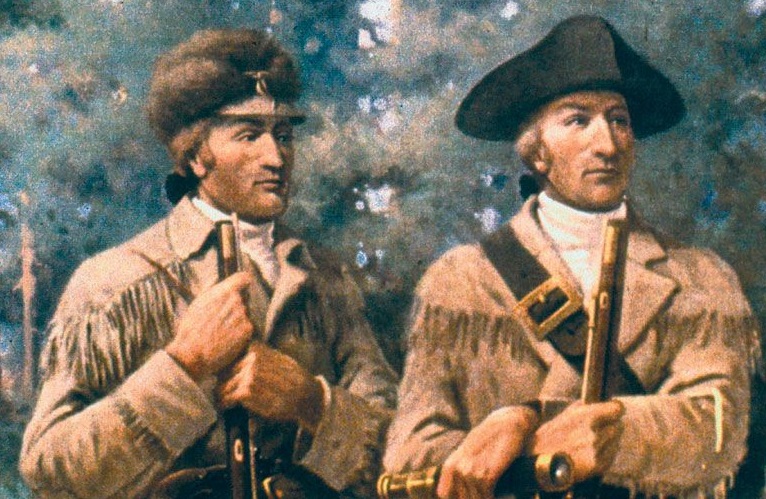 Funding
​
Once a theme was set, the men began securing exhibits and getting support for their investments. Getting government backing was crucial due to the personal investments already made:
The Ladd and Tilton Bank invested

$20,000

, the Northern Pacific Railroad another

$20,000

, and brewer Henry Weinhard

$10,000

.

​

Many of the substantial investments were from hotels (the Imperial Hotel Company purchased

50 shares worth $5,000

), restaurants, streetcar companies, and retailers – all groups with much to gain from the success of the fair and the economic prosperity it could provide.

​

In addition, approximately

3,000 average citizens purchased stock certificates

both as investment opportunities and to support what they viewed as a worthwhile venture.

These individual investments eventually paid off greatly.

​

Seeing the potential benefits of the fair's success, the state legislature began planning appropriations for the fair.​

Thus, the Legislature passed "An Act Celebrating the One Hundredth Anniversary of the Exploration of the Oregon Country," which appropriated a sum of approximately

$500,000

for the fair.

​
After the closing of the fair, Henry Reed, Secretary for the Exposition Corporation, created a hefty volume documenting the whole process of planning and running the event. He, too, spoke highly of the government's involvement, and wrote that
"The State of Oregon gave more solid help to the Lewis and Clark Centennial Exposition, than any other state of the Union has ever given to an exposition held within its borders."
He was also specifically grateful for the City of Portland's assistance, and noted that their
"cordial and enthusiastic backing"
was invaluable to the success of the Fair.
I understand that back in the day they did not look for easy ways of doing things. For whatever reason they really loved building in water. The site choice made by the city of Portland was no exception:
It was claimed that the natural advantages offered by the Willamette Heights outweighed all other considerations and that Guild's Lake, it was said, could be utilized to great advantage and made a scene of beauty.

The Lewis and Clark Exposition had its site - a grove of trees, 180 acres (0.73 km2) of pasture,

and 220 acres (0.89 km2) of waist-high stagnant water at the site's center.

​
Here we start with our normal construction related shenanigans. We know that our expo opened its doors for the first time on 06/01/1905. The image below is showing the area of the future exposition. The photograph
is dated
with 01/28/1904.
When did the construction start? It was not immediately clear, but
this source helped out
:
05/03/1904: ground-breaking ceremonies for construction of exposition buildings.
05/01/1905: fair buildings completed on contract time.
Total: It took them approximately 363 days to build everything.
You can read up on the
generic construction related stuff
yourself. As far as known patterns go, here they are:
The majority of the buildings were in the style of the Spanish Renaissance and decorated with architectural flourishes such as domes, cupolas, arched doorways and red-colored roofs.

The buildings, not intended to be permanent, were largely constructed of plaster over wooden frames, which resulted in rather low construction costs (79 cents per foot).

The major exception to this was the Forestry Building, a log cabin which was said to be the world's largest. It was constructed of 54 long unhewn logs, and contained exhibits of local forestry products, wildlife, and Native American photographs. The building was 206 feet (63 m) long, 102 feet (31 m) wide, and 72 feet (22 m) high (63 m x 31m x 22m), and cost nearly $30,000. The building stood until destroyed by fire in 1964.
Below you can find the official ground plan. This is a large
4000 x 2799
image, so everything should be readable.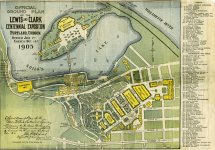 ​
I made a separate image out of the expo buildings and other things they had out there.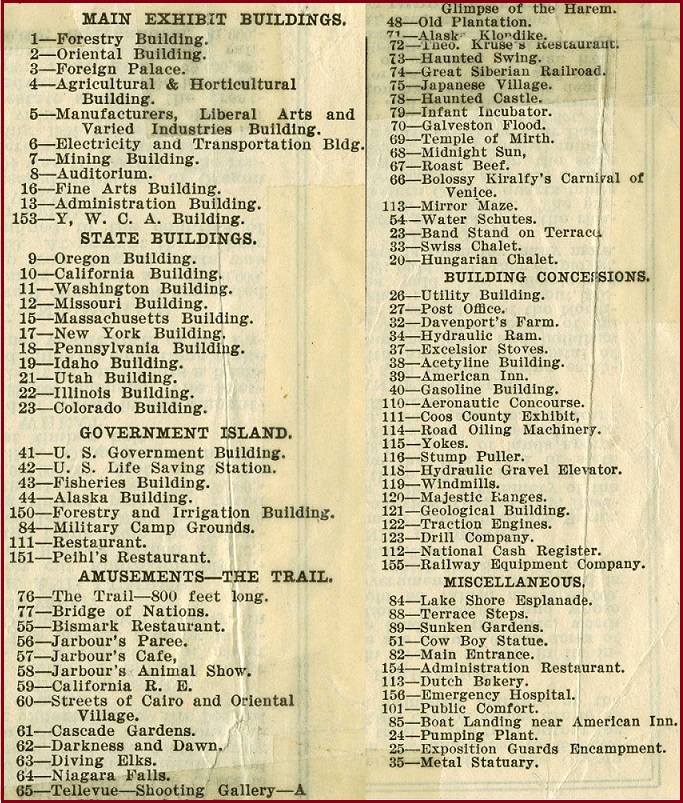 Construction Photographs
​
Obviously, to exist, everything had to be built at some point. From this perspective, I have no doubt that things were built. The question is when, by whom and with what technology. One of the construction images (with pealing off columns) is at the top of this article. Let's see if we
can find
any other construction photographs.
The one that immediately came up in the search results was the alleged construction of the Forestry Building. I am not sure what we are seeing here, but there it is.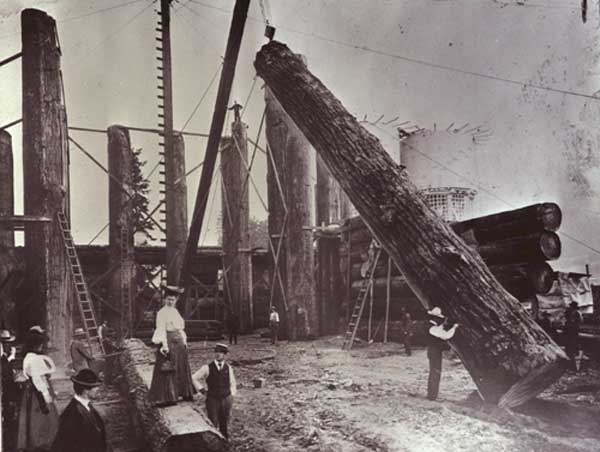 Source
Construction of the Grand Stairway
Source
Buildings Constructed
for the Lewis and Clark Centennial Exposition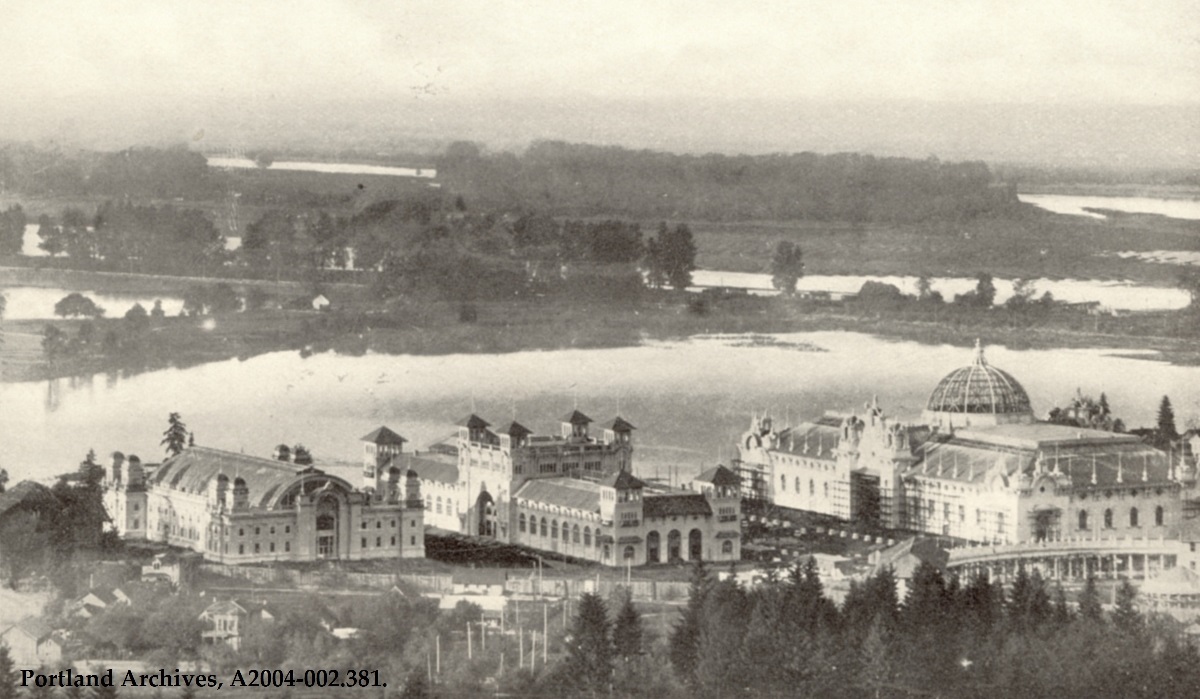 Source
Colonnade of the Government Building Under Construction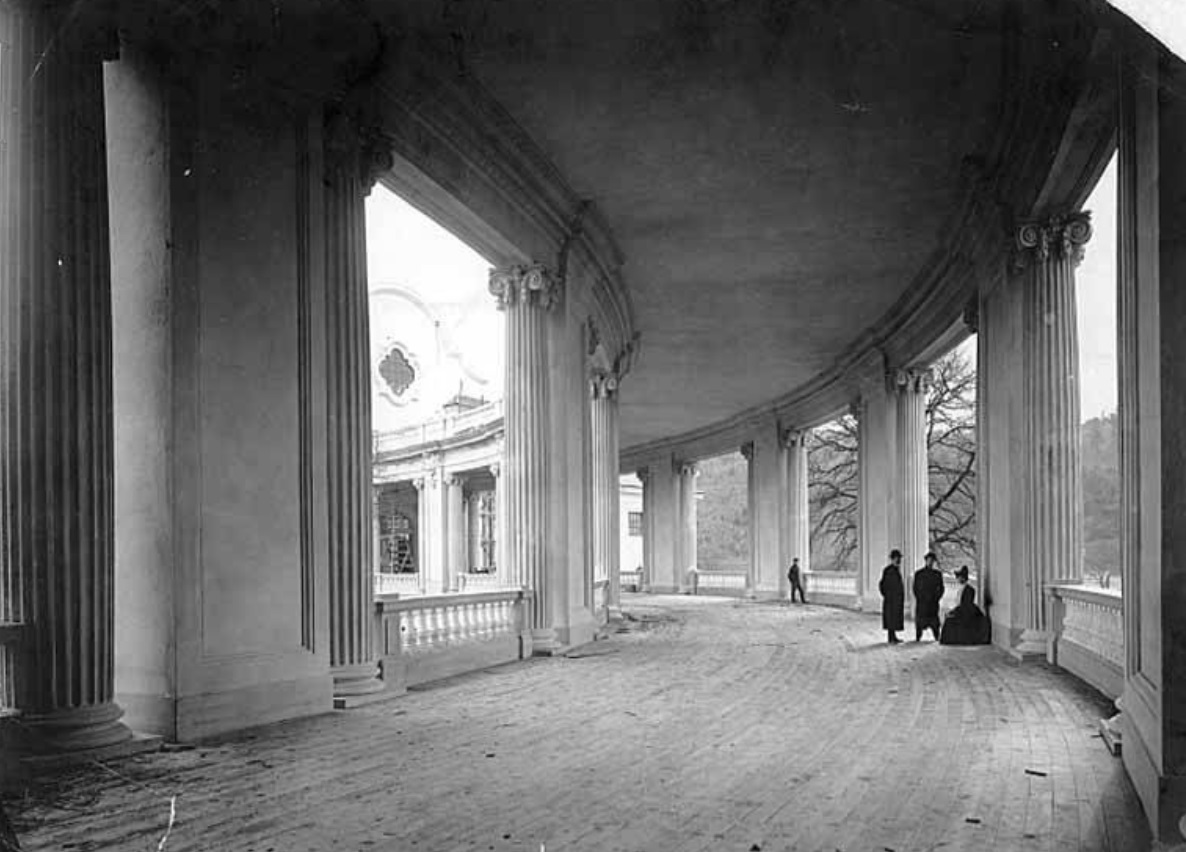 Source
Boardwalk Construction on Guild's Lake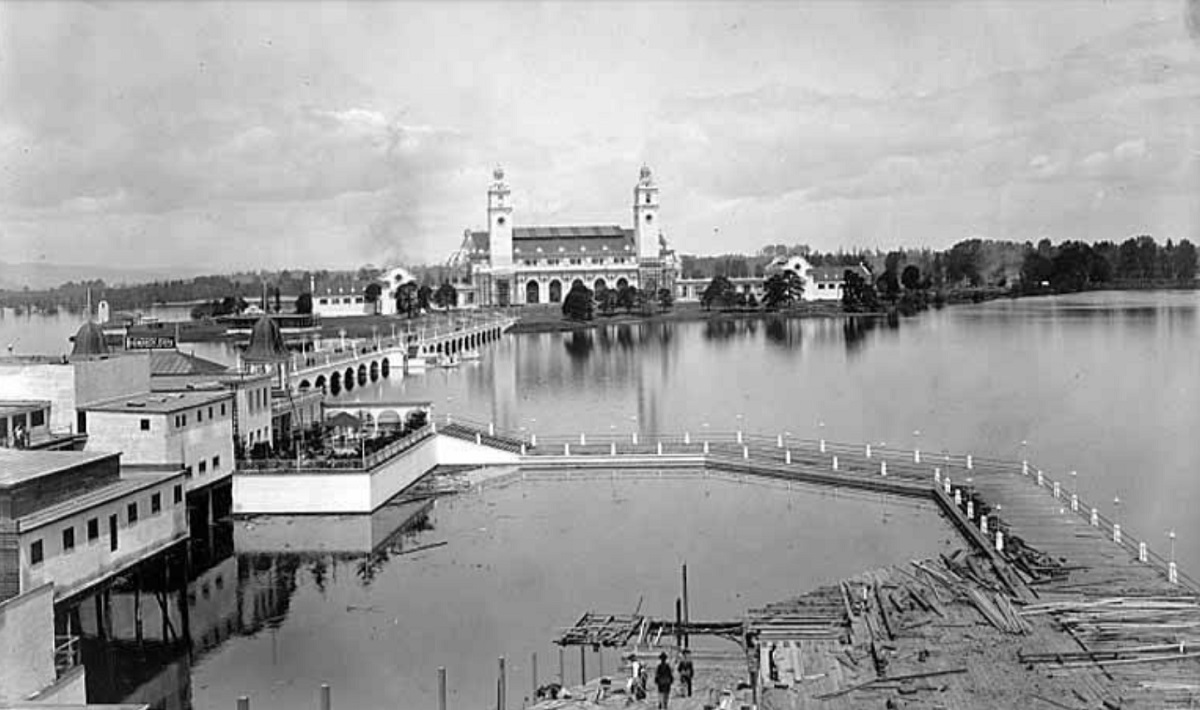 Source
Festival Hall Under Construction
Remington sculpture
with Columbia Court Under Construction in the Background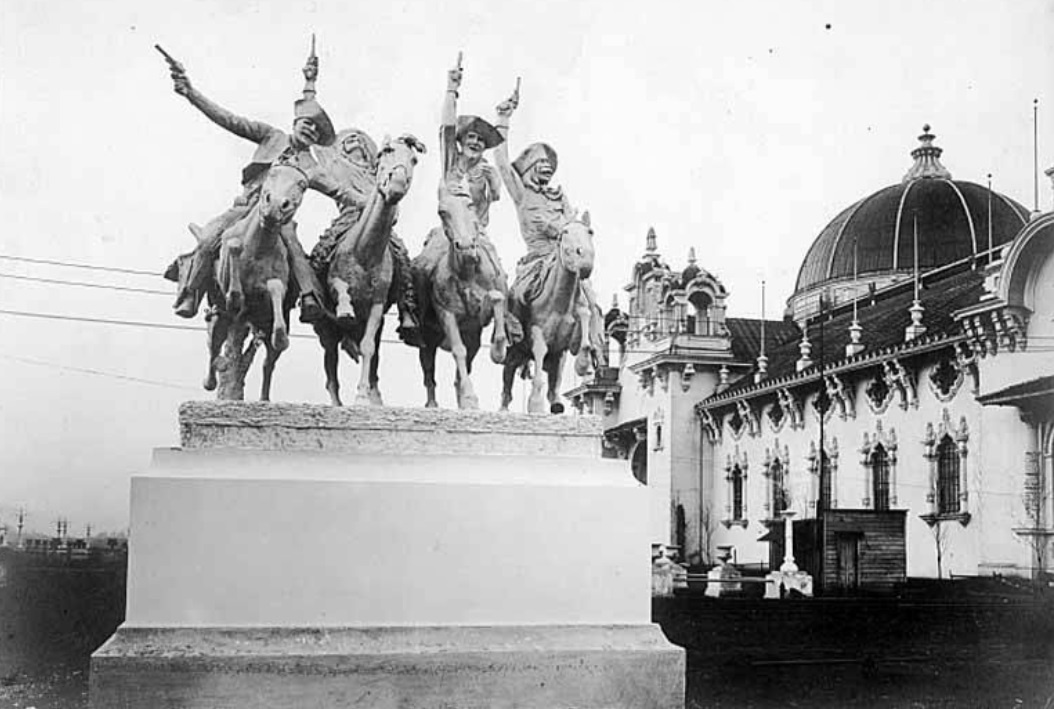 Source
​
Ok, this is ridiculous and I'm done. If you wanna see more similar
"construction"
photographs,
click here
.
Unless, back in the day construction meant whitewashing, I did not see any actual construction activities in any of the photographs.
Well, may be the Forestry Building photograph has some construction activities on it, but I'm not sure.
Let's take a look at some of the plaster buildings they had at this expo. I wanted to start with the entrance, because it looks like they had to be capable of building something like that.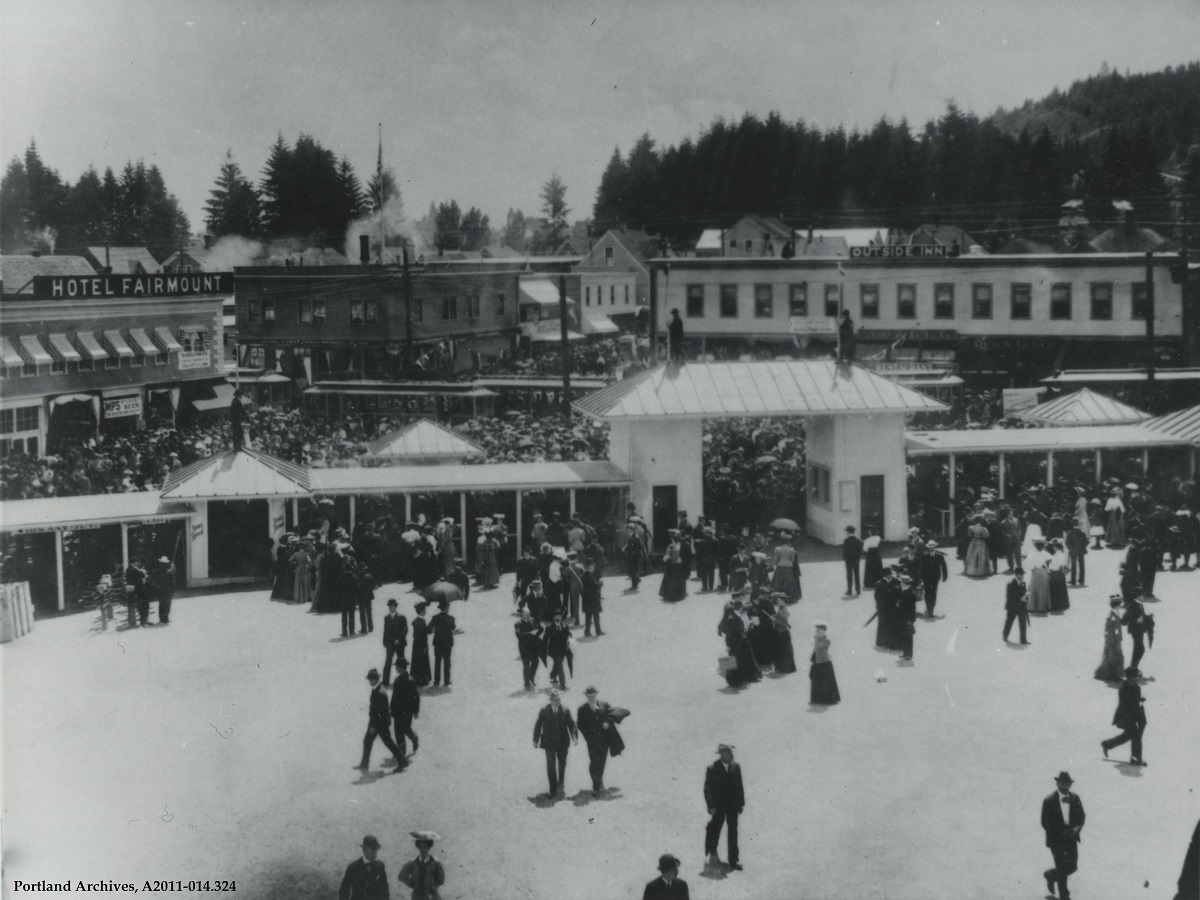 Source
US Government Building

Source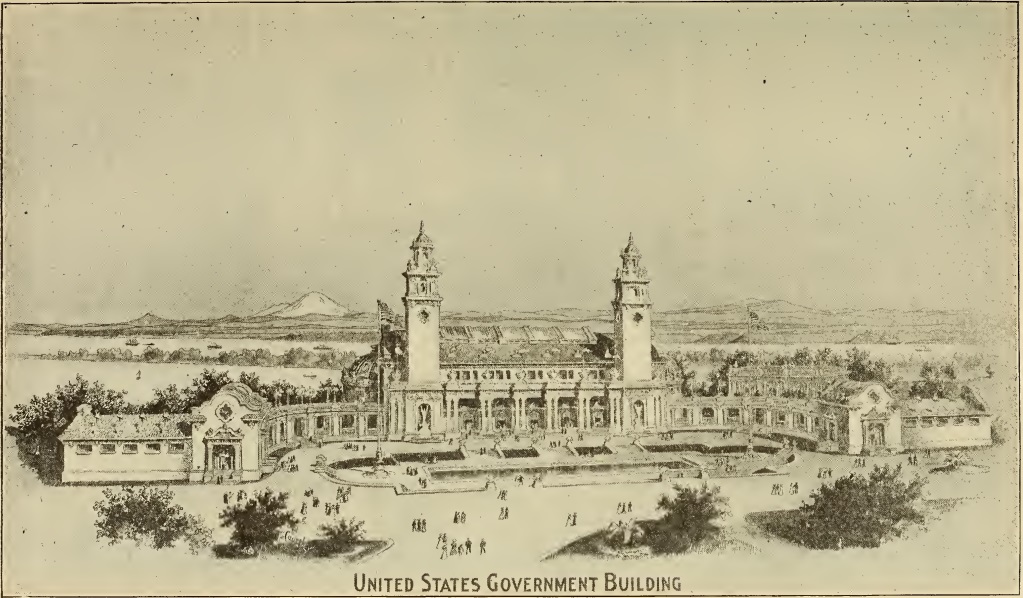 Source
Oriental Exhibits Palace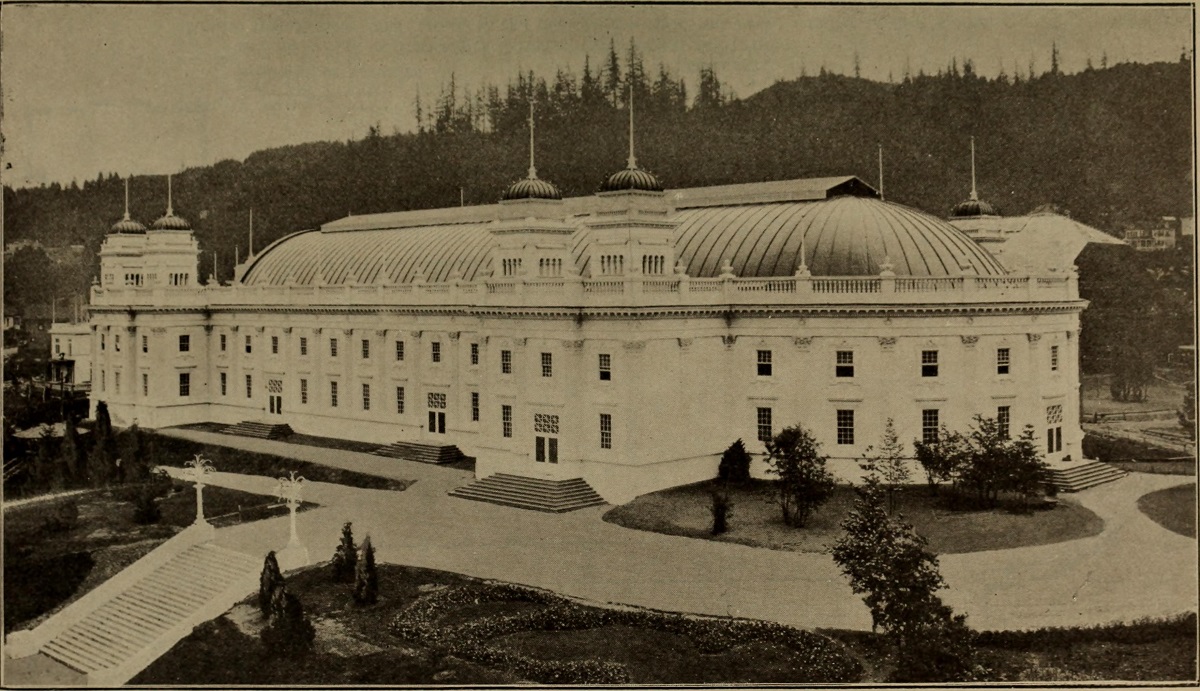 Source
+
Source
+
Source
Agriculture Building
- are these people real or painted in? -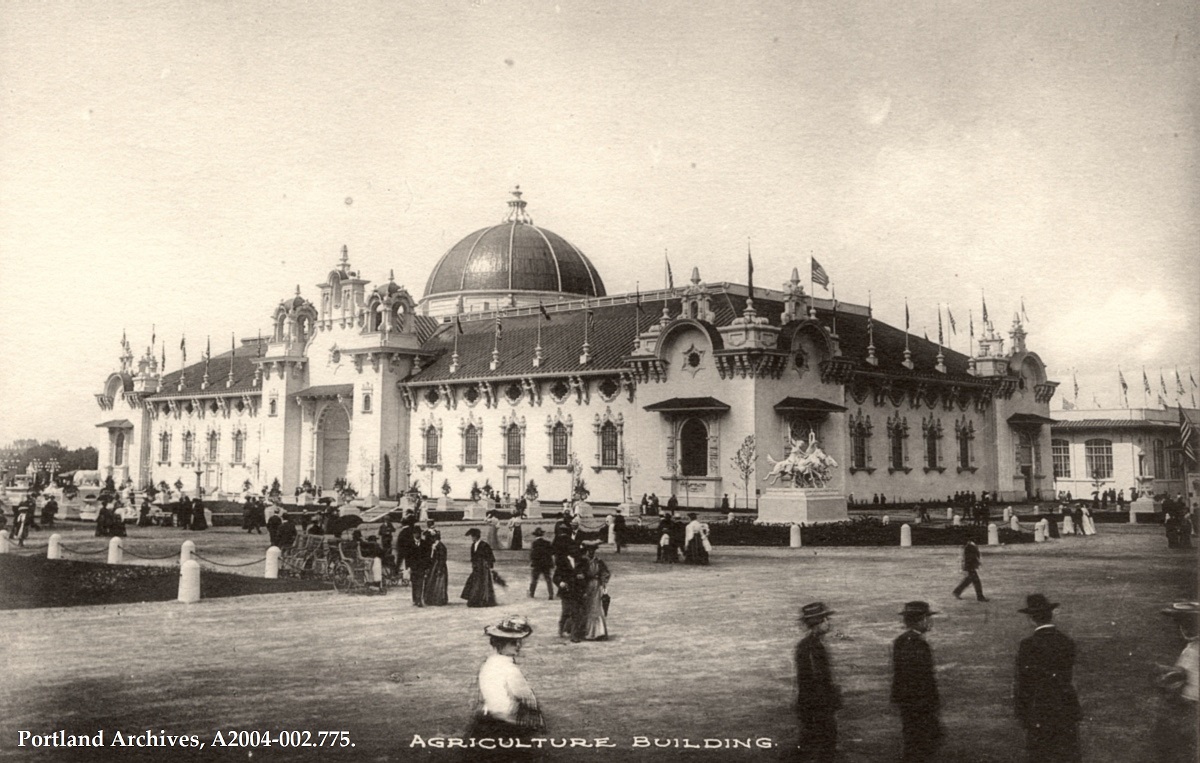 Source +
bigger image
National Cash Register Building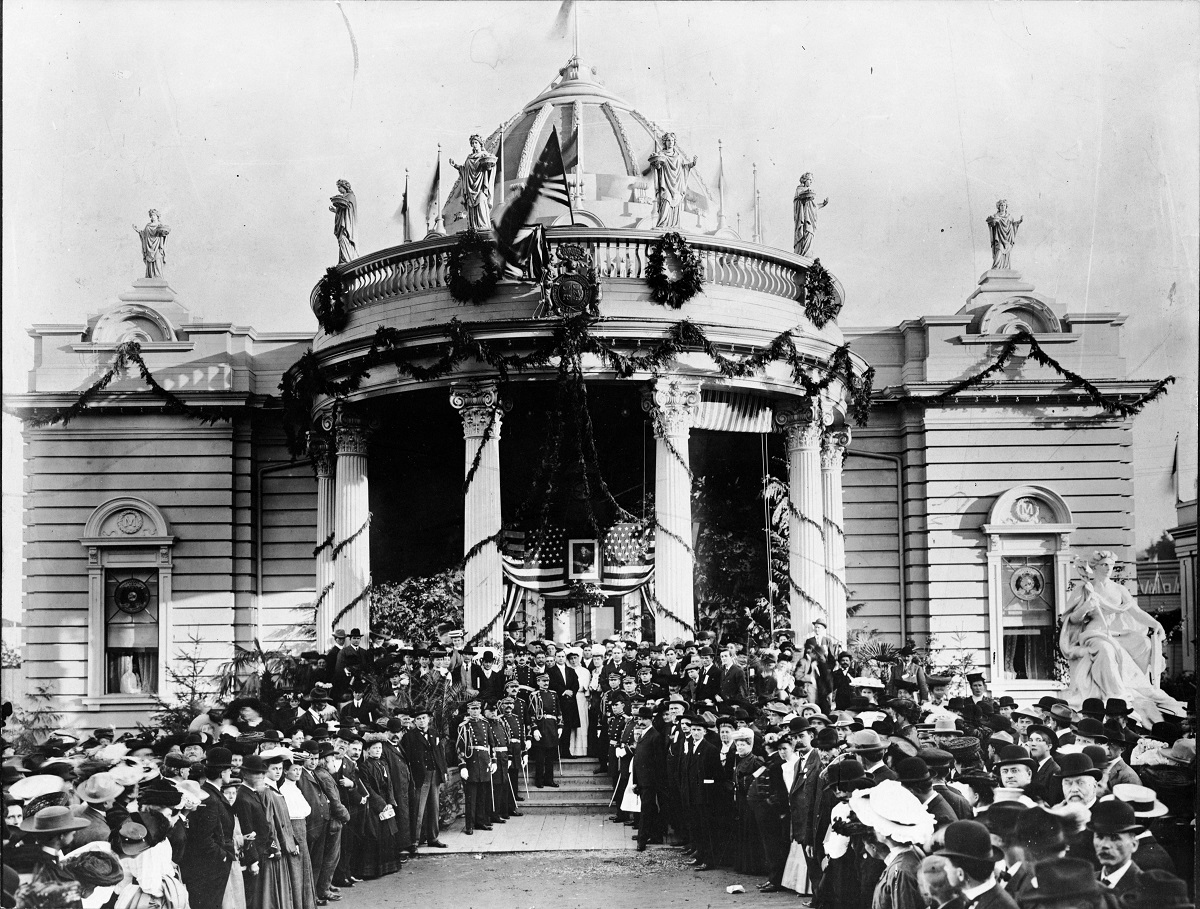 Source
Oregon Building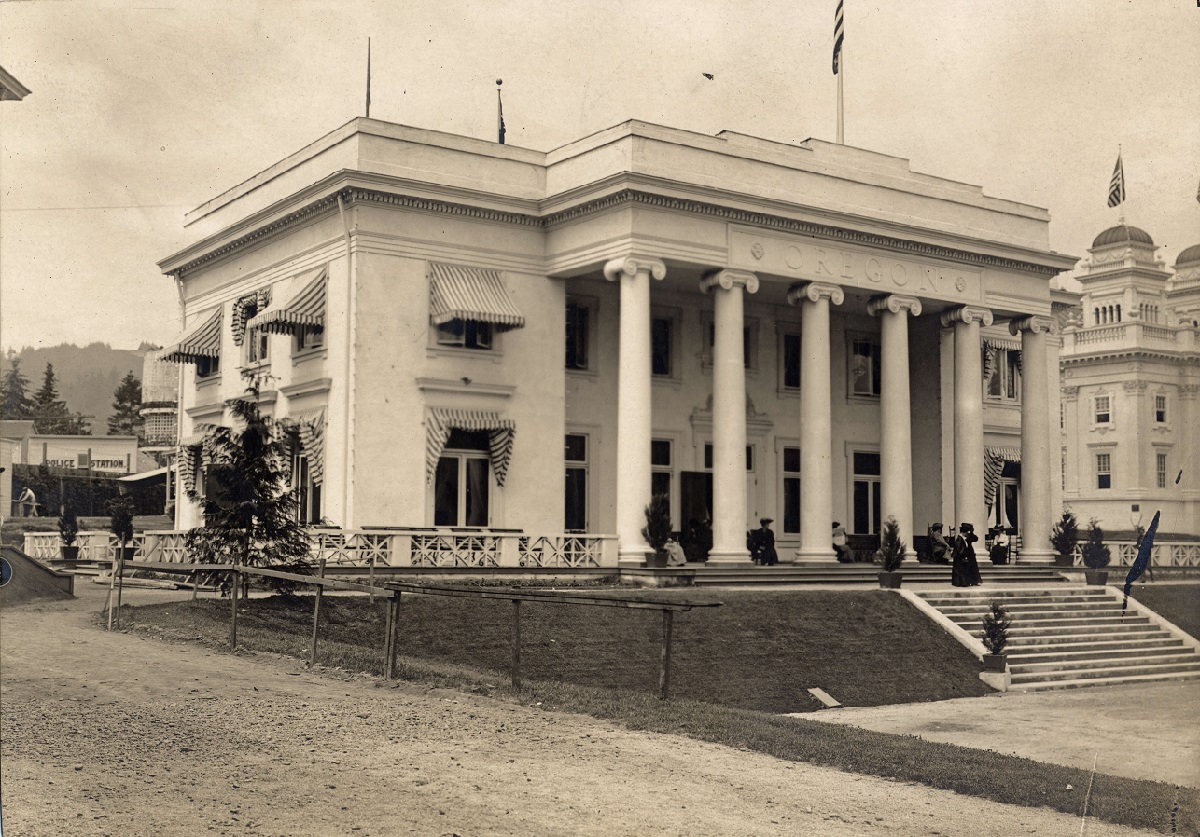 Source
Foreign Exhibits Building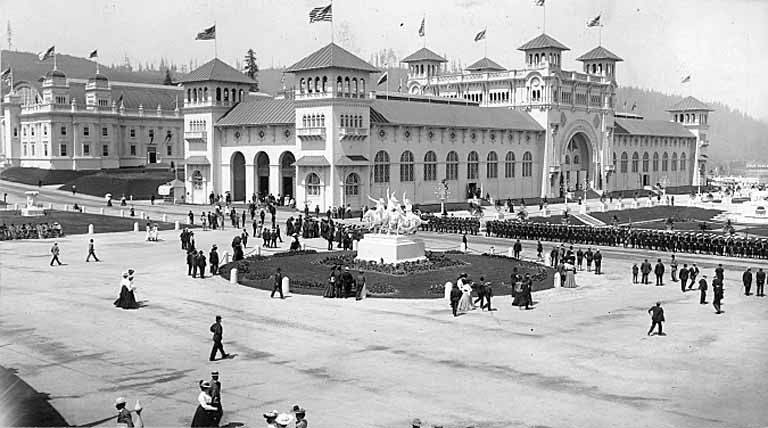 Source
​
You can find more similar
"plaster"
buildings via links below.
DeCaprio's Lewis & Clark Band
​
Source
People on stairway facing towards Guilds Lake
- did they know that all this stuff was temporary? -
Source
​
---
KD:
You are welcome to come to you own conclusions why, time and time again, we find ourselves in the exact same situation, which is:
Build - Barely Use - Destroy

I failed to find a single demolition photograph, by the way.

Questionable construction
Lack of pertinent information
What we have is borderline impossible to explain. Things appear to check out, but when you dig in deep, you end up with this feeling that something is missing. It's like when you have all the pieces of the puzzle, but some of the pieces belong to a different set.
Anyways, please feel free to voice your opinion.