The Coliseum was commissioned in 1921 as a memorial to L.A. veterans of World War I
(rededicated to all United States veterans of World War I in 1968).
The groundbreaking ceremony took place on December 21, 1921,
with construction being completed in just over 16 months
,
on May 1, 1923. Designed by
John and Donald Parkinson
, the original bowl's initial construction costs were $954,873. When the Coliseum opened in 1923, it was the largest stadium in Los Angeles with a capacity of 75,144. In 1930, however, with the Olympics due in two years, the stadium was extended upward to seventy-nine rows seats with two tiers of tunnels, expanding the seating capacity to 101,574. The now-signature Olympic torch was added. For a time it was known as
Olympic Stadium
.
---
Was wondering whether we had any
construction photographs
of this stadium without the arches you can see in the image below. As in, when arches were not yet built.

​
We most likely do have earlier stages somewhere, for I did not look long enough at all. It's just no earlier stage popped up right away.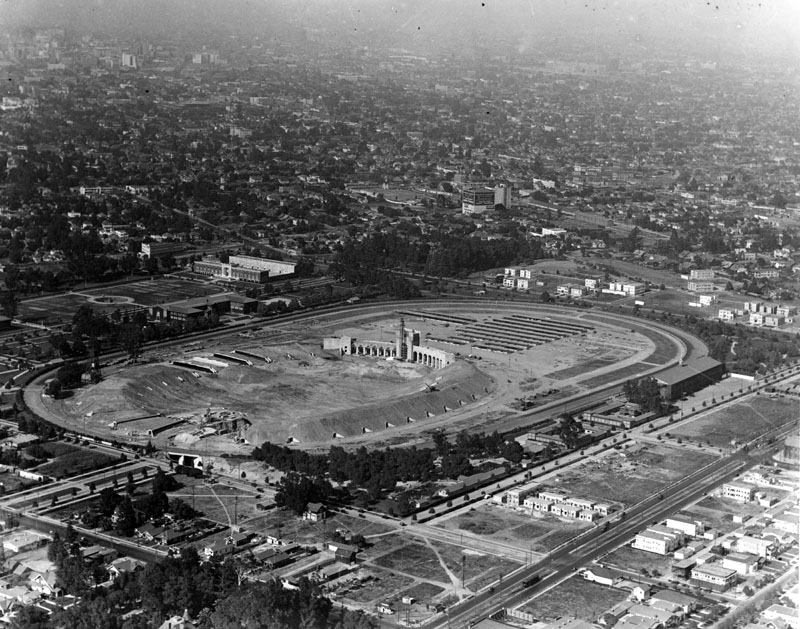 ---
Additionally, do we have any photographs of this same area in, let's say, 1910-1919?
And who were
these architect guys
? Any pictures of the son Donald?
The father (John) died in 1935, and the son (Donals) in in 1945. Should be plenty of pics out there.