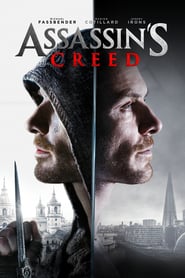 0.00/5 0 Votes
Title:
Assassin's Creed (2016)
Tagline: Your destiny is in your blood.
Genre: Action, Adventure, Science Fiction
Director: Justin Kurzel
Cast: Michael Fassbender, Marion Cotillard, Jeremy Irons, Brendan Gleeson, Charlotte Rampling, Michael Kenneth Williams, Ariane Labed, James Sobol Kelly, Denis Ménochet, Callum Turner, Khalid Abdalla, Essie Davis, Carlos Bardem, Javier Gutiérrez, Hovik Keuchkerian, Crystal Clarke, Brian Gleeson, Rufus Wright, Matias Varela, Coco König, Michelle H. Lin, Julio Jordán, Angus Brown, Kemaal Deen-Ellis, Aaron Monaghan, Thomas Camilleri, Marysia S. Peres, Gabriel Andreu, Jeff Mash, Yuric Allison, Joe Kennard, Gertrude Thoma, Juan Pablo Shuk, Octavia Selena Alexandru, Iain Batchelor, Dacio Caballero, Emma Clay, Flor Ferraco, Graham Curry, Jem Kai Olsen, Louis Dulanto-Sime, Malcolm Ellul, Dino Fazzani, Lee Nicholas Harris, Bruce Lester-Johnson, Mohammed Ali, Jade Clarke, Alexander Cooper, Ty Hurley, Matthew Leonhart, Simon Manley, Juan Carlos Martínez Antuña, Martyn Mayger, Stephen McDade, Anthony Milton, Ross Moneypenny, Jassie Mortimer, Cali Nelle, Emeson Nwolie, Massimo Portelli, Jonathan Pyatt, Mike Ray, Jonathan Ronin, Steve Saunders, Jasper Schellekens, Rahji Shrinarine, Clem So, Clyde Vassallo, Sean Vassallo, Roberto Vivancos, Roberto Vivancos, Abi Whetton, Christopher Whitlow, Cerys Wrigley-Moss
Release: 2016-12-21
Runtime: 115
Plot:
Through unlocked genetic memories that allow him to relive the adventures of his ancestor in 15th century Spain, Callum Lynch discovers he's a descendant of the secret 'Assassins' society. After gaining incredible knowledge and skills, he is now poised to take on the oppressive Knights Templar in the present day.