Thomas Tompion was an English clockmaker, watchmaker and mechanician who is still regarded to this day as the Father of English Clockmaking. Tompion's work includes some of the most historic and important clocks and watches in the world and can command very high prices whenever outstanding examples appear at auction.
5000 watches
to his credit. He first appeared on the horological scene in 1676, when he built two astronomical pendulum clocks for the newly established Greenwich Observatory.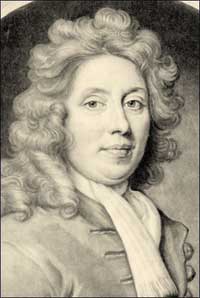 1639–1713
​
Thomas Tompion was the eldest son of a blacksmith, also named Thomas Tompion, and probably worked as a blacksmith until 1664 when he became an apprentice of a London clockmaker. Very little of his earlier years is known. The first reference to Tompion in London is recorded around the end of 1670 in Water Lane (now Whitefriars Street) off Fleet Street.
Simple mathematics suggest that even if Tompion was making one pocket watch a day, it would have taken him over 13.5 years to produce this number. If we push it to 6 days per watch, with one day a week off, we end up with 95 years. I don't know about you, but it appears we are missing a lot of valuable information capable of explaining this 5000 number. Like may be somebody forgot to mention a factory producing Tompion designed watches.
This movement represents an early, short-lived experiment: the newly invented balance spring. Tompion omitted a fusee - a cone-shaped device used to even out the force in the timekeeping mechanism as the spring unwinds. His fine workmanship, the ingeniousness of his designs, and the greatly improved accuracy of his timepieces contributed vastly to the fame of English clockmaking in his lifetime. Nathaniel Delander was one of Tompion's favored casemakers.
Watchmaker: Thomas Tompion (British, 1639–1713)
Case and dial maker: Nathanial Delander (British, 1648–ca. 1691)
Date: ca. 1680
Medium: Case and dial: silver; Movement: gilded brass, partly blued steel, and silver
Overall (case): 5 3/4 × 4 × 2 in. (14.6 × 10.2 × 5.1 cm);
Diameter (back plate): 3 1/4 in. (8.3 cm)
May be the presence of this Nathaniel Delander does suggest that there was a bit more to the story than we are being told. Below you can see a few examples of the watches produced by this Tompion-Delander tandem. Makes you wonder who else could have been involved, for the history is not telling us anything about watch, and clock making factories existing in the 1600s. All we get officially are those individual genius craftsmen.
Obviously, 17th century factories producing this level of technology would raise questions about the general level of the technological development of the society. Would that level match our dogmatic understanding of the 1600s?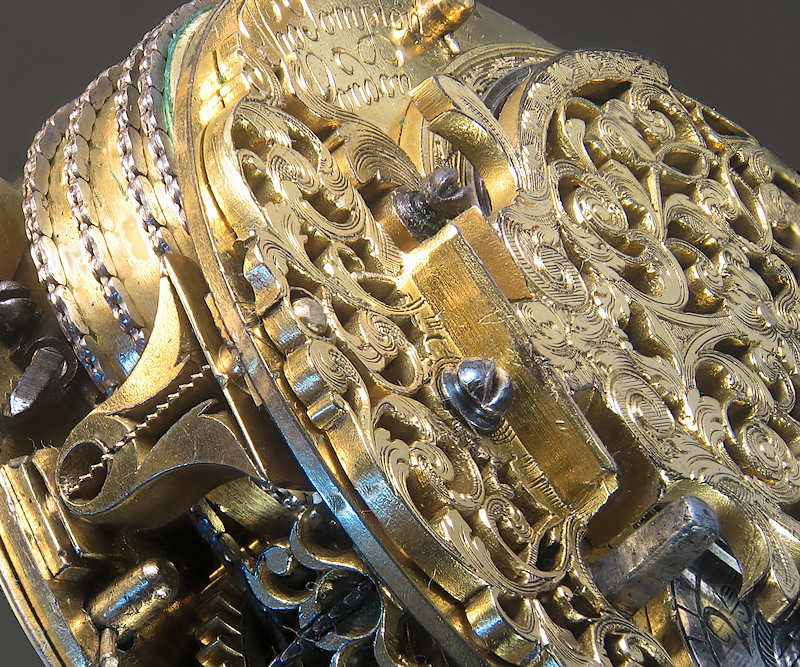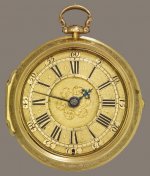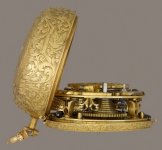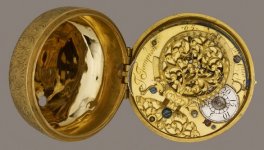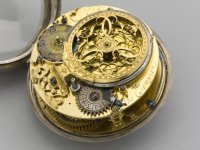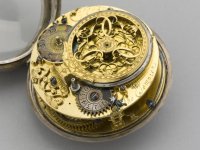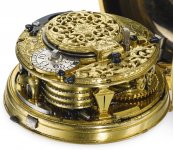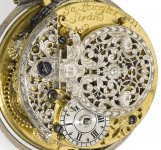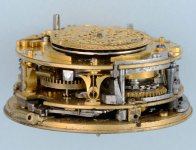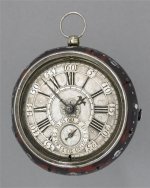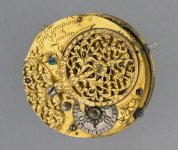 Today's Watchmaking
- borrowed from:
Kulibin's egg-shaped clock presented to Catherine II in 1769
​
So what does it take today to become a watch/clock builder? I know nothing about watch making, so I asked Google. One of the schools provided was
The British School Of Watchmaking
. Let's see.
The WOSTEP 3000 Hour Program
​
This course is centered upon preparing the students for employment as watch repairers in autonomous roles. Graduates are able to service, adjust (repair) and encase various products (both mechanical and electronic) available on the contemporary market. Watch repairers understand and apply various theoretical knowledge to repair situations where they may not have encountered a certain calibre or type of repair previously. Watch repairers are able to evaluate, adjust or manufacture certain components where necessary in order to resolve repairs.

The delivery strategy is based both on theoretical and practical elements.
Courses taking place every two years (e.g. 2018, 2020, 2022 etc.).
Internationally recognized by the watch industry.
Recognized by the Convention Patronale (CP) as being equivalent to the Swiss CFC 4 years watch repair educational program.
3000 Hours, full time program. The course is taught over two academic years, Monday to Friday 8:30am to 5pm (37.5 hours per week).
Courses begin September with applications closing 1st March (2018, 2020, 2022 etc.).
Graduates can be expected to be competent in:
1. Encasing
2. Movement exchange
3. Servicing (quartz, manual, automatic and chronograph movements)
4. Advanced adjustment and regulation techniques
5. Quality control
6. Micromechanics
Hmm. The 2 year course prepares the students to become repairers. Does not say watch makers in there. Some other
watchmaking school states
the following:
Our Certified Watchmaking Course (3,000-Hour WOSTEP Program) begins with eight months of micromechanics. This forms the groundwork upon which you will continue to build a lifetime of learning. Our students learn the basics of filing, sawing, drilling, heat-treating, turning and all other operations necessary to manufacture parts of a watch such as a winding stem and balance staff. Our fully equipped micromechanics lab gives our students the perfect environment to learn and apply advanced machining operations common to our industry. The focus of the micromechanics curricula is to develop enhanced hand, eye, and thinking skills of the ultimate watchmaking tool – the watchmaker! ​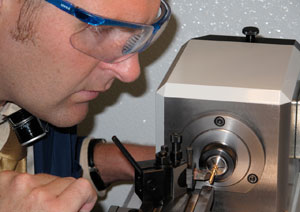 This awesome word I noticed is
Micromechanics
:
Micromechanics (or, more precisely, micromechanics of materials) is the analysis of composite or heterogeneous materials on the level of the individual constituents that constitute these materials.
Below is the contemporary 21st Century watch mechanism which is impossible to build without the knowledge of micromechanics.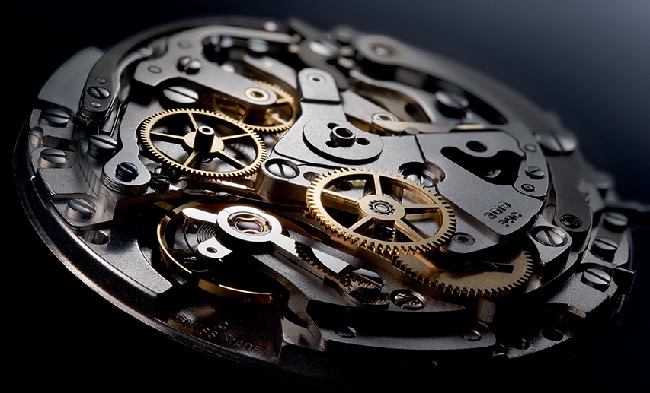 Go figure:
Thomas Tompion was the eldest son of a blacksmith, also named Thomas Tompion, and probably worked as a blacksmith until 1664 when he became an apprentice of a London clockmaker. Very little of his earlier years is known.
If we go with the official narrative, who Tomlinson could learn his craft from in 1650's? May be we should go much earlier on the time table... 1560s? There were no schools that we know of officially.
One way or the other, we end up with some "apprenticeships" or "selfteachings". Even plausibility is being tested here.
Maso da San Friano
(1536–1571) was an Italian painter active in Florence. His real name was Tomaso D'Antonio Manzuoli. He was born in San Friano and died in Florence.
pre-1571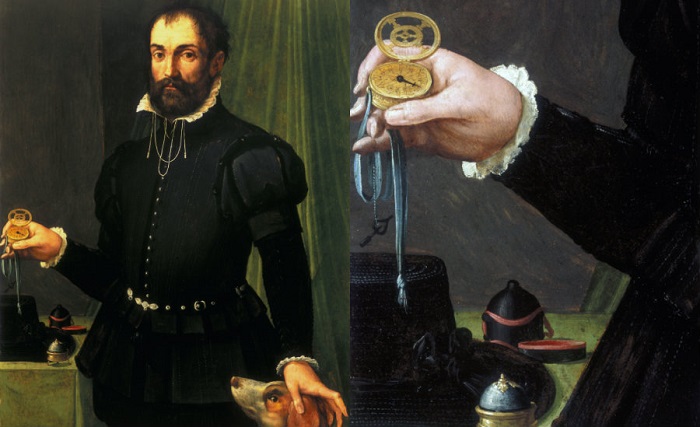 Man holding a watch
​
The painting, above, is from around 1560 and was painted by Renaissance master Maso de San Friano. It was donated to the Uffizi Gallery in Florence, Italy some 33 years ago and sat in storage until recently. When it was hauled out of storage, curators performed some research and realized that the watch in the painting, depicted as being held by the
Duke of Florence Cosimo I de Medici
, was probably the oldest such depiction. The painting now hangs in the Measuring Time gallery in the Science Museum in South Kensington, London.
Sourses:
---
KD:
while there are quite a few highly advanced and very old items available for our inspection in various museums of the worlds, there is a reason why those items are considered to be made "ahead of their time". There is a reason why they are being kept in those museums and why they are being valued and treasured. Those are abnormality. And they are clearly explained by the contemporary historians as achievements. Their existence means that they were made. We don't really know how, but if they exist it was achievable with our technology.
I strongly disagree with this. Were such items built 340 years ago? Quite possible they were. But they were built by the people who had institutional knowledge of constructing things like this. They had proper tools and adequate education for building items of comparable qualities. They were fairly comparably advanced human civilization which was annihilated a few hundred years ago. In some areas hey might have been even more advanced than ours. I will keep on providing circumstantial evidence of the existence of such a civilization.
Did Tompion build these clocks? If he did, he belonged to that civilization. Or may be his assignment in history is to be the creator of these beautiful masterpieces.