Built to Exhibit a Painting
​
The
London Colosseum
was a building to the east of Regent's Park, London. It was built in 1827 to exhibit Thomas Hornor's "Panoramic view of London", the largest painting ever created. The design of the Colosseum was inspired by the Pantheon in Rome. The Colosseum was built on the east side of Regent's Park, between Chester Terrace and Cambridge Terrace. Designed by Decimus Burton, with the assistance of John Young it was in the form of a sixteen-sided domed polygon, with a Doric portico. It was built of brick rendered with cement in imitation of stone. It was demolished in 1874.
The Colosseum was a venture of English artist and surveyor,
Thomas Hornor
(
Pictural Delineator of Estates ???
), built to exhibit a vast panoramic view of London. The panorama was based on drawings Hornor had made from the vantage point of a temporary hut placed at the top of the dome of St Paul's Cathedral, while the cross and ball were being replaced in 1821-2. Initial plans to sell panoramic views came to nothing, but an elaborate scheme to create a 360-degree panorama on the inside of a dome of the Colosseum, specially built in Regents Park
(and resembling the Roman Pantheon rather than the Roman Colosseum)
, came to fruition, but at such expense that its principal backer, Rowland Stephenson MP, had to flee to America in 1828, soon followed by Hornor.
The panorama was completed in November 1829, after a period of 4 years. The painting was the largest ever created, totalling over forty thousand square feet in area, and a testament to Parris's great artistic skill, talent, and perseverance.
Hornor fell into financial difficulties and the property passed into the hands of trustees. It went into decline as a place of public amusement, and in May 1843 it was sold for 23,000 guineas. It was remodelled by William Bradwell, former chief machinist of the Covent Garden Theatre, who added an eastern entrance in Albany Street, and an arched corridor inspired by one at the Vatican.
To continue with the narrative nonsense visit London Colosseum - Wikipedia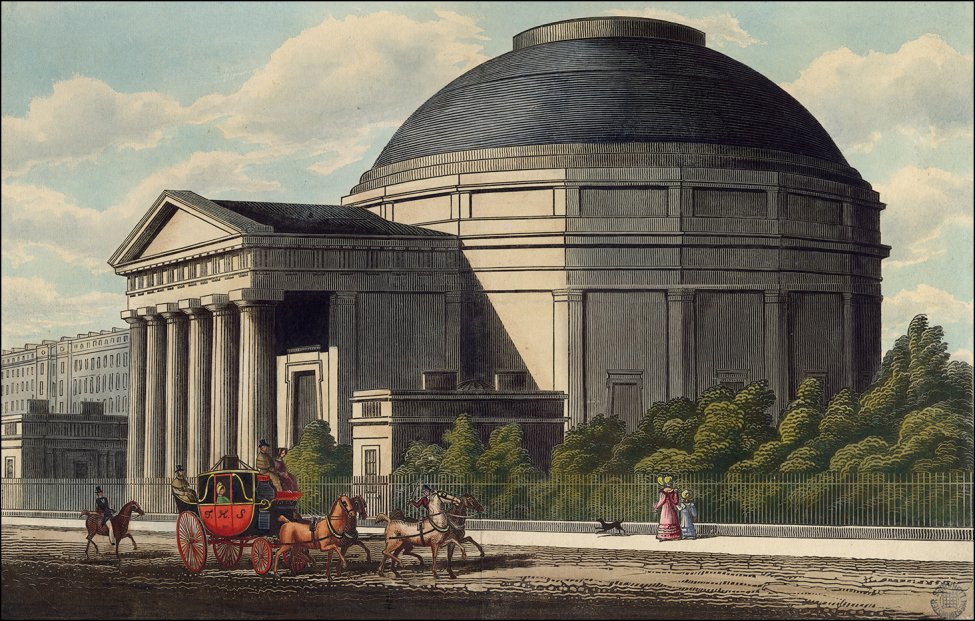 OK, who here knew that there was a Pantheon in London which they chose to name Colosseum, while it does not look like one? I sure did not. A building built to paint a picture in its dome, how about that? How much money did they have back then? Well, it does not matter for the ending to everything was always the same:
Hornor fell into financial difficulties and the property passed into the hands of trustees. It went into decline as a place of public amusement, and in May 1843 it was sold for 23,000 guineas.
E.T. Parris repainted "The Grand Panorama of London" for the reopening in 1845, adding detail impossible in the limited time before the original opening.
Poor dude was this Mr. Parris. Had to paint this "panorama" twice. By the way, those "financial difficulties" of 1843, apparently, left this London Colosseum in a piss poor condition.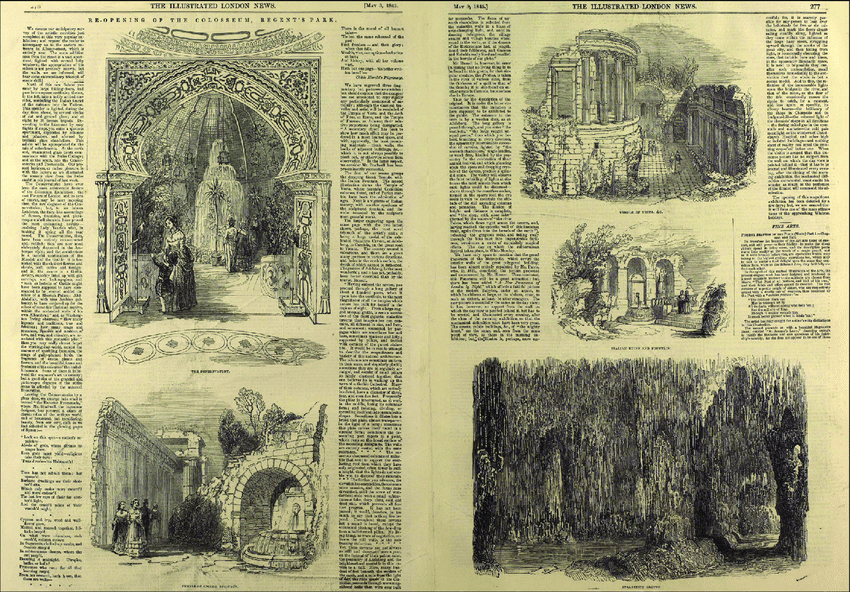 Source
Guineas
​
The
guinea
was a coin of approximately one quarter ounce of gold that was minted in Great Britain between 1663 and 1814. The name came from the Guinea region in West Africa, where much of the gold used to make the coins originated. It was the first English machine-struck gold coin, originally worth one pound sterling, equal to twenty shillings, but rises in the price of gold relative to silver caused the value of the guinea to increase, at times to as high as thirty shillings. From 1717 to 1816, its value was officially fixed at twenty-one shillings.
In the Great Recoinage of 1816, the guinea was replaced by the pound as the major unit of currency, and in coinage by the sovereign.
KD: Why did they use guineas 30 years after they became obsolete?
The Interior
Source
View in the Colosseum Regents Park London,
Summer Fashions for 1836
​
Nice view isn't it? This here is supposed to be London.
For those who wants to figure out what this "Swiss Cottage" was doing at, or may be inside the London Colosseum, here is a picture to start with.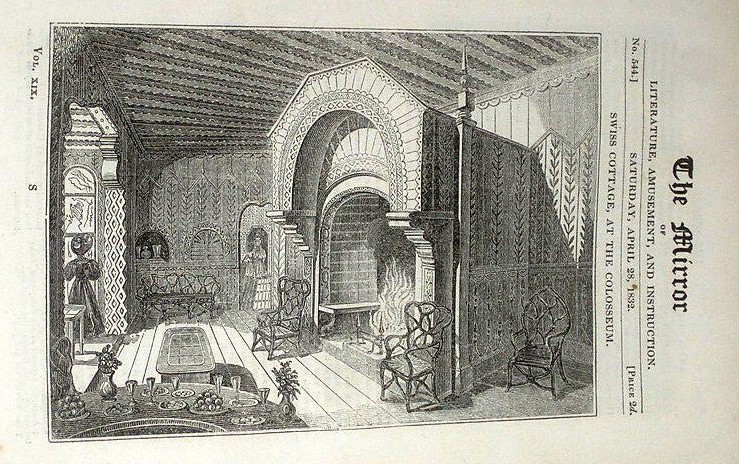 ---
KD:
Anyways, I cannot make heads or tails out of this London Colosseum. Why do we have another "Ancient Roman" structure getting built in the 19th century? It was built in 1827. Really? One year only? Who was the architect, how many people worked to get it built? Etc.