On the night of January 1, 1901, the Yesler Mansion burned taking most of the old library collection with it.
The library records were salvaged, along with the 2,000 volumes of the children's collection. Other than those, though, practically the only books salvaged were the 5,000 that were out of circulation at the time. The library operated for a time out of Yesler's barn, which had survived, then moved to a building that had been left behind when the University of Washington had moved from downtown to its present campus.
By January 6, Andrew Carnegie had promised $200,000 to build a new Seattle library; he later added another $20,000 when this budget proved inadequate.
The new Carnegie library was to be built not far from the former university campus, occupying the entire block between 4th and 5th Avenues and between Madison and Spring Streets. The land was purchased for $100,000.
In August 1903, the city selected a design submitted by P. J. Weber of Chicago for a building to be constructed largely of sandstone.

Ground was broken in spring 1905 and the library was dedicated December 19, 1906.

The building was demolished in 1957.
Peter Joseph Weber was born Cologne, Germany in 1863. He was educated at the Technische Hochschule in Charlottenburg. In 1891 he arrived in Chicago and secured a position as assistant to Charles Atwood at the World's Columbian Exposition. He was subsequently hired by D.H. Burnham & Company...
bla-bla-bla
...Peter Weber died in Evanston, Illinois, on August 21, 1923.
Peter Joseph Weber
1863 - 1923
​
Seriously, how is it possible?

The guy died in 1923. Just take a look at some of the structures he allegedly designed.

Where is a single photograph of this dude?

He has no Wikipedia page.
The Building


1906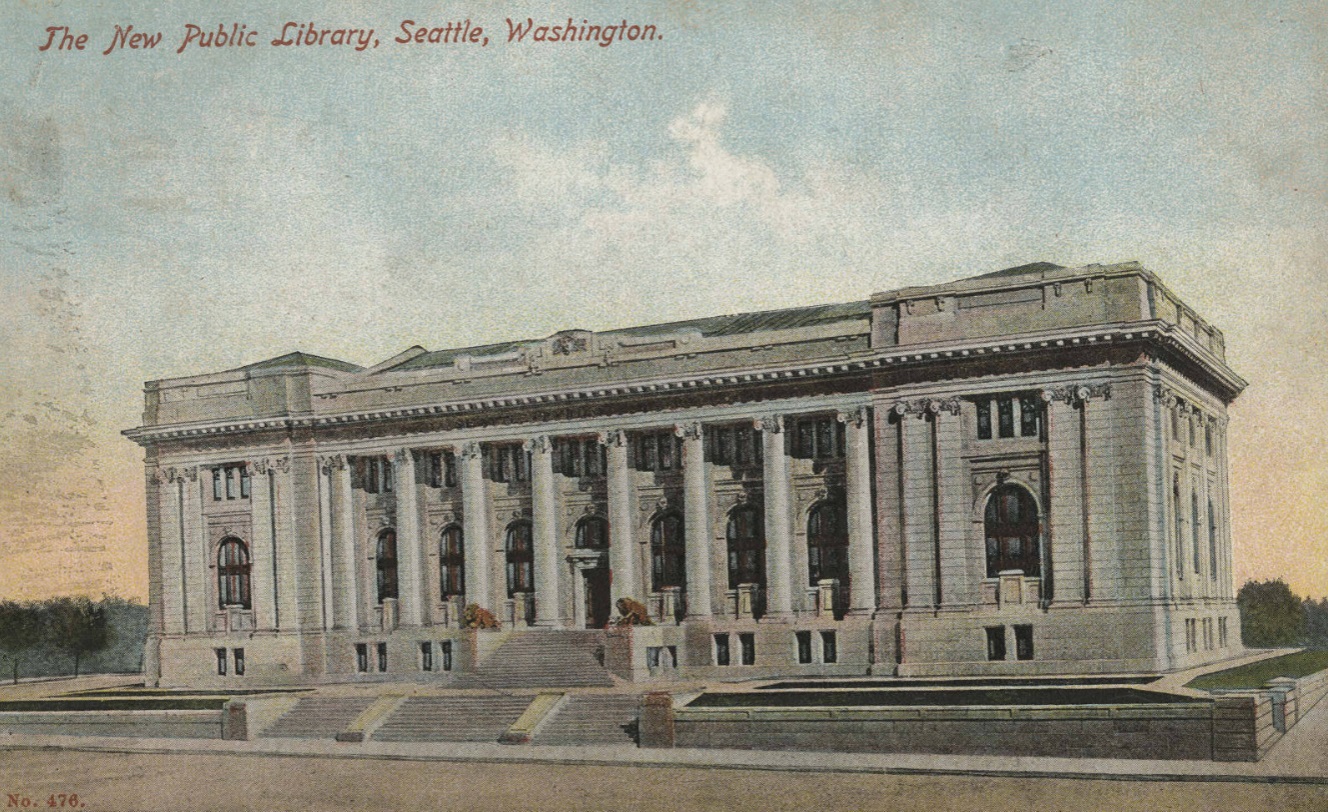 Source
​
Number of ground level windows on the above image does not match the below photographs. Is it a photograph or a drawing?
The Carnegie Library was demolished in 1957 and replaced by a newer building. This replacement was itself torn down in 2001.
---
KD:
Good luck finding a single construction photograph. Could you please scroll up, and compare photographs dated with 1907 and 1914.
What do you think happened there?
Did they simply remove the dirt and did some legit updates to the structure, or excavated the surrounding areas to uncover the concrete surroundings?
If there is anything else
(pertaining to this building)
you would like to share, please do.
Oh, and by the way, here's what they replaced the above building with. It existed until 2001.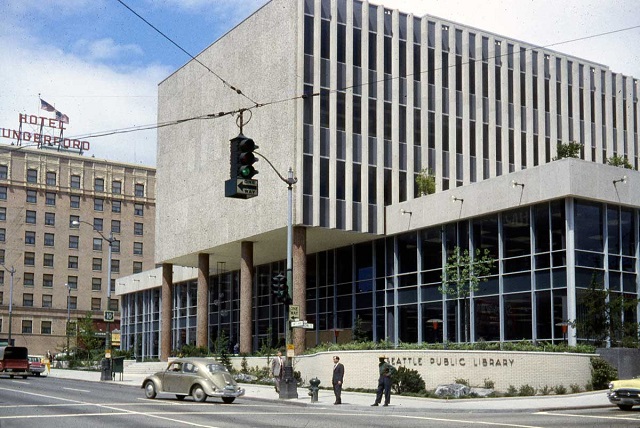 And the building below is our current Seattle Central Library.