I do not remember how the topic came up, but a while ago, a co-worker of mine mentioned some dude who was making a lot of money by illegally logging an
underwater forest
in
Lake Washington
.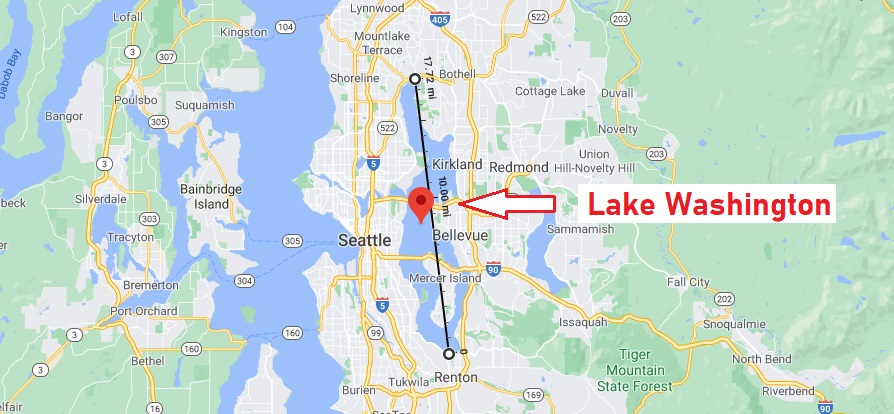 From the legal perspective, the story ended up being
a bit more complicated
, but that's besides the point. Today, we are interested in the fact that at the bottom of lake Washington there are some "prehistoric" forests.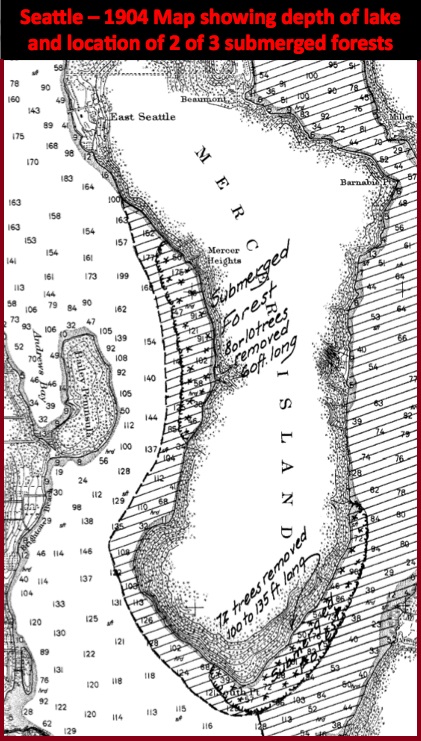 Three submerged forests rest at the bottom of Lake Washington.

About 1,100 years ago

,

an earthquake

estimated to be 7.5 magnitude

caused the trees to landslide into the lake

.

The forests consist of several hundred trees, all firmly anchored in soil and either standing upright or tilted at a 45 degree angle.

When

diver Leiter Hockett

explored the trees off Holmes Point (just north of Kirkland) in 1958 he

found himself

"engulfed in a densely forested bottom."

He was able to bring one tree to the surface, where the wood "although waterlogged [was] as sound and fresh as timber felled on Washington slopes today."
A Kirkland man has been convicted of felony theft and profiteering for illegally logging an underwater forest that slid into Lake Washington in an earthquake more than 1,000 years ago.

John J. Tortorelli was convicted by a King County Superior Court jury last week after a sixweek trial and four days of deliberation.

The trees are well-preserved, despite their age

, because of the low oxygen content and low water temperature at the bottom of the lake, which separates Seattle from its eastern suburbs.
"

These trees were good timber

. … They were sold for a substantial sum of money," Senior Deputy Prosecutor Lynn Prunhuber told jurors in closing arguments.
The trees belong to the state, prosecutors said.
Tortorelli faces a maximum penalty of 10 years in prison, and prosecutors will ask that he be required to pay restitution for wood, valued at about $165,000. Sentencing will be scheduled next month.
Lake Washington Sunken Forests
​
The
Lake Washington sunken forests
were both a part of the scientific discovery of a major fault line under Seattle, Washington, and part of a timber piracy case in the late 20th century. In a precedent-setting case, the Washington State Supreme Court decided that ancient drowned forests are state property and not eligible for salvage.
A major earthquake occurred on the

Seattle Fault

about 900 C.E., creating multiple forms of evidence

that led to the discovery of the fault and its description in Science in 1992.

One of the forms of evidence was landslides at three locations around

Lake Washington

:

off the southeast corner of Mercer Island,
on the west side of the island across from Seattle's Seward Park,
and one near Saint Edward State Park in present-day Kirkland, Washington.

The landslides on heavily wooded land created "bizarre submerged forests" of old-growth timber, preserved by the cool water and low oxygen in the deep lake.

These sunken forests were known to early European settlers of the Seattle area, for whom the snags could be a hazard to ships on the lake, and as early as 1919, nearly 200 of the sunken trees had been removed from depths of 65–132 feet (20–40 m).

Radiocarbon dating and tree-ring dating of the wood in the late 20th century helped to establish the date of the earthquake.
Science Magazine: 12/4/1992
​
It took me a few minutes to find the exact issue of the 1992 Science magazine mentioned in the Wikipedia article. Figured, their source would elaborate on certain things:
A major earthquake (magnitude 7 to 7.5) occurred on the Seattle Fault about 900 C.E., creating multiple forms of evidence.​

One of the forms of evidence was landslides at three locations around Lake Washington.​
And, of course, the below statement from one of the above mentioned articles was also a motivator:
...the wood "although waterlogged [was] as sound and fresh as timber felled on Washington slopes today."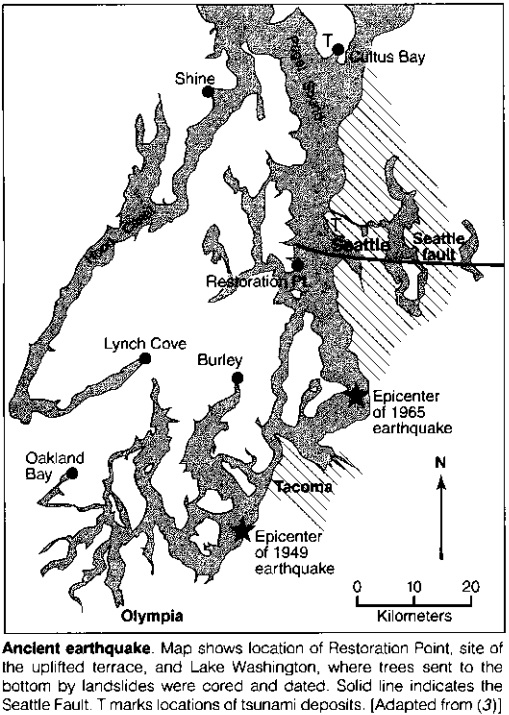 ​
KD:
Needless to say I question any statements claiming the knowledge of any event that allegedly occurred "more than 1,000 years ago".
Radiocarbon dating and tree-ring dating of the wood in the late 20th century helped to establish the date of the earthquake.
Any form of radiocarbon dating requires the precise knowledge of atmospheric conditions existing at the time of an event. Today's atmospheric pressure is well known, but there are reasons to doubt that it has always been the same. The atmospheric composition we have today is this:
Nitrogen accounts for 78% of the atmosphere, oxygen 21% and argon 0.9%
Gases like carbon dioxide, nitrous oxides, methane, and ozone are trace gases that account for about a tenth of one percent of the atmosphere.
KD: Who knows what proportions we had some 300 years ago?
Are there reasonable doubts about the accuracy of the radiocarbon dating? There sure are plenty of those:
---
That said, let's take a look at some of the statements made by the authors of the article published by the Science Magazine in 1992.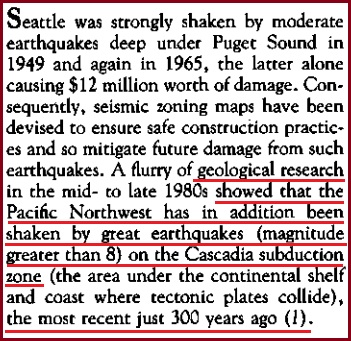 ​
Land subsidence
is a gradual settling or sudden sinking of the Earth's surface. Subsidence - sinking of the ground because of underground material movement - is most often caused by the removal of water, oil, natural gas, or mineral resources out of the ground by pumping, fracking, or mining activities.
Subsidence can also be caused by natural events such as earthquakes

, soil compaction, glacial isostatic adjustment, erosion, sinkhole formation, and adding water to fine soils deposited by wind (a natural process known as loess deposits).
​
The below excerpt mentions the soil liquefaction:
here is a video example
.
I have my own reasons to question this
"less than 1,100 years ago"
date. Older maps clearly demonstrate that there were events we are not allowed to know about.
​
The below excerpt has nothing but some pseudo-scientific mumbo jumbo.
Carbon-14 dating
voodoo magic will always be a good tool to deliver disinformation to those who do not really care about the truth.
​
Isn't it amazing that we have some indestructible, millennium-old fir logs lying around. Isn't it impressive that there are people out there know that one particular log was uprooted by a tsunami some 1,000 years ago?
​
Our narrative compilers could be right about the mechanism of destruction, bar two little things:
1. Dating
2. Tsunamis and earthquakes are not always natural
The below image was saved from the above posted video.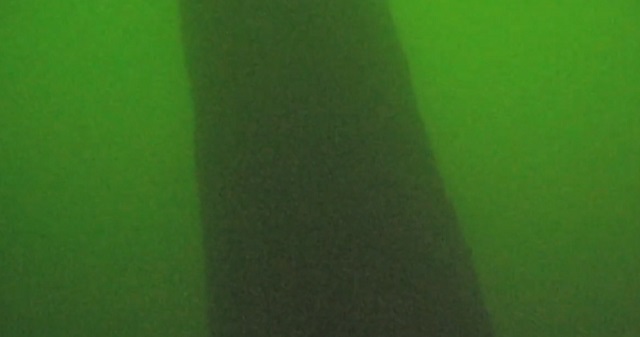 I have attached the PDF of this article. The web source of the article
is here
.
Lake Sammamish is a freshwater lake 8 miles (13 km) east of Seattle. The lake is 7 miles (11 km) long and 1.5 miles (2 km) wide, with a maximum depth of 105 feet (32 m) and a surface area of 8 sq mi (21 sq km). It lies east of Lake Washington and west of the Sammamish Plateau, and stretches from Issaquah in the south to Redmond in the north. At Issaquah it is fed by Issaquah Creek, and at Redmond it drains to Lake Washington via the Sammamish River, named after the native people who once lived along its entire length.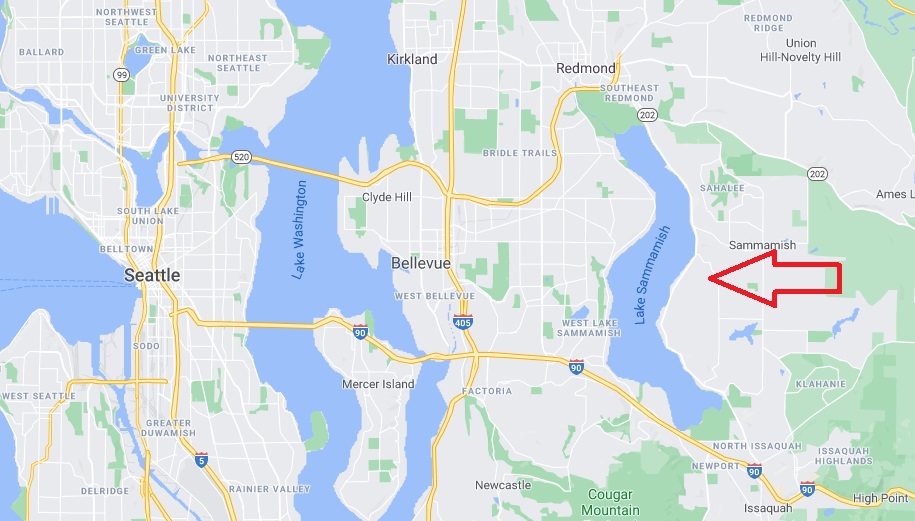 ​
At the southern end of Lake Sammamish, just off Greenwood Point, several jagged, gray logs stick up from the water. They're the only visible sign of an ancient, perfectly-preserved underwater forest that's been sitting at the bottom of the lake for over a thousand years.
The story is a little scary. It starts with a massive earthquake that rattled the region around a thousand years ago - an earthquake so violent that some expanses of land were pushed 20 feet in the air and massive landslides occurred.
The PTB want us to think that this log is a thousand years old. Right?
---
KD:
Our pseudo-scientific community is incapable to properly date anything. I do not think that this is necessarily their direct fault, because they exist within a set system of standards.
In this particular case, we are being offered an explanation of certain terrain features, with certain events being blamed.
Did these events happen 1,000 years ago, or did they happen 200-300 years ago?
Methinks, there is a huge consequential difference between these two dates.
Take a look at
these maps
. From 1660s to about 1760-90s the North American continent looked
like this
. Why?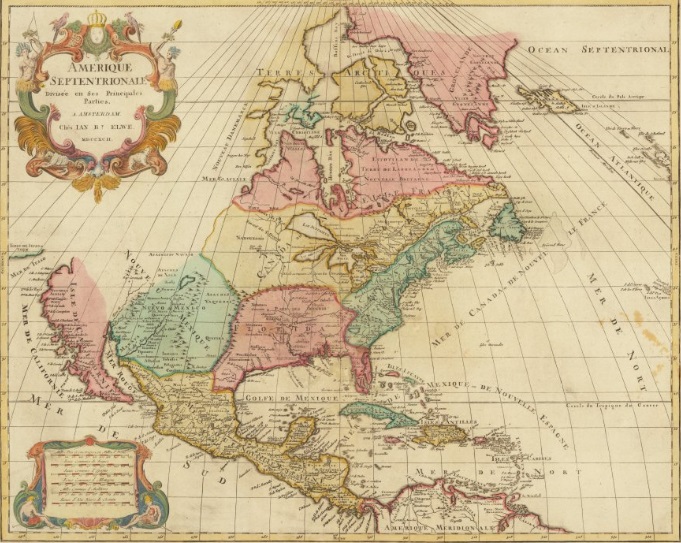 What if events described in the Science Magazine article published in 1992 did not take place 1,000 years ago?
What if tsunamis and earthquakes destroyed the area North of California only 200-300 years ago?
How about 1700s?
If it's the same dude who participated in that 1992 studies, than their time line got a adjusted by quite a margin. They say 1700 now.
Of course, such a close date could not go unnoticed, and was hyped up by a narrative reciter.
May be we should question this 1700 date as well. Shouldn't Lewis and Clark be more reliable? They were much closer to this devastating event.
​
If
the Cascades
could form in 1770s, what could prevent something similar from happening to the Grand Canyon area?
---
What if these events were anything but natural?
What else happened in 1770s?