As our so-called
Messina Earthquake of 1908
demonstrated, there is a high probability that the event did cause some people to go completely insane. Very similar instances were noted during the
New Madrid Earthquake events
of 1811-1812.
In this thread I wanted to bring up some of the most elaborate Insane Asylum Buildings constructed in the United States, and other countries. Most of these buildings were allegedly produced between 1850 and 1900, with a few built somewhat earlier. Some of them either do not exist any longer, or were remodeled.
Let us see what this discussion can lead us to. Will move the thread to a better fitting sub-forum, once the discussion direction gets established.
My three questions are:
Where would a country have to be (the state of civil services and economics) to afford structures like the ones below for the purposes of mental health hospitals?

#4 below could fit right in on the Capitol Hill in D.C.
#5 would look great next to the Winter Palace in Saint Petersburg

How many mentally ill individuals did they have, and why?
Why the hospitals had to be so insane? Pun intended in this case, for the buildings are (were) impressive indeed.
I will start off with 5 hospitals. Add some of yours if you want. May be we could establish a pattern, and uncover something new.
The original hospital building, known as the
Lunatic Asylum of Ohio
, was completed in 1838. In 1868, a fire destroyed the asylum, and it was rebuilt in the
Kirkbride
style in 1877.
The hospital was closed in the late 1980s, and demolished between 1991 and 1996. ​

2. Napa, California
​
Originally named
Napa Insane Asylum
, the facility opened on November 15, 1875. It sat on 192 acres (0.8 km2) of property stretching from the Napa River to what is now Skyline Park. The facility was originally built to relieve overcrowding at
Stockton Asylum
. By the early 1890s the facility had over 1,300 patients which was over double the original capacity it was designed to house. The original main building known as "The Castle" was an ornate and imposing building constructed with bricks. Facilities on the property included a large farm that included dairy and poultry ranches, vegetable garden and fruit orchards that provided a large part of the food supply consumed by the residents.
Original building, c. 1900 (destroyed in 1906 earthquake) ​
3. Danver, Massachusetts
​
The
Danvers State Hospital
, also known as the State Lunatic Hospital at Danvers, The Danvers Lunatic Asylum, and The Danvers State Insane Asylum, was a psychiatric hospital located in Danvers, Massachusetts. It was built in 1874, and opened in 1878, under the supervision of prominent Boston architect
Nathaniel Jeremiah Bradlee
, on an isolated site in rural Massachusetts. It was a multi-acre, self-contained psychiatric hospital designed and built according to the
Kirkbride Plan
.
Despite being included in the National Register of Historic Places in 1984, the majority of the building was demolished in 2007.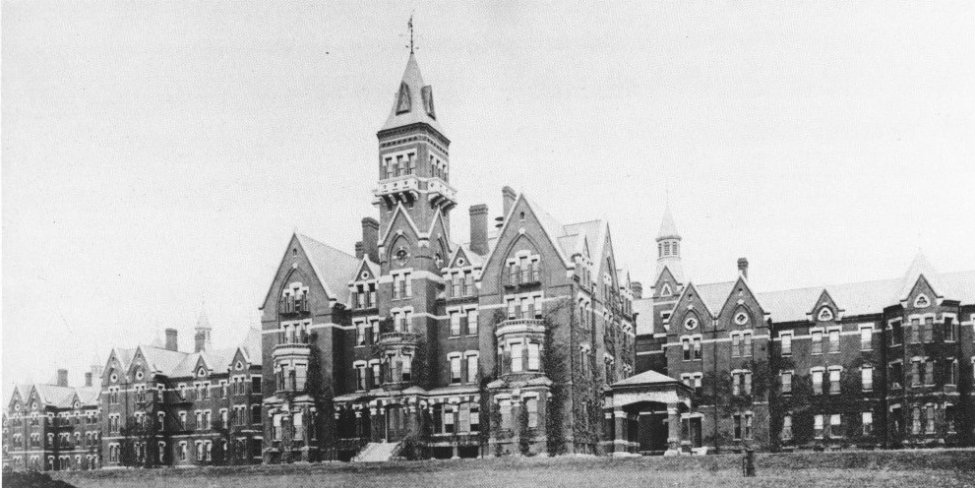 4. Utica, New York
​
The
Utica Psychiatric Center
, also known as Utica State Hospital, opened in Utica on January 16, 1843. The Greek Revival structure was designed by Captain William Clarke and its construction was funded by the state and by contributions from Utica residents.
In 1852, Old Main's first floor stairway caught fire. Patients and staff were safely evacuated, but a firefighter and doctor were killed while trying to salvage items from the building. The entire center portion of the building was destroyed. Four days after the fire at Old Main, a barn on the asylum grounds caught fire. William Spiers, a convicted arsonist, former patient, and sporadic employee, was arrested after admitting to setting both fires because he was angry with his supervisor. ​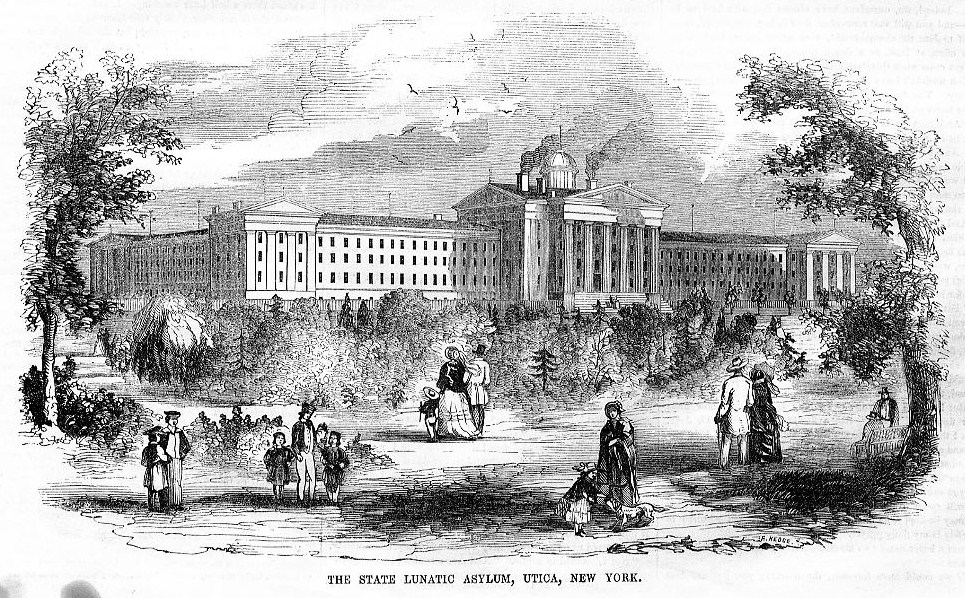 5. Morris Plains, New Jersey
​
Greystone Park Psychiatric Hospital
(also known as Greystone Psychiatric Park, Greystone Psychiatric Hospital, or simply Greystone and formerly known as the State Asylum for the Insane at Morristown, New Jersey State Hospital, Morris Plains, and Morris Plains State Hospital)
referred to both the former psychiatric hospital and the historic building that it occupied in Morris Plains, New Jersey. Built in 1876, the facility was built to alleviate overcrowding at the state's only other "lunatic asylum" located in Trenton, New Jersey. Originally built to accommodate 350 people, the facility, having been expanded several times, reached a high of over 7700 patients resulting in unprecedented overcrowding conditions.
Despite considerable public opposition and open protest and media attention, the main Kirkbride building was demolished in a process that began in April 2014 and was completed by October 2015. However, some items of the stunning architectural details (manifesting unique Victorian motifs) and other items with symbolic and historic value were rescued from the Greystone main building prior to its controversial demolition.
KD:
I think somewhere else some of these buildings would have been designated as palaces. In the US of A these things are/were called hospitals.