I don't think we have too many officially published historical texts supporting our research, albeit in a roundabout way. Let's see what useful information we have in the book authored by Charles Colcock Jones Jr., and published in 1878.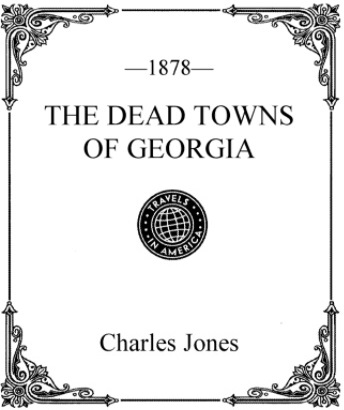 ​
My opinion on the contents of the book:
It's a bunch of fictitious baloney meant to indoctrinate pre-existing towns and factories. In other words, this book was written in support of the PTB narrative.
Charles C. Jones Jr. was born in Savannah, Georgia. He was a Georgia politician, attorney, and author. He was the mayor of Savannah immediately prior to Sherman's March to the Sea. Jones is considered to be the foremost Georgia historian of the nineteenth century. Also a noted autograph and manuscript collector and an accomplished amateur archaeologist, Jones in later years became a prominent memorialist of the Lost Cause and critic of the New South.
C. C. Jones Jr.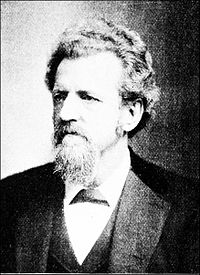 1831-1893
​
Charles Colcock Jones Jr. was born into a prominent tidewater planting family. He spent much of his youth in Columbia, South Carolina, and Philadelphia, Pennsylvania, where his father, the nationally known Presbyterian minister
Charles Colcock Jones
, held church-related teaching and administrative positions. The younger Jones attended South Carolina College before going to the College of New Jersey (later Princeton University), where he graduated with an A.B. in 1852. He received his law degree in 1855 from Harvard University in Cambridge, Massachusetts.
Returning to Savannah in 1855, Jones began his legal career.
Elected mayor of Savannah in 1860, Jones governed effectively and delivered speeches in support of secession.
After Georgia joined the Confederacy in 1861 he enlisted as an officer of the Chatham Artillery.

Soon promoted to lieutenant colonel in the Confederate army and to the position of chief of artillery for the military district of Georgia, Jones served conspicuously during the 1864 Siege of Savannah.
Financially ruined by the war, he moved his legal practice in 1866 to New York City, where he made some progress in mending his fortunes.
In 1877 he returned to practice law in Georgia, settling near Augusta at a small estate known as Montrose.
Over the next sixteen years Jones won increasing fame as a historian, collector, and orator.
He died of Bright's disease at Montrose on July 19, 1893.
Ultimately, Jones published almost one hundred books, pamphlets, and articles, many of them privately printed at his own expense. A keen interest in the culture and history of the Southeastern Indian tribes led to Jones's first published work in 1859 and eventually resulted in his acquisition of more than 20,000 prehistoric artifacts.
Jones published numerous monographs relating to Georgia's history as colony and state, prominent among them The Dead Towns of Georgia (1878).
Although insufficient funds allowed publication of only two of a projected four volumes, his magisterial History of Georgia (1883) won accolades from fellow historians for its dignified style and extensive use of original sources.
More than a century after Jones's death, several of his major works remain in print. Though an exemplary gentleman-scholar of his time, Jones has been justly
criticized by modern authorities for overreliance on paraphrase, hasty composition, and inconsistent documentation
. C. Vann Woodward has portrayed Jones as an
anachronistic and somewhat pathetic upholder of Old South traditionalism
and agrarian values against New South urbanization, commercialization, and materialism.
KD:
This gentleman died in 1893, yet we appear to have only four photographs of this prominent Georgian character. Two of the photographs are above. These here are
#3
and
#4
. That's utterly ridiculous. Contrary to the popular belief, there were
plenty of advanced cameras
back then. I do not understand how a person of Jones Jr's credentials avoided being photographed more often. Issues of this type
do form patterns
, and we, as researchers, have to be able to recognize such patterns.
I am not sure how I ended up running into this book, but it had everything to do with the state of Georgia and its nicknames. Most of us know that Georgia is also known as the Peach State. Ignorant individuals, like myself, will be surprised to find out that Georgia has an additional nickname. It's not some secretive nickname, for it is published on the
same wiki page
.
Georgia - The Empire State of the South
At first glance, the explanation for such a nickname is rather trivial. The New York state is known as the "Empire State". This NY state nickname also
led
to the state of Georgia becoming known as the "Empire State of the South" during the
antebellum
period before the American Civil War. During this time, Georgia had the second-largest land area of any state east of the Mississippi River, and it was rapidly industrializing.
Anyways, while doing some research on this "Empire" thing, I ended up stumbling into the below paragraph.
The book about Georgian dead cities was published in 1878. Mr. Lancaster's recommendation was published in 1891.
This is 19th century, and we have a relatively young country with (per the narrative) limited resources.

Cities like San Francisco, Los Angeles, Seattle, etc. are barely established.

Yet, it is being claimed that there are abandoned town sites allover "the older States of the Union"

In Georgia, the existence of "dead cities" resulted in a book being published
What abandoned towns, or cities could we have in 1878 Georgia? From the PTB narrative we know that the area was inhabited by Native American tribes for thousands of years.
A modest Spanish presence was established in the late 16th century, mostly centered on Catholic mission work. ​

The

Spanish were largely gone by the early 18th century

, though they remained in nearby Florida, and

their presence ultimately left little impact on what would become Georgia

.

​

Most Spanish place names in Georgia date from the 19th century, not from the age of colonization. ​
English settlers arrived in the 1730s
, led by
James Oglethorpe
. So, what cities or towns could become abandoned by 1878. Methinks only those that were established between 1730s and 1861
(the Civil War started)
. That would be a time span of about 130 years, at the most.
Well, may be there is a reason why there was so much controversy around the United States Census of 1870. Was there really an undercount, or could there be more sinister reasons involved?
Although Francis Walker, the Superintendent of the 1870 Census, defended the quality of the census, arguing that standardized, clear, and statistical approaches and practices were carried out across all regions of the United States, the public at the time was disappointed in the national growth rate and suspected underenumeration. ​

With especially bitter complaints coming from New York and Philadelphia claiming up to a third of the population was not counted, the President made the rare move to order a recount in those areas. While it was thought a large fraction of the population was not counted for being indoors in the wintry cold, newer estimates resulted in only a 2.5% increase in Philadelphia's population and a 2% increase in New York's.​
This is the data I am going to use. The book was published in 1878. Why 1860? Because the Civil War started in 1861. I doubt that there were any new cities/towns established, built and abandoned between 1861 and 1878. Establishing any new cities in Georgia during the Civil War could only work for the PTB. Cities established after 1865 would not be abandoned by the time 1878 came around, imho.
Here is what the
US Census of 1860
revealed for the State of Georgia:
Total Population: 1,057,286

Free: 595,088
Slaves: 462,198

Savannah: 22,292 people
Augusta: 12,493 people
Columbus: 9,621 people
Atlanta: 9,554 people
Georgia's population passed 1 million residents for the first time in 1860. Census figures that year indicate that more than 591,000 of those residents (56 percent) were white, and nearly 466,000 (44 percent) were Black.
These figures reflect a 16.7 percent increase in the state's 1850 population, a somewhat slower growth rate than Georgia had seen in the 1820s, 1830s, and 1840s, due largely to outmigration by Georgians headed west.
In terms of geographical distribution,

nearly 60 percent of the populace lived in the Black Belt region

, a broad swath running diagonally through the state's center from South Carolina toward the southwest along the Alabama and Florida line.
​
Like the rest of the South, Georgia remained overwhelmingly rural in the mid-nineteenth century, averaging a population density of fewer than 16 people per square mile. In 1860 nearly 8 percent of Georgians lived in towns or cities of more than 2,000 people, up from 4.6 percent in 1850.
KD:
I did not find male vs female, and age related demographic break down for the state of Georgia in 1860.
Ok, this is where we need to get real. In 1860, the entire population of the state of Georgia was roughly 1,000,000 people. As we know, pre-1730 Spanish presence left no impact on what would become Georgia. First English settlers arrived in 1730s. Up to 1860s, we have to view Georgia through the lens of the
Antebellum Period in Georgia
.
For almost the entire eighteenth century the production of rice, a crop that could be commercially cultivated only in the Lowcountry, dominated Georgia's plantation economy.
During the Revolution planters began to cultivate cotton for domestic use.
After the war the explosive growth of the textile industry promised to turn cotton into a lucrative staple crop - if only efficient methods of cleaning the tenacious seeds from the cotton fibers could be developed.
As was the case for rice production, cotton planters relied upon the labor of enslaved African and African American people.
Accordingly, the enslaved population of Georgia increased dramatically during the early decades of the nineteenth century.
In 1790, just before the explosion in cotton production, some 29,264 enslaved people resided in the state.
In 1793 the Georgia Assembly passed a law prohibiting the importation of captive Africans. The law did not go into effect until 1798, when the state constitution also went into effect, but the measure was widely ignored by planters, who urgently sought to increase their enslaved workforce. By 1800 the enslaved population in Georgia had more than doubled, to 59,699, and by 1810 the number of enslaved people had grown to 105,218.
KD:
Up to
(at least)
1865, Georgia was predominantly an agrarian state. The narrative
tells us straight up
, that:
In 1860 nearly 8 percent of Georgians lived in towns or cities of more than 2,000 people, up from 4.6 percent in 1850.

Savannah: 22,292 people
Augusta: 12,493 people
Columbus: 9,621 people
Atlanta: 9,554 people
---
The Dead Towns of Georgia​
Ok, finally, I was able to get to the actual book. You are more than welcome to read the entire thing. I will share some excerpts I found particularly interesting. Let's start with the "Prefatory Note"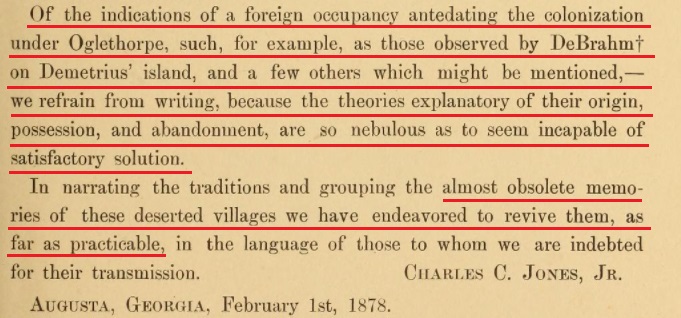 C. C. Jones Jr. mentions
James Oglethorpe
. Let's see who he was, and when he lived to understand what dates could antedate the colonization under the said Oglethorpe.
James Edward Oglethorpe was a British soldier, Member of Parliament, and philanthropist, as well as the founder of the colony of Georgia.

​

Born to a prominent British family, Othethorpe left college in England and a British Army commission to travel to France, where he attended a military academy before fighting under Prince Eugene of Savoy in the Austro-Turkish War.​

His early years were relatively undistinguished until 1729, when Oglethorpe was made chair of the Gaols Committee that investigated British debtors' prisons.​

In June 1732, Oglethorpe, Perceval, Martyn, and a group of other prominent Britons petitioned for and were eventually granted a royal charter to establish the colony of Georgia between the Savannah River and the Altamaha River on June 9, 1732.​

After being granted a charter, Oglethorpe sailed to Georgia in November 1732.​
James Oglethorpe
1696-1785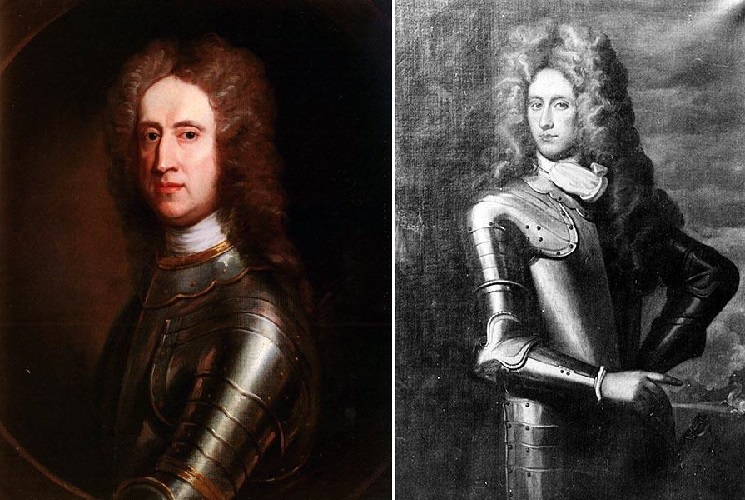 Source + Plate Armor
​
In November 1732 a total of 114 men, women, and children gathered at Gravesend on the River Thames to set sail for the new colony of Georgia. Oglethorpe understood that Georgia's charter prohibited him from holding office, owning land, or receiving a salary in the new colony, yet he gave up the comforts of home to accompany the first boatload of Georgia settlers.​

After several delays they boarded the Anne for a two-month journey across the Atlantic. Following a brief visit in Charleston, the colonists proceeded to Port Royal, South Carolina's southernmost outpost. ​

While they rested, Oglethorpe and a band of Carolina Rangers went ahead to look for a place to settle.
Some seventeen miles inland from the mouth of the Savannah River, they found Yamacraw Bluff overlooking the south bank of the river.
Oglethorpe immediately struck up a friendship with the Yamacraw chief, Tomochichi, thus beginning a long and close relationship between the two.

On February 12, 1733, Oglethorpe returned to Yamacraw Bluff with the Georgia colonists.​
The other person mentioned in the above 1878 excerpt was
John William Gerard de Brahm
. He was a German cartographer, engineer and
mystic
.
He became "Captain Engineer" in the Imperial Army, but after his marriage emigrated to the British colony of Georgia.
In 1754 he was appointed by the British as surveyor general for Georgia Colony.
In August 1756 he traveled to the Cherokee Overhill country on the banks of the Little Tennessee River as the engineer constructing Fort Loudoun.
He is said to have been the most prolific mapmaker in the Southern Colonies in the late eighteenth century.
He drew up the plans for the New Bermuda settlement in Florida.
He was imprisoned in France by the American Revolutionary government, accused of being loyal to the British cause.
His wide-ranging travels show that in 1778 he resided in Britain; making a brief visit to his German homeland.
By 1784, Quaker records show him living in Philadelphia. There his writings on Cosmography were inspired by the ideas of an earlier German mystic, Jacob Boehme.
He perceived the eighteenth century carving up of lands for personal glory as a tyranny of reason.
He died in Philadelphia.
J. W. G. de Brahm
1718 – c. 1799
​
The Demetrius' island mentioned in the excerpt is a privately owned,
barrier island
in McIntosh County, Georgia. Today we call it the
Creighton island
.

Map
​
In 1756, Daniel Demetre had acquired the island that was then known as John Smith's Island. During the 1770s, John William de Brahm, a
Surveyor General
to King George III,
noted the existence of entrenchments and ruins on the Island that could not be explained
.
The mysteries have lingered to this day.

​

KD: I have no idea what these ruins look, or used to look like. I failed to locate any images.​
KD:
As you can see, things are clear as mud. Islands were changing names, 18th century dudes were wearing plate armor, most prolific mapmakers were not prolific enough to have their portraits preserved. The entire process of producing maps in the 18th century was, apparently, as easy as sending a surveyor out. But some of this info could still be useful:
Georgia was colonized by 114 people in 1733.
Some time around 1754 there were some unidentifiable ruins on John Smith's Island.

By 1878 there were many "dead towns" in Georgia.

That's it.
Let's move on to the "dead towns" of C. C. Jones Jr.
---
KD:
Below are some of the towns with dedicated SH blog articles.