The
Alaskan Way Viaduct replacement tunnel
, also known as the SR 99 Tunnel, is a
bored
highway tunnel in the city of Seattle.. The 2-mile (3.2 km), double-decker tunnel carries a section of State Route 99 under Downtown Seattle.
Construction began in July 2013 using "
Bertha
", at the time the world's largest-diameter
tunnel boring machine
. After several delays, tunnel boring was completed in April 2017, and the tunnel opened to traffic on February 4, 2019.
I find it ironic that in the 21st century it took us 5 years to complete, and 7 years to launch a 2 mile (3.2 km) tunnel. This construction time is comparable to that of:
Box (2.95 km, 1838-1841) - straight, and descends on a 1 in 100 gradient from its eastern end.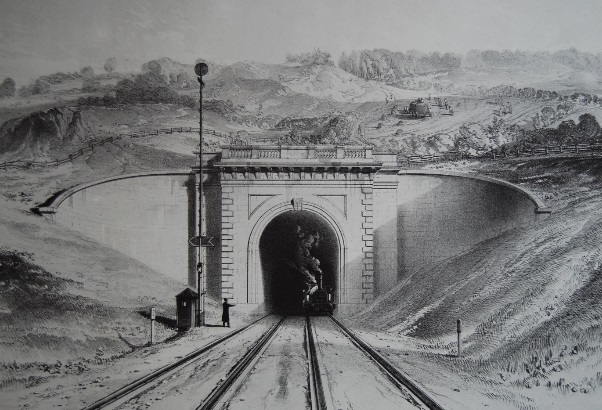 Mersey (1.2 km, 1881-1886) - Oldest and first longest underwater rail tunnels in the world, Crossing the Mersey in Liverpool
Severn (7.01 km, 1873-1886) - One of the oldest underwater tunnels in the world
The below two facts
(pertaining to two major construction halts)
could be even more ironic:
Three days prior to stopping (in 2013), the machine mined through an 8-inch-steel well-casing used to help measure groundwater in 2002 around Alaskan Way, drilled as part of the planning phases of the project. Whether this pipe had anything to do with the machine's failure is at the center of legal dispute between WSDOT and the contractor, Seattle Tunnel Partners. This delay lasted for more than two years as the workers had to dig a 120-foot (37 m) vertical shaft down to Bertha's cutting head to repair it. Settling was discovered in Pioneer Square that may be related to this additional excavation.
Tunnel boring had resumed on December 22, 2015. The tunnel boring was halted 23 days later on January 14, 2016, after a 30-foot-wide (9.1 m) sinkhole developed on the ground in front of the machine, causing Governor Jay Inslee to halt drilling until the contractors can perform a root cause analysis to show that the machine can be run safely. Even though contractors filled the hole with 250 cubic yards (190 m3) of material, the ground above the tunnel-boring machine continued to sink, according to the Washington State Department of Transportation.
We all can speculate on what those sinkholes could mean in a city like Seattle.
Additionally that 8 inch steel pipe mysteriously disappeared:
---
​
KD:
Curious if this Seattle Tunnel saga had anything to do with possible buried buildings they had to drill through.
Funny that
Brunel's 1843 tunnel
looked so much cooler when completed. Sure enough it allegedly took him 18 years to build it, but he started in 1825, and built it under the Thames River.