Let us begin by trying to understand a thing or two about the architect, Elmer H. Fisher. There has to be tons of information on the local hero-architect. He is considered
the most prolific of the architects
involved in rebuilding the city for designing almost half of the major downtown buildings between 1889 and 1891. It should be easy to find some information, right? So who was he? Where did he study? Where did he come from?
To be clear, I do not question his existence as a human. There are plenty of records to indicate that he existed. I merely find a lot of suspicious circumstantial evidence suggesting that quite a few of the 19th Century Seattle buildings were not built when reported. I also doubt they were built/designed by the people who allegedly authored those buildings.
Apparently, Elmer Fisher was born in Edinburgh, Scotland, around 1840. Fisher claimed to have been born in Scotland and moved to Massachusetts at age 17 where he received an architectural apprenticeship in Worcester. This now
appears to be untru
e according to the City of Seattle's research. He also claimed to have lived in Minneapolis, Denver and Butte before moving to the
Pacific Northwest
in 1886. Fisher came to Seattle in 1889 before the
Great Seattle fire
devastated the city. (Wikipedia).
Where did Mr. Fisher study to become an architect? The answer is we do not know. The most prolific of the architects has no traceable education history that I could find. As a matter of fact there is
only one
available photo of such an established figure. FYI,
Photography
existed for over 50 years in 1890.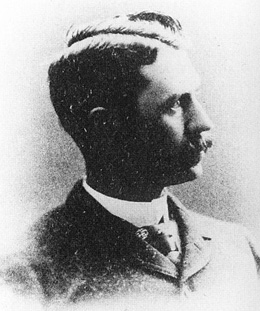 The only existing picture?
​
Now let us look at his documented architectural achievements? According to the above sources Mr. Fisher operated between 1886 and 1891. During this 5-6 year time span he designed and/or built at least 48 buildings (I think he has a few more. I did not cross reference Canadian buildings between the two sources. I simply did not count Canadian building in the Source 1):
Source 1
and
Source 2
. Quite a pace there. It's like 8 buildings on average a year, non-stop for 6 years straight. None before 1886 and none after 1891.
USA: at least 26 buildings
Canada: at least 22 buildings
Here is what
Seattle.gov Historical Site
states about Elmer H. Fisher:
Elmer Fisher's life remains something of a mystery, since the recent discovery that it is unlikely that he was really from Scotland, as he stated and none of the accomplishments he claimed, outside of his work in British Columbia, can be corroborated; however, after the Fire of 1889, he was the most prolific architect in Seattle. He is credited with almost half of the major buildings in downtown Seattle between 1889 and 1891.
I am not an architect, but the achievements sound unrealistic. Let us see if Google can help:
What Tools Does an Architect Use?
I am not going to copy and paste the entire article. Once we take out CAD software, it leaves us with the traditional drafting board. I am sorry, have you seen some of the buildings designed by Mr. Fisher. Take a look at the design and ornaments of those buildings. Show me an architect who can do eight of those buildings a year. I do not know about plans required for the 94 foot tall building to be built in 1890, but a simple 3 story, 12 unit apartment complex in 2018
requires at least
:
Foundation plan
Floor plans with electrical
Elevations
Cross sections
Firewall and other details
Roof Plan
Floor framing plans for each floor
Ceiling framing Plan
Rafter plan
Any architects out there? Can you match Mr. Fisher's achievements?
The END:
like many other young architects of his generation, Fisher abandoned his practice in 1891 as the tide of reconstruction ebbed. He became the proprietor of the Abbott Hotel, but lost this and other real estate investments during the economic crash of 1893. Fisher's attempts to reestablish his practice failed, both in Seattle and in Los Angeles. He died in 1905, an architectural draftsman and carpenter. (
Link
)
The finale is pretty said. Elmer Fisher went from designing and building structures listed as
National Historic Landmarks
to building chairs, tables and whatever else carpenters used to make back in the day. All of this sounds like some sad fiction novel.
Not bashing on Mr. Fisher here. It is not his fault he might have gotten appointed as the great after-fire architect. Something weird and strange is hidden in the 19th Century.
---
Hidden between the Great Seattle Fire, and the speed of rebuilding, and inconsistency of damage reports (25 blocks / 33 blocks / 50 blocks /
64
blocks), and the full report about the fire published by Seattle Post-Intelligencer the very next day after the disaster, lies the
mystery
of the 19th century.
History professionals need to take a very close look at Mr. Fisher, but will they?...