One of the buildings I ran into during my visit to Seattle (Washington, USA) a few weeks ago was this awesome beautiful Holy Names Academy building.
Wikipedia
states that its construction began in 1906 and was completed in 1908.
​
And there seems to be nothing out of the ordinary till you start getting into the research of available information. Let us start with its architect. Wikipedia states that the architect of the neo-classical-style, domed building was Albert Breitung. A little googling and we discover this company named
"Breitung and Buchinger Architecture Firm"
. The firm operated between 1905 and 1907. Once Breitung and Buchinger became partners in 1905, the pair received numerous large commissions from the local Roman Catholic Archdiocese. These included:
The House of the Good Shepherd (1906-1907, now the Good Shepherd Center in the Wallingford neighborhood of Seattle)
The Academy of the Holy Names (1906-1908) on First Hill at 728 21st Avenue E
Saint Joseph Church (1906-1907), destroyed
Saint Alphonsus School in Ballard (1906-1907)
The firm also designed a building for the local German gymnastics club (1905-1906; destroyed) and a school building for Ellensburg's Lourdes Academy (1907-1908; destroyed).
One of their most impressive works for the Catholic Church, the
Academy of the Holy Names of Jesus and Mary
(728 21st Avenue E) is one of Seattle's few examples of the Baroque Revival style.
Apart from so much being accomplished in such a short time period everything seems normal. There is even a picture of the building which looks like a post-construction photo.
​
The day I stood next to this building in Seattle, I thought to myself, that if this building was built in Rome or in Saint Petersburg, it would look perfectly in place. Yet in this quiet Seattle neighborhood it looked totally out of place.
With the official date of construction being 1908, there should be no shortage of photographic and/or documentary evidence of this structure's building process. But... the above picture is what I keep on running into. Where are the other ones?
Was this building built or renovated?
Was it partially excavated during the great Seattle Regrading?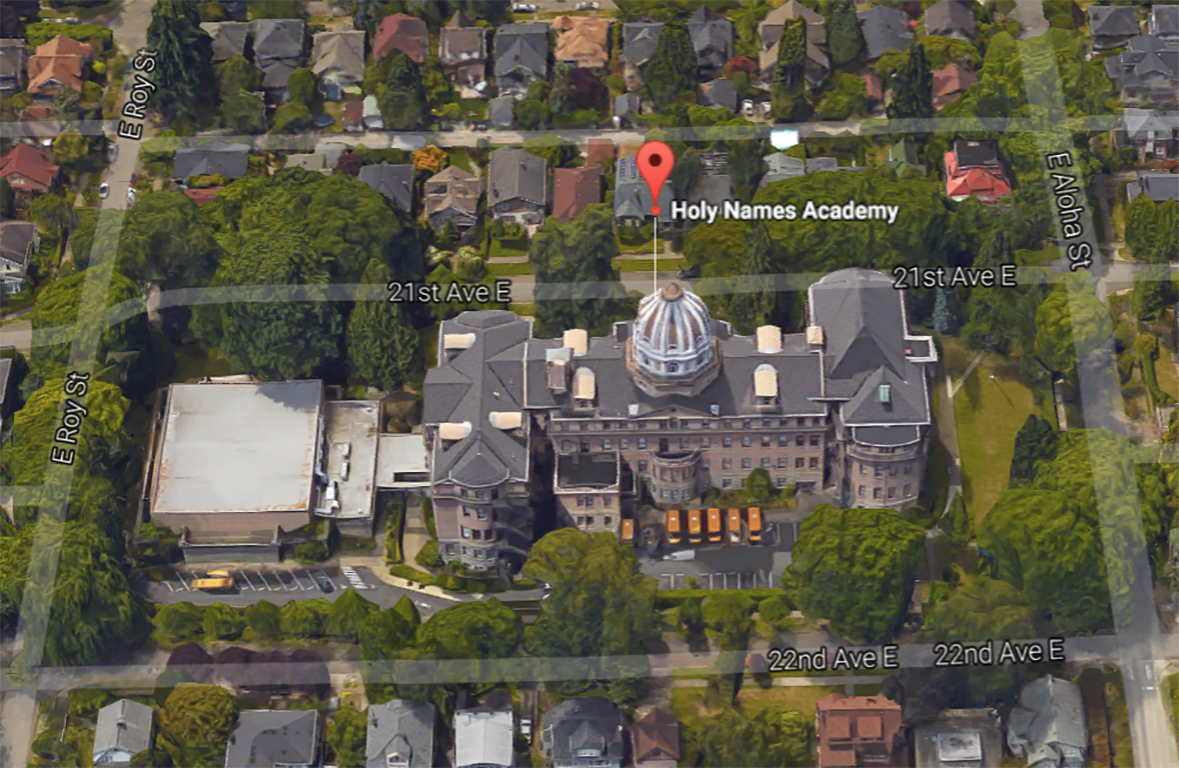 With such a beautiful building being in the process of being built, one would imagine that there would be somebody wanting to take a few pictures. Who could have wanted a photo or two?... may be a reporter, an amateur photographer, or may be the Holy Names Academy staff. But nope. There seems to be no available photos of the construction site during the excavation phase. There are none for the beginning of the construction process.
So far I was unable to locate any information on the foreman of this project. If I was one, I would have liked to have this project on my resume. But I guess it was not important back then.
Where were the building materials made? Where is the proof of the chain of supply for this building? What transportation company was used to move all those masonry supplies to the construction site.
It remains to be seen what documents can be produced via public disclosure with the city of Seattle. <<
Docs are in and can be seen
here
. >>
While I am less certain, given the date of 1908, I have a feeling that this is another one of those ghost buildings with an assigned architect and no concrete proof of its origination. After all,1908 could just be an assigned date and Albert Breitung could be an assigned architect. Will keep on looking into this.
*** UPDATE 05.02.18 ***​
---
Received my public disclosure request back from the City of Seattle. The building was built between 1906 and 1908. Apparently, there is no documentation prior to 1909.
Below are the images of my public disclosure request and the reply I received. The City was most helpful, but even they cannot provide the information they do not possess.
Once again we have no information on who really built another mammoth of a structure.
You can inspect this building permit from 1909. I'm not 100% positive what the handwriting in the first image below states, but two words are obvious "FIRE ESCAPE".
---
Drove by this Holy Names Academy today. Well, need some assistance here. First of all, how old would we thing these trees are? Especially the first one. Could it be that these trees are only 110 years old? Because if they are, than all our forests are very young indeed.
The symbol was too high up to take a better picture with a phone.
​
Of course we have evidence of the mud flood. We have a pretty good chink of the building accessible through some under the ground level entrances. Obviously one could say that we have a simple access to the basement area, but after so many examples of the same, we should know better.
---
KD:
Anyways, any opinions on this building?
Who and when really built it?
How old are the immediate "post-construction" photographs are?
Where is the relevant documentation?