I wasn't planning on writing this article, but figured
why not.
The article will cover a bit more than just the
Dublin Post Office
building, for the issue we're facing is somewhat more serious. Looks like the so-called "ancient Rome" is involved in this story. Several SH Blog articles could serve as a semi-mandatory prerequisite to understand what I'm about to present to you.
Buildings do not come from nowhere, but to understand who could build a specific structure during a specific time frame, we would need to understand what system of governance was in place in Dublin between 1814 and 1818. This is when our Post Office was allegedly built.
I will present for your judgement a theory, where this Dublin Post Office
(as well as many other buildings in the world)
was built by:
The Roman Corporation

aka Roman League

(it was either very similar to the Hanseatic League, or we are talking about one and the same League, split in many pieces by the PTB presented version of history)

The

Hanseatic League was a commercial and defensive confederation of merchant guilds and market towns

in Northwestern and Central Europe.
Growing from a few North German towns in the late 1100s, the league came to dominate Baltic maritime trade for three centuries along the coasts of Northern Europe.
Hansa territories stretched from the Baltic to the North Sea and inland during the Late Middle Ages, and diminished slowly after 1450.

aka Ancient Rome

aka Holy Roman Empire
KD:
In simple terms, our
"ancient Rome" was a commercial and defensive confederation of merchant guilds and market towns.
It was present in various parts of the world, including
Mexico City
(and possibly many other American towns and cities)
.
There was nothing ancient about this "ancient Rome" because we are talking about 1400-1840 time frames here.
The Corpo
, is the former name given to the city government and its administrative organization in Dublin between 1661 and 1 January 2002.
Dublin Corporation first came into being under the Anglo-Normans in Dublin in the late 13th century. ​

For centuries it was a two-chamber body, made up of an upper house of 24 aldermen, who elected a mayor from their number, and a lower house, known as the "sheriffs and commons", consisting the 48 sheriff's peers and 96 representatives of guilds.

We are not interested in the period after 1840. Our Post Office was built prior to 1840. Additionally, I believe that the political setup became drastically different after 1840.
The Coat of Arms and motto of Dublin Corporation, from a floor mosaic in City Hall. The arms underwent numerous revisions but always
(KD: allegedly)
featured the original 13th-century image of three burning castles on its shield.
Original text: Obedientia Civium Urbis Felicitas

Translation from Latin: The Obedience of the citizens produces a happy city. ​
KD:
I think we all know what "ancient" culture was allegedly playing with mosaics.
George II
, the King of Great Britain and Ireland
(Hibernia)
, that pointed me in the direction of the said Dublin Corporation.
He was also a prince-elector of the

Holy Roman Empire

from 11 June 1727 (O.S.) until his death in 1760.

​
equestrian statue of King George II
, along with
Nelson's pillar
and the
equestrian statue of William the Orange
(wearing Roman attire as well)
were destroyed
.
All three were obviously in Dublin.
"freely translated"
was translated way too freely for my liking, because
from what we understand,
the well known
S.P.Q.R
is an emblematic abbreviated phrase referring to the government of the ancient Roman Republic. Therefore,
S.P.Q.D.
can mean only one thing:
Senātus Populusque Dublinis (or Dublinium)

​

I am not positive on the proper Latin spelling of Dublin. ​

This source suggests that it could be one of the above two versions.

​

The Senate and People of Dublin

​
KD:
The above excerpt was taken from a book published in 1850. As you can see, there is a certain amount of verbal wiggling around, to justify certain letters, words and clothing we should not have had in 1758.
"league"
and
"corporation"
could mean the exact same thing. I did not think it was gonna be so easy to find a direct reference to both the Roman Corporation and the Roman League.
In the
below example
, we have this "Colony of Heraclea in the Great Magistrate of Naples".
This is our Herculaneum, covered in the below articles:
And while the above is clearly a smoking gun confirming that the PTB Pompeii and Herculaneum narrative is full of holes through which we can see the light of truth, it's the below statement we are interested in
(for the purposes of this article)
.
1663 excerpt
referencing "Roman Corporation"
is magnificent due to it being a possible example of the early altered historical narrative, produced by the contemporary PTB.
(including Dublin, and Rome itself
) were a part of. But to become a part of the Roman League, the region had to get accepted, or received.
Not conquered, but received into...​
Massinissa
guy who died in 148 BC looked like.
KD:
Anyways, these were just a few examples. If you need more, please help yourself by visiting the below links.
etymological explanation
for "legion".
Attested (in Middle English, as legioun) around 1200, from Old French legion, from Latin legiō, legionem, from legō ("to gather, collect"); akin to legend, lecture.
I don't know, may be so, but we do have a few interesting texts suggesting that may be we should question even the most obvious of things.
so-called Renaissance
. That is if they did not outright invent it. One way, or another, it
allowed to indoctrinate many of the so-called "ancient Roman" things into the contemporary world
. And boy, did they convolute this "Renaissance" period.
One of such indoctrinated "ancient Roman" things were Roman Titles. Let's see how our
Georgio Secondo/George II
was titled.
As you can see, our Georgius Augustus was the princeps of Wales, then, after a comma we see "
Electoratus Runswick-Lüneburg Haeres
" and bla-bla-bla. Even if we consider, that "Haeres aka
Heir
" does mean a successor, there is still a
humongous difference
between
prince
and
princeps
.
Meanwhile, the narrative compliant etymological explanation wants us to think that at a specific moment in time (1727-1760 in this case), these two words meant the exact same thing.
At the same time, the PTB insists that
ancient principes
and
18th century princes
were totally different titles.
A prince is a male ruler (ranked below a king, grand prince, and grand duke) or a male member of a monarch's or former monarch's family. Prince is also a title of nobility (often highest), often hereditary, in some European states.
Princeps
is a Latin word meaning "first in time or order; the first, foremost, chief, the most eminent, distinguished, or noble; the first man, first person".
As a title, "princeps" originated in the Roman Republic

wherein the leading member of the Senate was designated princeps senatus.
It is primarily associated with the Roman emperors as an unofficial title first adopted by Augustus (reigned 27 BCE – 14 CE) in 23 BCE.
Its use in this context continued until the reign of Diocletian (r. 284 – 305 CE) at the end of the third century.
He preferred the title of dominus, meaning "lord" or "master".
In our case, the PTB suggests that George II was a
prince-elector
of the
Holy Roman Empire
from 11 June 1727 until his death in 1760.
The prince-electors, or electors for short, were the members of the electoral college that elected the emperor of the Holy Roman Empire.​
Coincidentally during the same period
(11 June 1727 until his death in 1760)
he was the King of Great Britain and Ireland
(aka Hibernia)
. You have to love the creativeness of our PTB. They found how to divert our attention from the Roman title of Princeps.
What about the "
Augustus
" portion of Georgius Augustus?
Augustus -The title given to the ruling emperor as being the senior ruler of the empire.

Abbreviations like AVG could have multiple G's (AVGG) which would indicate a joined rulership of the empire.

Augustus "majestic", "great" or "venerable") was an ancient Roman title given as both name and title to Gaius Octavius (often referred to simply as Augustus), Rome's first Emperor.

On his death, it became an official title of his successor, and was so used by Roman emperors thereafter.
KD:
This "Augustus" title/name is next to impossible to figure out, for, no matter what we read, we simultaneously get a portion of truth and a portion of BS, imo.
And, I wanted to use this image one more time, for we do have two titles to cover.
Praetore Urbano, and two other dudes are described as Vice Comitibus.
Let's see what
Academickids.COM
has to say.
The

Praetor Urbanus

was specially named Praetor, and he was the first in rank. His duties confined him to Rome, as is implied by the name, and he could only leave the city for up to ten days at a time. It was part of his duty to superintend the Ludi Apollinares.

​

He was also the chief magistrate for the administration of justice, and to the Edicta of the successive praetors the Roman Law owes in a great degree its development and improvement.​

Vice Comitibus

took me a few minutes to figure out. I will just live it at that.​
Of course, the PTB want us to think that role playing was just a popular thing at the time.
Please help yourself to see what the PTB has to say about the history of Dublin. How many times did they mention Ascheled?

​
The below info comes from
this 1786 book
.
Weird, they were finally able to use an actual "1" instead of "I" in 1786.​
"narrative compliant"
in 1768, the
below 1802 one
is straight up puzzling.
Sean-Ghaing
does not sound like
Shanghaiing
.
The verb "shanghai" joined the lexicon with "crimping" and "sailor thieves" in the 1850s, possibly because Shanghai was a common destination of the ships with abducted crews.

​
Additionally, we have this "
Ath
" which could be singular form of
Æsir
.
Æsir is thus the plural of áss, ǫ́ss "god"
The below image was
allegedly produced
in 1607.
Maps of this nature are multiple. The below map is taken from this
1835 book
. This book was scanned by Google upside down.
(published in 1808)
I do not think their system was any different from our today's bureaucratic setup. Or may be it's the other way around, and we are not too different from them.
Wicklow granite
. And while
Wicklow Mountains
are not that far from Dublin, moving mountains of granite required to build this structure
(as well as many other ones they were building)
sounds like a pretty serious task. Officially, there
were no rail roads yet
. Naturally, per the narrative, between 1814 and 1818, they had to use horse buggies to transport all that granite.
But what's interesting, in 1820's, with no recognizable research and development, we have this tremendously downplayed system of motorized public transportation. It came from nowhere, and left in the same direction. The PTB narrative provided a few BS excuses, and that was it. Wanna guess how many years we had to wait for this technology to resurface?
KD:
I think there was research, and there was development. Unfortunately, our narrative was adjusted and things like this are dismissed as oddities.
I'm a firm believer that palaces do not get built without everything else being on par. IMHO, their real infrastructure was omitted from our narrative.
@Oisín
thinks that the PTB provided history of this building is pretty spot on.
Here is a short synopsis based on the traditional narrative.
The foundation-stone of the building, which was designed by Francis Johnston, was laid by the Lord Lieutenant of Ireland, Charles Whitworth, 1st Earl Whitworth, on 12 August 1814, attended by the Post-Masters-General, Charles O'Neill, 1st Earl O'Neill and Laurence Parsons, 2nd Earl of Rosse.
The structure was completed in the short space of approximately three years at a cost (depending on sources) of between £50,000 and £80,000.
The front, which extends 67.1 metres (220 ft), has an Ionic portico (24.4 metres (80 ft) wide), of six fluted Ionic columns, 137.16 centimetres (54 inches) in diameter.
The frieze of the entablature is highly enriched, and in the tympanum of the pediment were the royal arms until removed following restoration in the 1920s.
On the acroteria of the pediment are three statues by John Smyth. When facing the building:
With the exception of the portico, which is of Portland stone, the main building is of mountain granite.
The elevation has three stories, of which the lower or basement is rusticated.
Some additional GPO details:
Fidelity on the right, with a hound at her feet and a key held in her right hand;

due to these features it is argued that the statue is in fact of Hecate

Hibernia in the centre, resting on her spear and holding a harp.
(and why)
was immigrating to America from Ireland around 1810-1815, for this is when this building was allegedly built.
In the 18th century, emigration from Ireland to the Thirteen Colonies shifted from being primarily Catholic to being primarily Protestant, and with the exception of the 1790s it would remain so until the mid-to-late 1830s, with Presbyterians constituting the absolute majority until 1835.​

Religious freedoms and economic hardship?​
What does America have to do with this Dublin Post Office? Nothing, I just wanted to see if any pagan worshippers were running from Europe. The below map
(from
here
)
of the 18th century European religions is clear about what the dominant religions were, and where.
pagan past of Antiquity
,
missionaries
most famously including Saint Patrick
converted the Irish tribes to Christianity in quick order
, producing a great number of saints in the Early Middle Ages, and a faith interwoven with Irish identity for centuries since− though much less so in recent times. -
Conclusion:
I think it is fair to say that ancient Roman/Greek pagan religions were not predominant ones in Ireland when this Post Office was being built. It is also fair to say that the narrative fails to mention that these ancient religions even existed in Ireland during this particular time frame.
Below we have Hibernia and Britannia hanging out together. Where is Jesus?
But it's not really important that Hibernia, imo, was supposed to represent the goddess of war Athena aka Minerva, for we have two more statues mounted on top of the Post Office, presumably, designed and built by Christians.
Mercury is a major god in Roman religion and mythology, being one of the 12 Dii Consentes within the ancient Roman pantheon. He is the god of financial gain, commerce, eloquence, messages, communication, travelers, boundaries, luck, trickery and thieves; he also serves as the guide of souls to the underworld.
Note:
the kicker in the below image of the so-called Mercury is... well, neither the caduceus nor the cup appear to belong to this statue. The shaft and his hand do not exactly match. Looks like the cup was added later as well.
Fidelity - could be
Fides.
Fides was the goddess of trust and good faith in Roman paganism. She was one of the original virtues to be considered an actual religious divinity. Fides is everything that is required for "honour and credibility, from fidelity in marriage, to contractual arrangements, and the obligation soldiers owed to Rome."
Can't find a good quality image, but chances are, that key does not belong there either.
Could be Fides, but...
Hecate
did, and this is why some thought that this statue was of Hecate.
Hecate is a goddess in ancient Greek religion and mythology,

most often shown holding a pair of torches or a key

and in later periods depicted in triple form. She is variously associated with crossroads, entrance-ways, night, light, magic, witchcraft, knowledge of herbs and poisonous plants, ghosts, necromancy, and sorcery.
Hecate was quite a character.
Cybele - In Rome, Cybele became known as Magna Mater.

​
Of course, Cybele, being our good old Magna Mater can also look like this.
Why did they mess with the statues?​
Questions:
How come in a Christian country of Ireland, in a Christian city of Dublin two Christians installed three pagan Gods on top of the Post Office?
Was their Dublin church and church members like... yup, go ahead, and worship pagan Gods in our Christian city of Dublin?​

Or, were they sold the exact same BS we have to consume, where these are just symbols of nothingness?​
KD:
I understand that Irishmen are not Israelites, but Moses probably turned in his grave just for fun. Moses probably said,
"It's ok, many places are in the same boat"
with you, Irishmen
(and women
).
Oh, and wouldn't that be something, if the above gods were not Roman gods at all? How about Malacbal and Agaibal, whoever they were?
The Crescent Moon is addressed below
Francis Johnston
"architected" the Post Office and
John Smyth
, allegedly created pagan statues to install on top of the Post Office. Apparently, Christian Francis Johnson thought it was alright, and may be was even the one to request these pagan statues made and installed. It looks like there was noone objecting these pagan deities being installed on top of the Post Office.
Meanwhile, some Irishmen were seeking religious freedoms on the other side of the Atlantic ocean.
I did not find any image of Mr. Smyth, but we have this one of Mr. Johnston.
Washington - Mozart - Napoleon - Wellesley​
With new generations coming up, we can rest assured that the knowledge will not get lost.
here
and
here
.
(now O'Connell Street)
was opened for business.
O'Connell Street is a street in the centre of Dublin, running north from the River Liffey.

​

During the 17th century, it was a narrow street known as Drogheda Street, named after Henry Moore, Earl of Drogheda.

​

In 1924, it was renamed in honour of Daniel O'Connell, a nationalist leader of the early 19th century, whose statue stands at the lower end of the street, facing O'Connell Bridge.

​
1st Earl of Drogheda
. I find it interesting that this esteemed Irish gentleman with the last name of Moore had a
coat of arms
looking like this.
Escutcheon: Azure on a chief indented Or three mullets pierced Gules.
Crest: Out of a ducal coronet a Moor's head Proper wreathed about the temples Argent and Azure.
Supporters: Two greyhounds Argent.
Created: 1661
First Holder: Henry Moore
In other words, we do not appear to know what he looked like.​
By the way, here is the PTB way to cover BS with BS:
BS #1: Despite the common misconception that Moor's heads are representations of unknown Muslims defeated in battle,
BS #2: evidence suggests most known Moor's heads are representations of specific Africans in honor of their contributions to Catholics in Europe.
Question:
Was Henry Moore black?
As you can see, Drogheda is also a town located 25-30 miles north of Dublin. I did not look into its hidden history yet, but on the surface we have this nice crescent moon.
this symbol
in Moscow.
Or these two symbols:
And if the star was supposed to symbolize our Sun, then who knows where the limits of lies are?
looked like
in 1750-60's.
The following description of the Sackville street was provided in a
publication issued in 1790
.
In 1841 we will have the same street looking
something like this
.
In 1916
(and just prior to being damaged)
, our Sackville street was supposed to
have the following appearance
.
As you can see, our Post Office is not that far from the River Liffey.
This should help you out to imagine the general location of the Post Office on the above images.
I just mentioned 1916 damages to the Post Office building. The reason for the damages was the

Easter Uprising

. Sounds like

"

with much greater numbers and heavier weapons, the British Army suppressed the Rising.

"
Members of the Irish Volunteers, led by schoolmaster and Irish language activist Patrick Pearse, joined by the smaller Irish Citizen Army of James Connolly and 200 women of Cumann na mBan, seized strategically important buildings in Dublin and proclaimed the Irish Republic.
The main rebel positions were gradually surrounded and bombarded with artillery.
Here are the consequences.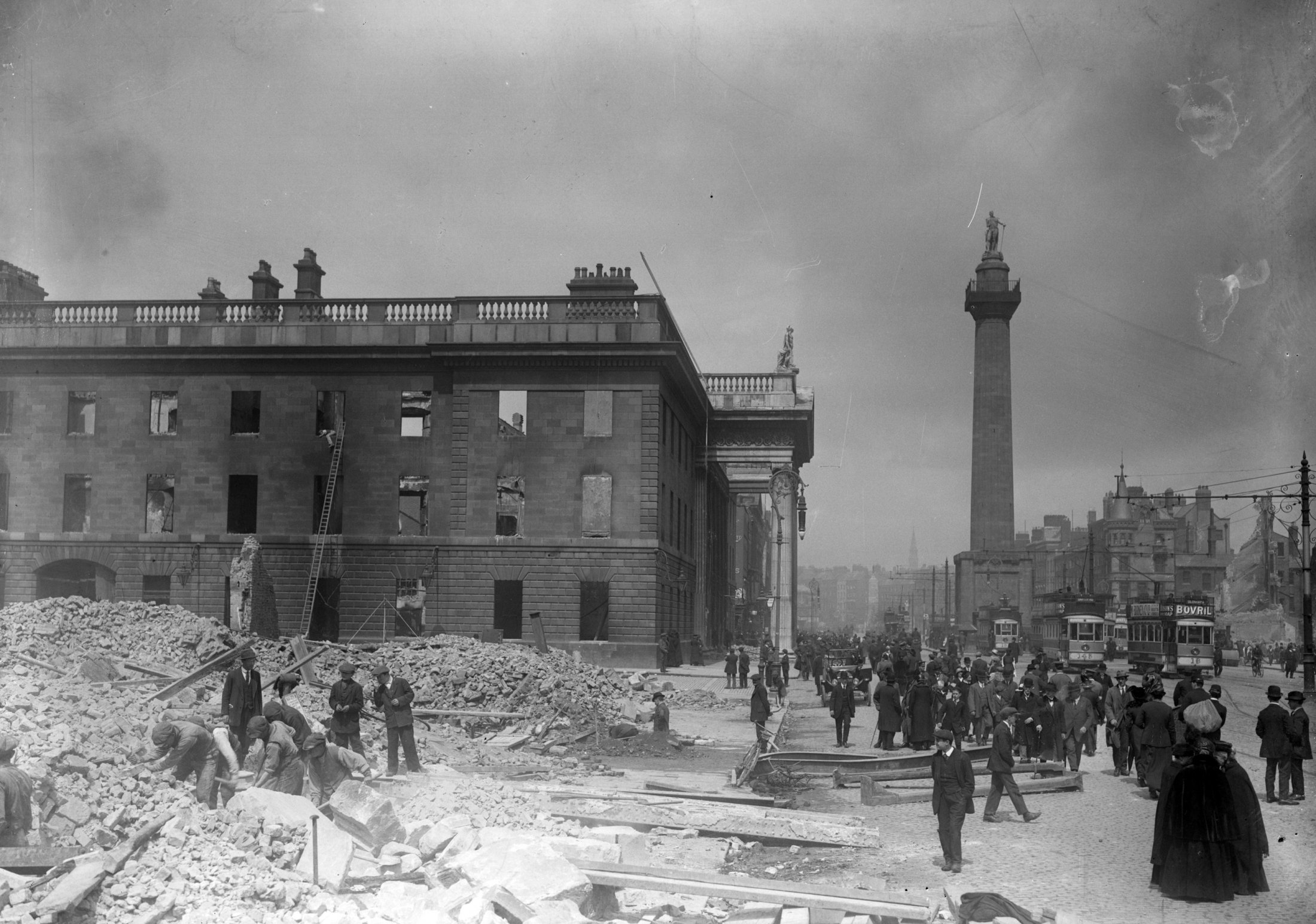 These two pictures allow for a lot of questions.
A detailed inspection of the above images suggests that our "
shell of the G.P.O.
" could be a brick building covered in granite veneer blocks.
And whatever you feel like calling this portion of the contraption, it was clearly made of brick.
Per the narrative:
With the exception of the portico, which is of Portland stone, the main building is of mountain granite.

Did the PTB forget to mention mountains of bricks used?
If these here are indeed the
damaged insides of the 1916 Dublin General Post Office
, then the narrative appears to be missing some info on iron/steel being used during its construction.
Ruins of the
interior of the General Post Office
following the 1916 Rising.
Concrete pillars and metal reinforcement beams?
Today, the courtyard area walls of the Dublin Post Office are clearly made of brick, whatever that means.
@Oisín
, claims that a certain
Murray Collection 93/46.661
located at the
Royal Institute of the Architects of Ireland
contains tons of relevant construction related docs pertaining to the Dublin GPO building. I did request digital access to the records
.
We'll see if they ever reply.
Meanwhile, this here is all we appear to have available on the internet.
As it stands, this is laughable. These are
copies of the original 1930 blueprints
for the main building of the
Lew Wallace School
. Really, who needed something like that in 1814?
There are several linked maps on this page. May be you can figure out when this building first pops up on the maps.
It sure looks like in 1756 the future Dublin General Post Office building was already there.
KD:
The PTB had between 400 and 600 years to iron their historical narrative out. Some of the narrative compliant things of 1600's were no longer narrative compliant in 1700s, hence you won't see them in the books produced in 1700's. Same goes for 1800's, 1900's and 2000's. Today's version of history is reasonably polished, and allows for a much easier and rather smooth delivery of the narrative. Governments maintain a pretty tight grip on their curriculums.
IMHO, the moment our contemporary historians accepted those three pagan statues, their credibility has ended.​
So... who and when built this Dublin General Post Office? I honestly do not know. May be the original brick building was built by Moors when the name of the street was still Drogheda. Or, May be it was built by the Dublin branch of the Roman League.
Chances are, between 1814 and 1818, the older brick building received a granite veneer face lift.
May be this is when those columns and other Roman architectural attributes were added.
Did they use real granite and Portalnd stone? I do not know, that would require certain tests. Could they use artificial granite and Portland stone? I think they could.
The definition of premises:
In real estate, land and the improvements on it, a building, store, shop, apartment, or other designated structure
Premises are land and buildings together considered as a property
A house or building, together with its land and outbuildings, occupied by a business or considered in an official context
Bottom line:
In my opinion, this building was already there in 1814
(just like it was there in 1756).
There were no 100% brand new structures built in that spot between 1814 and 1818.
That means that the Dublin General Post Office building is at least 58 years older than we are told.