Once again, tackling a well known topic, I risk to sound ridiculous but hold your judgement till you have some material objections to make. Jumping ahead I will say, that the issue of "we did not build this ship" extends way beyond these three ships. In reality, this is one of those instances, where I would like this community to find a conventional explanation for the question I will pose. In other words, I would love to be proved wrong on this one, for we have videos, photos, blueprints, and what not.
The question I will pose is this
-
what did they use to connect 2.5 ton hull plates to each other? Rivets, invisible rivets, welding or glue?

There was a lot published about RMS Titanic and its two sisters, RMS Olympic and HMHS Britannic. For those who do not know, or their knowledge is superficial, below is a little recap.
The White Star Line
faced an increasing challenge from its main rivals
Cunard
, which had recently launched the
Lusitania
and the
Mauretania -
the fastest passenger ships then in service - and the German lines
Hamburg America
and
Norddeutscher Lloyd
. The company sought an upgrade in their fleet primarily in response to the Cunard giants but also to replace their oldest pair of passenger ships still in service, being the
SS Teutonic
of 1889 and
SS Majestic
of 1890. All three
Olympic-class
liners were built by
Harland and Wolff
(Belfast). The plan to build these three ships was realized by naval architects
Thomas Andrews
and
Alexander Carlisle
.
​
Alexander Carlisle got off the project in 1910 due to health problems. Thomas Andrews died on Titanic when she hit an iceberg on 14 April 1912. His body was never recovered.
RMS Olympic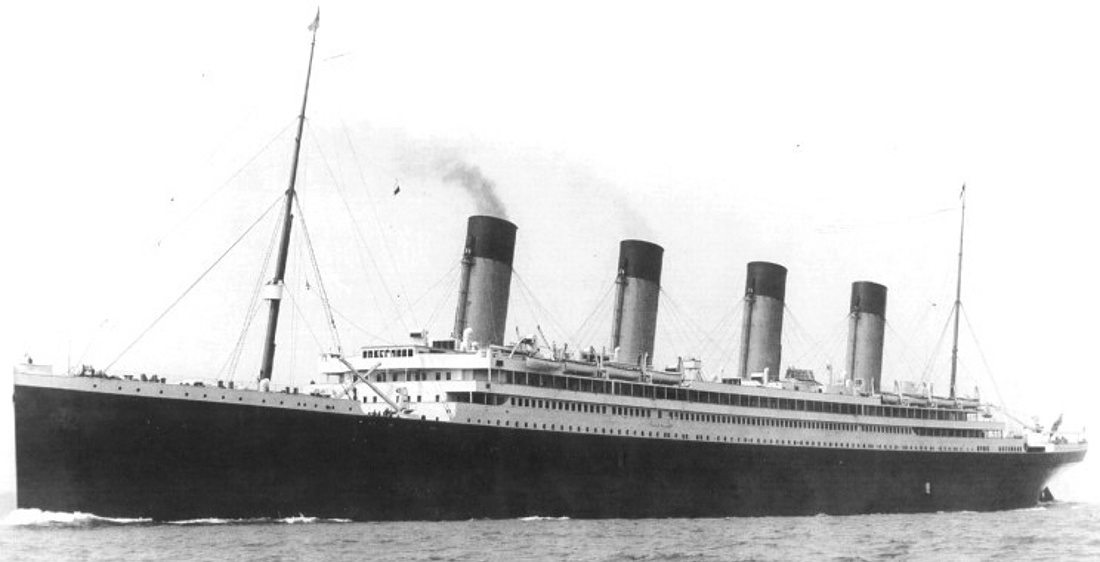 Although
Olympic
and
Titanic
were nearly identical, and were based on the same core design, a few alterations were made to
Titanic
(and later on
Britannic
) based on experience gained from
Olympic
's first year in service. The most noticeable of these was that the forward half of
Titanic
's A Deck promenade was enclosed by a steel screen with sliding windows, to provide additional shelter, whereas
Olympic
's promenade deck remained open along its whole length. This was a major contributor to
Titanic's
increased gross tonnage of 46,328 tons over
Olympic
's 45,324 tons, which allowed
Titanic
to claim the title of largest ship in the world.
Laid down: 16 December 1908
Launched: 20 October 1910
Completed: 31 May 1911
In Service: 1911
Out of Service: 1935
Hull plates held by: 3,000,000+ rivets
Fate: Retired at Southampton after 24 years service & scrapped. Superstructure dismantled at Jarrow, England, and the hull at Inverkeithing, Scotland.
RMS Titanic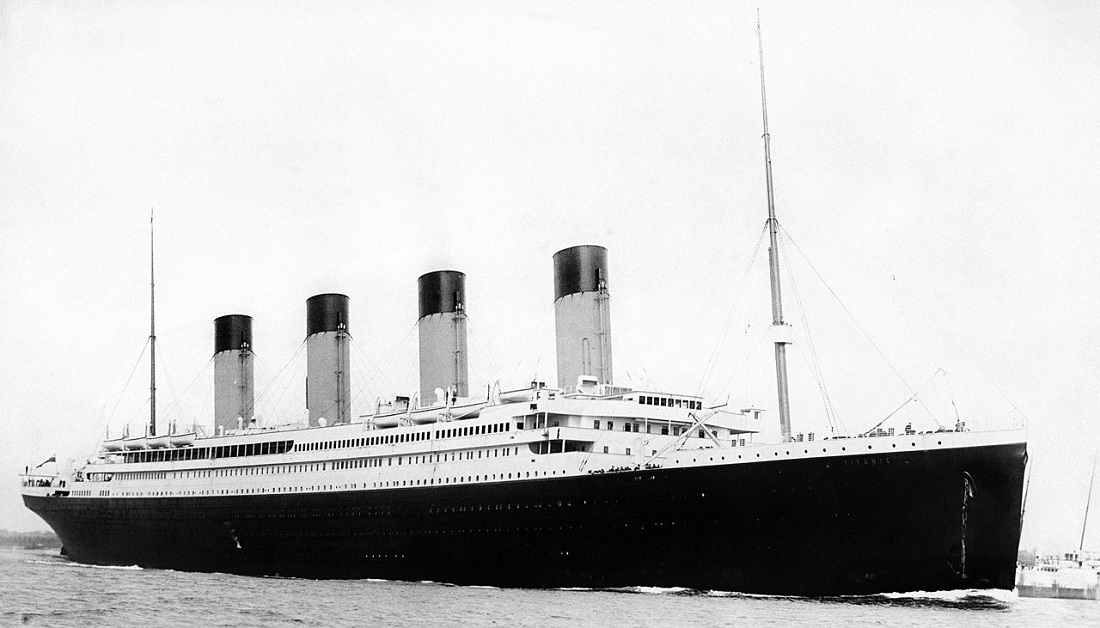 Titanic
was 882 feet 9 inches (269.06 m) long with a maximum breadth of 92 feet 6 inches (28.19 m). Her total height, measured from the base of the keel to the top of the bridge, was 104 feet (32 m). She measured 46,328 gross register tons and with a draught of 34 feet 7 inches (10.54 m), she displaced 52,310 tons.
Laid down: 31 March 1909
Launched: 31 May 1911
Completed: 2 April 1912
In Service: 10 April 1912
Out of Service: 15 April 1912
2,000 Hull plates held by: 3,000,000+ rivets
Fate: Hit an iceberg 11:40 p.m. (ship's time) 14 April 1912 on her maiden voyage and sank 2 h 40 min later on 15 April 1912.
The 2,000 hull plates were single pieces of rolled steel plate, mostly up to 6 feet (1.8 m) wide and 30 feet (9.1 m) long and weighing between 2.5 and 3 tons. Commercial oxy-fuel and electric arc welding methods, ubiquitous in fabrication today, were still in their infancy; like most other iron and steel structures of the era, the hull was held together with over three million iron and steel rivets, which by themselves weighed over 1,200 tons. They were fitted using hydraulic machines or were hammered in by hand.
In other words, they did not use welding to put hulls together back in 1912 (or 1913, 14, 15, or 16).
HMHS Britannic
The dimensions of
Britannic
were similar to those of her sister ships, but her dimensions were altered whilst still on the building stocks after the
Titanic
disaster. With a gross tonnage of 48,158, she surpassed her sisters in terms of size (volume), but that did not make her the largest passenger ship in service at that time; the German
SS Vaterland
was significantly bigger.
Laid down: 30 November 1911
Launched: 26 February 1914
Completed: 12 December 1915
In Service: 23 December 1915
Out of Service: 21 November 1916
Fate: Sank after an explosion on 21 November 1916 near Kea in the Aegean Sea
For our little investigation we will need one additional ship. We will use USS Northland.
USS Northland
​
USS Northland was a cruising class of gunboat especially designed for Arctic operations that served in World War II and later served in the Israeli Navy. She was the last cruising cutter built for the Coast Guard equipped with a sailing rig.
Laid down: 26 August 1926
Launched: 5 February 1927
Commissioned: 7 May 1927
Out of Service: 1938–1939
Fate: Sold 3 January 1947
She was structurally reinforced to withstand hull pressures of 100 psi and lined with cork for warmth. One feature used in the construction was the welding of the hull rather than riveting; this was done for strength and was not a common practice in 1926.
Essentially, USS Northland was one of the first officially welded ships. You are welcome to find an earlier one, and I will gladly update this post with your finding.
To speed up and improve production, shipyards started using templates to manufacture prefabricated ships and replacing riveting with welding. The 2,710 cargo ships they built between 1941 and 1945 were called "Liberty Ships." They were credited with helping to win the war.
RSM Titanic is obviously the most publicized ship out of the three. Apart from its ill fate and the beautiful name, it is open for speculation why the most videos and photos pertain to Titanic, and not Olympic, for the latter was the first one to get launched. One way or the other, we have plenty of photos and
YouTube videos
of Titanic being built... or do we?
In reality, we only have a few stages of the construction of RMS Titanic. They are:
Construction of the Frames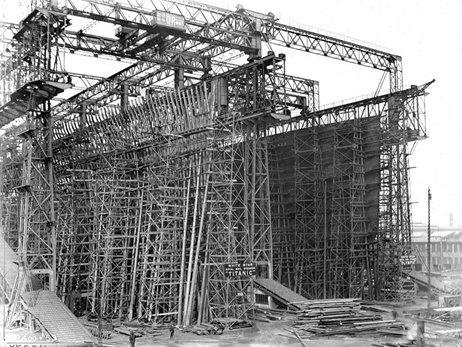 Where are the Rivets?
Images Source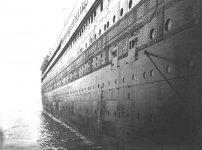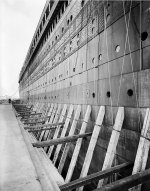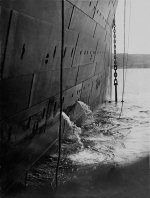 Rivets are very much visible, and distinguishable.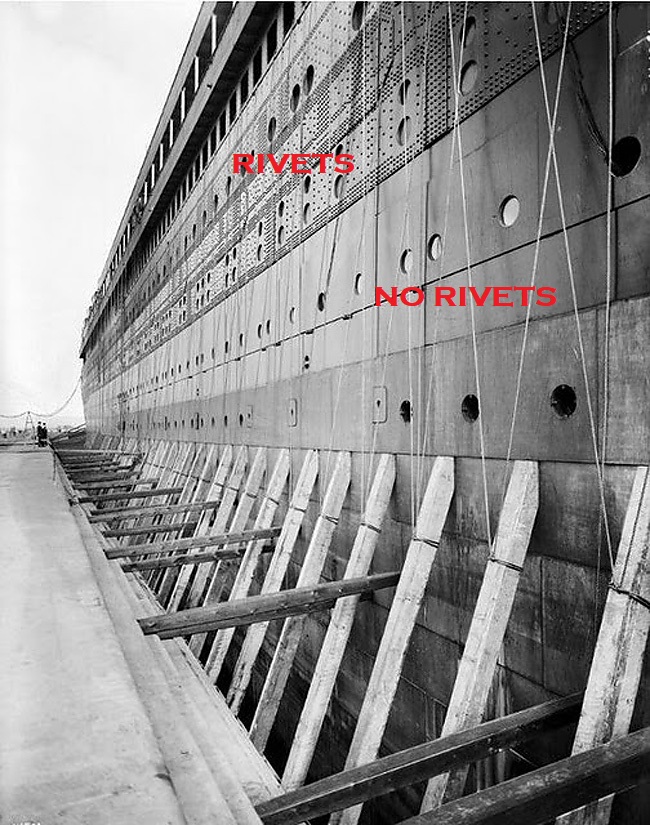 Titanic Hull Rivets
The 401 Rivet is 3 3/4″ long, with a shank diameter of 1″ and
head diameter of 1 3/4″
. Each one weighs just over 1 pound.
Titanic
. Ship Number.
401
. Vessel Type. Passenger Ship. Built. Belfast. Yard. North Yard.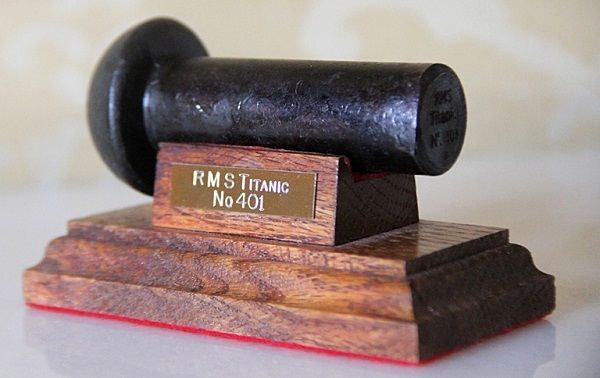 ​
Rivets dot the surface of the "
Big Piece,
" the largest recovered section of the Titanic's hull. The 15-ton section of the doomed luxury liner is part of a touring display of more than 300 relics from the ship called "Titanic"
Flush Rivets​
There is an interesting couple of paragraphs in the 1868 book titled "
Iron Ship-building, with Practical Illustrations
". It could almost solve the mystery if it was not for the lack of evidence of such an "invisible" flush rivet. If you can find what this particular rivet looks like, please post a link, or upload a picture. Also, if you can find any mentioning of the flush rivets in the Titanic's, or any other ships construction, please share your finding. For right now, the only official rivets are the ones displayed above. Below you can see two pages covering these "flush rivets".
After all, how invisible can iron rivets be?
Titanic...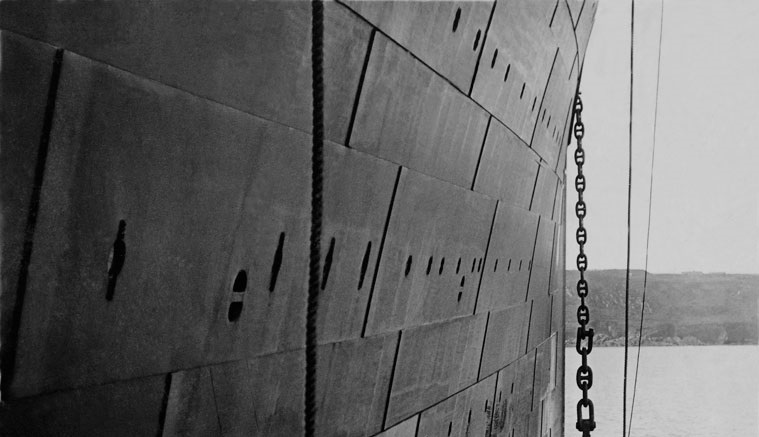 Where are the rivets on Olympic?
Source
​
Olympic propeller shot.
This is a huge image you can zoom in on.
You will find a few rivets in there, closer to the rudder. The remainder is mystery.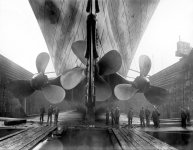 Where are the rivets on Britannic?
Source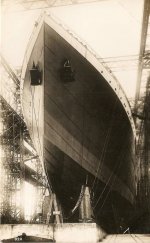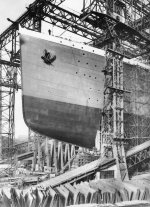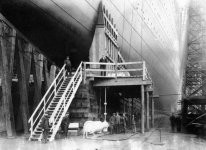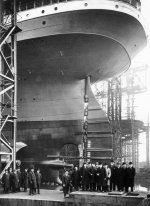 ​
It gets better. Where are the rivets on this 1856 ship:
1856 SS Great Eastern a.k.a. Leviathan
Source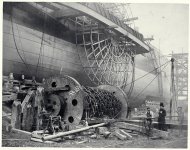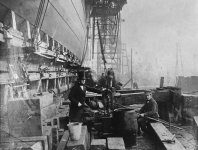 Evidentiary King - USS New Hampshire - 1906
​
Here is a
28.6 MB TIFF image link
to a huge image of this ship. If you can find a rivet here, I would like to hear about it. What you will find there is a few of the seams looking just like welding seams look.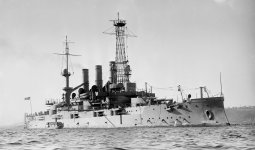 ​
---
Finding close enough images of those early 20th century "
high-tech marvels of their time
" is hard. But they are out there, and sometimes they pose questions. There are multiple videos out there which show ships being built, like
this one of supposedly RMS Olympic
... or it could be
1930 RMS Queen Mary
, or any other ship for that matter. Those videos show something and nothing.
We do have a few contradicting images showing both, rivets and no rivets like these two images of the RMS Olympic propeller area. One clearly shows the lack of the rivets, the other one shows rivets present. What can this inconsistency tell us? The rivets on the first image are visible from 10 miles away. The second image has a few rivets closer to the rudder, but no other ones are visible.
I present a simple question, if rivets were not used, and welding was not available around 1912 (definitely was not in 1856 for
SS Great Eastern
), how were those plates attached to each other in the unriveted areas?
Superglue
was invented in 1942, so they could not use that.
variable pitch propeller
). General
Wiki link on propellers
is here. All three of our Olympic-class ships had 2 Variable pitch propellers, and 1 Fixed Pitch Propeller. I talked about the difference between the VPP and FPP in the article about
SS Great Eastern
. In a nutshell the below two images show the difference between VPP and FPP.
Variable Pitch Propeller - the blades rotate via a complex mechanism inside the hub.
Fixed Pitch Propeller - the blades are permanently attached (welded if you will) to the hub.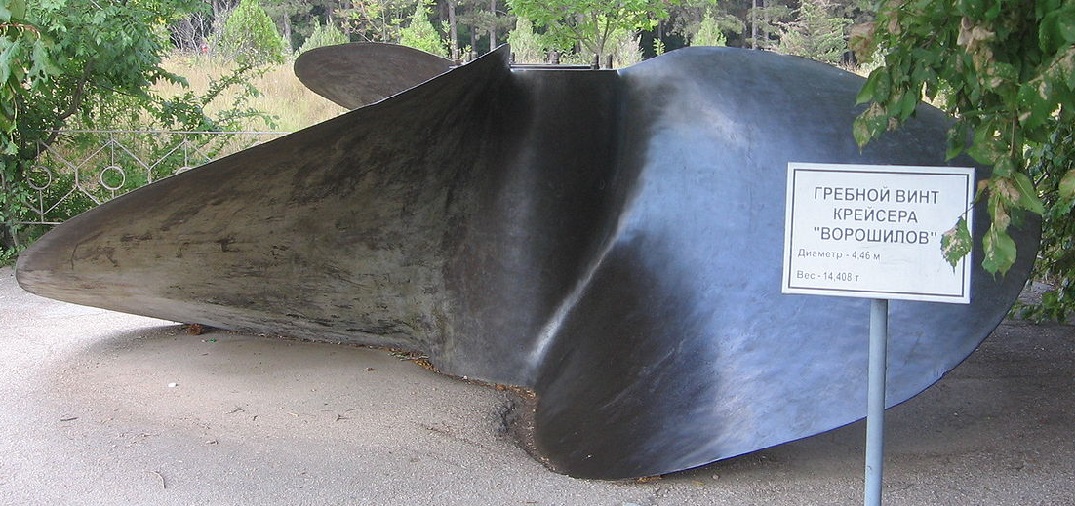 ​
Now think about it.
Telegraph inventor: Samuel Morse
Radio inventor: Guglielmo Marconi (Popov if you want)
Telephone inventor: Bell and Meucci
Light Bulb inventor: Edison
This, and that, and all of the above inventor: Tesla
Variable Pitch Propeller inventor: WHO?

Looks like we were able to figure this one out, but it is not looking good for the official history.​
Interiors were worthy of the
"Tartarian" architecture
(for those who knows of what I am talking about)
.
---
KD Hypothesis:
Starting with the mid-19th Century, and ending with approximately 1917-1920s, Britain, and Germany (possibly USA, and France as well) acquired
(through military involvement)
a number of the Tartarian Ships of superior quality. The
Grand Tartary
was obviously destroyed, and wiped out from history. Not being able to use the ships the way they were (military induced damage, or technological mismatch -
Titanic
's electrical plant was capable of producing more power than an average city power station of the time), the victors (or the survivors, or vultures) had to repair, refurbish, and adjust them to their technological level (coal fuel, etc). For that purpose dry docks were constructed. Captured ships were adjusted in those docks. Ships originally had no funnels, due to different "cleaner" fuel used to power their steam engines. Funnels were installed to accommodate hundreds of tons of ash emitted by the readjusted engines.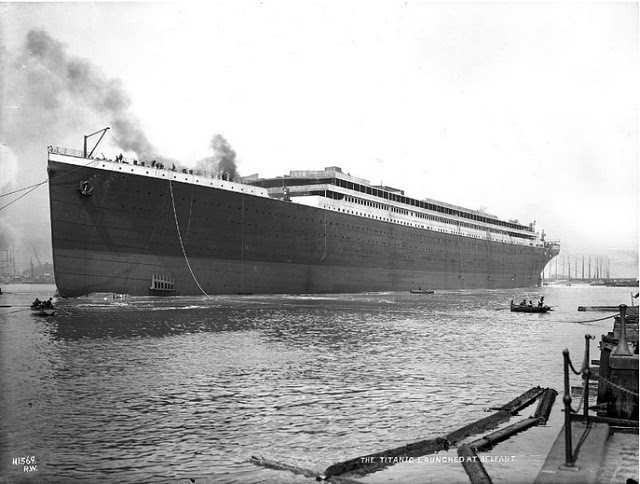 ​
Poor understanding of the acquired machinery meant multiple operational errors, and consequent short life span of these ships. That is unless ship welding was available in 1856, and 1912. Otherwise what did they use to hold those plates together - invisible rivets? Super strong glue could also be an option, I guess.
That is unless ship welding was available in 1856, and 1912. Otherwise what did they use to hold those plates together - invisible rivets? Super strong glue could also be an option, I guess.