Originally conceived to commemorate the 400th anniversary of Columbus's discovery of America, the World's Columbian Exposition of 1893 was one of the largest (633 acres) and most influential aggregations of human talent, energy, and industry ever assembled. More than 27 million visitors entered the grounds (now Jackson Park) to marvel at the exhibits and displays housed in some 200 buildings, including those of 79 foreign governments and 38 states. Although the Fair had its share of "firsts" (original Ferris wheel, first midway, Edison's kinetoscope, etc.), its chief marvel was its architecture. It is that aspect which is emphasized in this striking photographic record.
Beginning with an overview of the fair's planning and conceptual stages, Stanley Appelbaum's well-researched text then proceeds to a fascinating discussion of the personalities, regional rivalries, and intense controversy surrounding the Beaux-Arts architecture (the "White City" style) of the fair, including its enormous impact on subsequent American architecture. The contributions of such outstanding architects and firms as R. M. Hunt; McKim, Mead and White; Frederick Law Olmsted; and Peabody and Stearns are described.
The book then becomes a building-by-building walking tour of the fair — imaginatively reconstructed with the help of 128 sharply reproduced rare contemporary photographs, printed on fine coated stock, and a concise, fact-filled text. The placid basins, ponds, and Lagoon that graced the fairgrounds lend a serene aura to these priceless views of the great buildings and sights of the fair: the Beaux-Arts glories of the Administration and Agriculture Buildings; Daniel Chester French's statue of the Republic; the Columbian Fountain by Frederick MacMonnies; the Golden Door of Louis Sullivan's Transportation Building; the Peristyle; Mary Cassatt's mural in the Woman's Building; the pure classicism of the Palace of Fine Arts (now the Museum of Science and Industry); numerous state and foreign pavilions, and of course, the Midway — the first separate amusement area at a World's Fair, and the reputed location of Little Egypt's celebrated danse du ventre.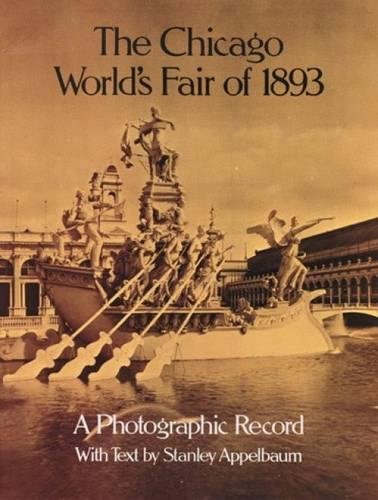 In the concluding section, the author touches on other memorable aspects of the fair and its times: the Panic of 1893; the Pullman Strike; famous visitors (Archduke Ferdinand, the Spanish Infanta, etc.); cultural and social congresses, and finally, the disastrous fires that ultimately destroyed many of the buildings. For social and cultural historians, Chicagoans, and anyone interested in the special magic of a world's fair, this book is a loving and nostalgic look back — to a time bathed in the golden light of the fin-de-siècle years, when a colossal spectacle of human achievement in art, science, and industry captured the world's attention for one magic and unforgettable moment.
---